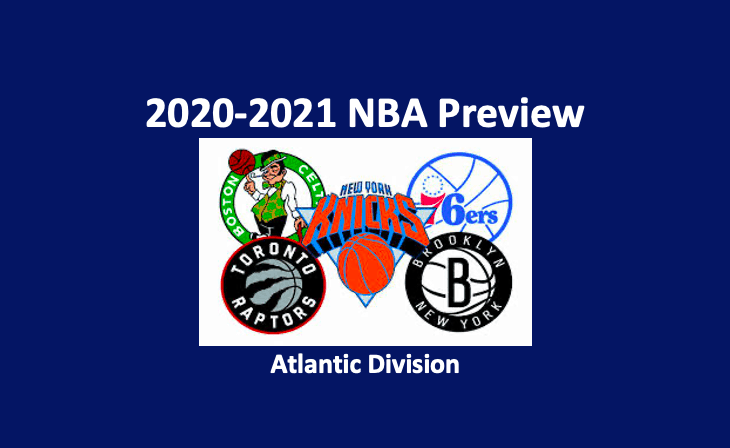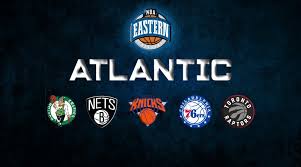 Our NBA Atlantic Division preview 2020 – 2021 envisions some changes from last season. The Toronto Raptors still look strong. Plus, we expect that the Boston Celtics will be very competitive. Watch out for the Philadelphia 76ers, Brooklyn Nets, and NY Knicks, as all three have some very fine potential. Of those three teams, we like the Nets, as they've really upgraded their roster and have some decent depth. A special note, last year this division supplied four of the Eastern Conference's eight playoff teams. The other two divisions in the Eastern Conference, the Central and Southeast, seeded two playoff teams each. Obviously, the Atlantic Division is a very competitive arena.
Last Season
In 2019-2020, the Toronto Raptors finished first in the division with a 53-19 record. Five games behind the Raptors were the Boston Celtics at 48-25. Both basketball teams brought tough defenses to the floor and adequate offenses. The middle spot was held by the Philadelphia 76ers who finished with a record of 43-30. The Sixers were 10.5 games out of first place. Like the two top teams, they earned a playoff spot. Also winning a place in the postseason was the 35-37 Brooklyn Nets. They were fourth in the Atlantic Division. Finally, the New York Knickerbockers ended up last in the Atlantic with a record of 21-45.
NBA Atlantic Division Preview 2020 – 2021 – Teams
Boston Celtics – Solid defense and good offense should enable this team to once again make the playoffs. They could use more depth. Head coach Brad Stevens is solid. In front, Tatum and Brown are both first-class. Tristan Thompson comes to Boston from Cleveland and will be invaluable in the paint.
Brooklyn Nets – The Nets have improved, and because of this, we expect that they will move up the ladder at bit. All-star and premium player Kevin Durant joins the team. He should help with offense. Former NBA great Steve Nash snares his first coaching job. He'll either be great or a disaster. We're thinking great.
New York Knicks – New head coach Tom Thibodeau brings a fine resume to the Knicks. New York has made some nice additions and should win more games than they did last season. Small forward Obi Toppin is a fine addition and incoming vets will help. Defense, depth, and offense are still issues.
Philadelphia 76ers – The Sixers also have a new head coach. Their new guy is none other than the experienced and revered Doc Rivers. Rivers is a winner who builds teams and ensures that everyone is working together. If center Joel Embiid can stay healthy, this will be a different team. Good news, PG Ben Simmons is solid.
Toronto Raptors – Defense, an extremely solid core, and one of the hottest, new coaches in the NBA, Nick Nurse, define this team. We expect the Raptors to excel once again this season. They will be highly competitive. A disappointing 2020 playoff season could motivate this basketball team to good deep into the playoffs. They have the potential to win it all.
NBA Atlantic Division Preview 2020 – 2021 – Projection
Our NBA Atlantic Division preview 2020 – 2021 offers the following projections:
Toronto Raptors*
Boston Celtics*
Brooklyn Nets*
Philadelphia 76ers*
New York Knicks
*Playoff team
Atlantic Division – Pluses and Minuses
Nets have a major upgraded with Durant and others
Brooklyn needs to shake the loser image
Celtics coach and players are good
Boston needs more depth
Knicks have upgraded the team and bring in quality coach Tom Thibodeau
New York has to defend better
76ers are exceptionally sound and have Doc Rivers at the helm
Philadelphia is solid but not spectacular
Raptors offer an exceptional D
Toronto needs to generate more offense
NBA Atlantic Division Preview 2020 – 2021 – Final Word
Our NBA Atlantic Division preview 2020 – 2021 observes that this division is in no way settled. There are too many new coaches, vets added to rosters, and talented rookies to say that our projections are actually in cement. However, stats, analysis, and trends tell us that the Raptors will take down the division with Boston on the heels of their sneakers. The Brooklyn Nets and Philadelphia 76ers could upend the Celts and Sixers. Then again, we find that the chances of that occurring are low. Finally, the NY Knicks will be better than they were last season. However, they will still finish last in the Atlantic Division.