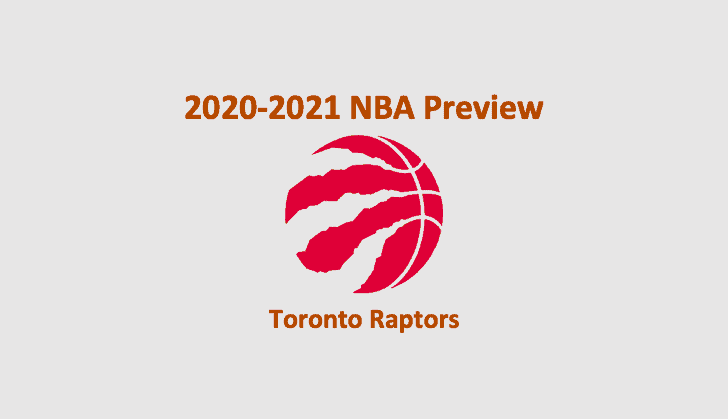 Our Toronto Raptors preview 2020 – 2021 notes that last year, the Raptors had the best record in the Atlantic Division and the second-best record in the NBA. Toronto, which had 53 wins and 19 losses, finished five games ahead of second-place Boston. In the first round of the playoffs, the Raptors breezed by the Brooklyn Nets four games to none. In the semifinals, Toronto met Boston. The Celtics went ahead two games to none, and then the Raptors won the next two, tying the series. Boston won game five and Toronto game six. Boston took down Toronto in the final contest 92-87, and the Raptors were done.
Toronto Raptors Preview 2020 – 2021 – Stats
The Raptors averaged 112.8 PPG (13th) while the connected on just 45.8% of their field goals, which ranked 20th. They made 13.8 three-point shots per game, ranking third, and had a success rate of 37.4% (5th). This was a long-range shooting team. Toronto also did well at the foul line, completing 79.6% (6th) of their frees. Other stats include, 25.2 APG (11th), 45.4 RPG (11th), 8.8 SPG (2nd), and 5.0 BPG (13th). On defense, Toronto allowed just 106.5 PPG, which ranked first in the league. That stat gave the Raptors a PF/PA differential of +6.3. Also, this team was solid in limiting opponent shooting success, as other teams averaged 42.8 FG% (2nd) and 33.7 3PT% (1st). However, one area where Toronto struggled was in rebounds, as opponents brought down 46.1 RPG. That ranked 24th in the league.
Toronto Roster
This is a fine group of starters. On this team, we like the combination of vets, young players, and rookies. The backcourt is especially adroit. In the paint, Toronto has instituted some upgrades, which could help this team grab more rebounds and get additional second chances when on offense.
Toronto Raptors Preview – Backcourt
Point guard Kyle Lowry and shooting guard Fred VanVleet are a solid combo. Eight of Lowry's 15 NBA seasons have been sent with Toronto. He is their go-to guy. Last season, the All-Star point guard averaged 19.4 PPG, 7.5 APG, and 5.0 RPG. VanVleet, who's a four-year NBA and Toronto player, has moved up the ladder to the point where he earned the starting shooting guard position last season. In 2019-2020, he averaged 17.6 PPG and 4.1 APG. In terms of shooting percentage, VanVleet had a 41.3 FG%, 39.3 3PT%, and 84.8 FT%.
Raptors Preview – Frontcourt
Now starting his fourth NBA season, small forward OG Anunoby has grown into the job. Last year, he averaged 10.6 PPG and 5.3 RPG. A 48% field-goal and 39.0% three-point shooter, Anunoby is a solid performer who also brings some fine defensive chops to the floor. At PF, Pascal Siakam is another young player who has grown into his role. Last season, his fourth, Siakam averaged 22.9 PPG, 7.3 RPG, and 3.5 APG. Like Anunoby, he can hit when in the paint and drain the three-pointer. Center Aron Baynes is the veteran in the frontcourt. In eight seasons, he's played with four different teams. Last season, Baynes was with Phoenix. With the Suns, he averaged 11.5 PPG and 5.6 RPG. Our Toronto Raptors preview 2020 – 2021 notes that like the other two upfront starters, he can score from inside, hitting 48.0% of his attempts, and from downtown, making 35.1%.
Raptors Bench
The backcourt backups include Malachi Flynn and Fred VanVleet at point guard and Terence Davis II and Patrick McCaw (Day-to-Day) at shooting guard. Flynn, a first-round, number 29 pick, should see action as a rookie. He played two years with Washington State and then finished his career with San Diego State where he averaged 17.6 PPG, 5.1 APG, and 1.8 SPG. SG VanVlee has the chops to rotate into the point position. Davis returns after a decent rookie season where the guard averaged 16.8 MPH, 7.5 PPG, and 3.3 RPG. McCaw starts his third of six NBA seasons with the Raptors. Last season, he hit 41.4% of his field goals and 32.4% of his threes.
Norman Powell and DeAndre' Bembry step up at small forward and OG Anunoby and Chris Boucher can play power forward. The center backups include Chris Boucher and Alex Len. Powell, who's spent five seasons in the NBA with the Raptors, continues to expand his contributions. Last season, he averaged 16.0 PPG, 3.7 RPG, and 1.2 SPG. Bembry also starts his fifth season with Toronto. In 2019-2020, he contributed 5.8 PPG, 3.5 RPG, and 1.3 SPG. SF Anunoby could play power forward, although Boucher, who also subs at center, is a solid choice. An accurate shooter from inside and out, he can use his 200-pound, 6-9 frame to gain advantage. Last season, he averaged 6.6 PPG. Len, who's in his ninth NBA season, comes to Toronto from Sacramento. At 7-0 and 250 pounds, he can bang inside. Last year, he averaged 6.1 RPG, 1.0 BPG, and 5.9 PPG.
Toronto Raptors Preview 2020 – 2021 – Coaching
Our Toronto Raptors preview 2020 – 2021 asks what can you say about head coach Nick Nurse? His first season at the helm, he guides the Raptors to the NBA title, and his second season, he receives coach of the year honors. Nurse, who was a Toronto assistant from 2013-2018, became the had coach in 2018. Since then, it's been a rewarding two seasons. As an NBA coach, he has a winning percentage of .721. Nurse is known as a creative and innovative coach who can adjust his schemes to ensure that his players have the best chance to excel.
Toronto – Pluses and Minuses
Very solid core
Fine depth
Nurse is a first-class head coach
The center position seems a bit tenuous
Rebounding is an issue
Can young players continue to step up?
Toronto Raptors Preview 2020 – 2021 – Final Word
This Toronto Raptors preview 2020 – 2021 finds that this team will once again be very competitive. Toronto has a solid nucleus that should excel. We find that the Raptors will win the Atlantic Division and finish in the top three of the Eastern Conference. Although this team is not perfect, they have a lot going for them. Plus, head coach Nurse is the real thing.
Toronto Raptors Projection – 51-21 First-Place, Atlantic Division