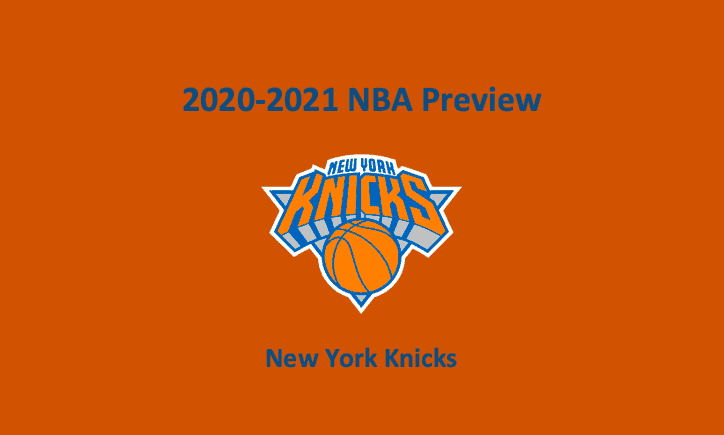 Our NY Knicks preview 2020 – 2021 notes that last season this team finished with a record of 21-45. They were 29 games away from the Atlantic Division champs, the Toronto Raptors, and did not make the playoffs. The Knicks also finished 31.5 games away from the Eastern Conference winner, the Milwaukee Bucks. They were fourth from the bottom and ended up 12th out of 15 teams. Last year, the best that this team could do was four straight wins. The worst was 10 losses in a row. In their first dozen games, the Knicks went 3-9. In their last 14 contests, NY was good for five wins and nine losses. It was a typical New York Kicks season. It starts with some promise, that faded quickly and resulted in many more losses than wins.
NY Knicks Preview 2020 – 2021 – Stats
Last season, this team averaged 106.5 PPG, which was next to last in the league. They allowed 112.3 PPG, which was in the middle of the NBA pack. Their PF/PA differential was minus 5.8 PPG. It's hard to win many games when the differential between the points you score and allow is close to six. The team did tie with two other clubs for fifth in the league in rebounds with 46.5 per game. They were tied for 17th in steals with 7.6 PG and were 17th in blocks with 4.7 PG. The Kicks' 13.8 TO earned them 12th-place in the NBA. Opponents shot 46.3% (17th) against NY. Defense was lacking, as was their offense.
New York Roster
The Knick starters look solid. The addition of rookie small forward Obi Toppin could pay dividends. Plus, during the off-season, New York secured some veteran talent from other teams. We like the backcourt better than the front. The depth around the rim is thin. The guys coming off the bench offer support, but one issue last season was defense, and we don't see much improvement in that area.
NY Knicks Preview – backcourt
The Knick starting backcourt is comprised of point guard Elfrid Payton and shooting guard RJ Barrett. Last season, Payton came to New York from New Orleans. In his initial season with NY, he averaged 27.7 MPG, the fewest of his seven-year career. However, also, he did post some of the better numbers of his career, including 7.2 APG, 1.6 SPG, and 2.0 PF. His 10.0 PPG, 4.7 RPG, and 43.3 FG% were all in sync with past seasons. However, Payton's 20.3 3P% was far below his career average.
Last year, in his first NBA season, Barrett recorded fine numbers. The former Duke player, who averaged 30.4 MPG, was good for 14.3 PPG while completing 40.2% of his field goals. Barrett was good on 32.0% of his threes. He also brought down 5.0 RPG and made 1.0 SPG. Barrett was solid enough to start 55 of 56 games in which he appeared. Together, Payton and Barrett proved to be a solid backcourt combo.
Knicks Preview – Frontcourt
The New York frontcourt starters are center Mitchell Robinson, power forward Julius Randle, and small forward Obi Toppin. Last year, his second in the NBA and with the Knicks, Robinson's numbers for the most part improved. He upped his minutes-played (20.6 to 23.1), rebounds per game (6.4 to 7.0), and points per game (7.3 to 9.7). Perhaps most importantly, his field-goal percentage went from 69.4% to 74.2%. Robinson averaged just 0.5 TO while making 2.0 BPG.
Power forward Randle, a six-year vet who came to New York last year from New Orleans, played 32.5 MPG while averaging a hefty 19.5 PPG and grabbing 9.7 RPB. Every night, he's a possible double-double candidate. Randle did see his shooting accuracy dip a bit from the last two seasons when he connected on 54.1% of his attempts. Last season, he was successful on 46.0%. He also saw his 2018-2019 three-point rate drop from 34.4%, a career high, to 27.7%, which was more in line with previous seasons.
At small forward, Toppin starts his rookie season. The number eight overall draft pick, a former Dayton Flyer forward, played two college seasons. He averaged 17.1 PPG, 6.6 RPG, and 1.0 BPG. Toppin was good on 64.7% of his field goals and 41.7% of his shots from downtown. Our NY Knicks preview 2020 – 2021 observes that Toppin is a solid addition to this group.
Knicks Bench
Depth in the backcourt is solid. Frank Ntilikina mans the point and Alec Burks fills in at shooting guard. Ntilikina, who starts his fourth season with NY and in the NBA, is a consistent performer. Expect him to average six points and three assists per game. Last season, he shot 36.3% from the field and 32.1% from the arc. Burks, a 12-year NBA vet who last played with Philadelphia, can still give 20 minutes per game. Last year, he hit for 12.2 PPG while shooting 46.1%. With the 76ers, he completed 41.6% of his threes. Additionally, Austin Rivers covers the backcourt. Rivers, who's a 10-year veteran, played last season at Houston. With the Rockets, he connected on 42.1% of his field goals and 35.6% of his threes.
The NY paint looks thinner than the backcourt, as starting versatile small forward Toppin backs up at the power spot. Center position is covered by Nerlens Noel and small forward Reggie Bullock comes in for Toppin. Noel, another new addition, spent his last two seasons with Oklahoma City. Over the course of his seven-year NBA career, the center has averaged 8.0 PPG, 6.2 RPG, and 22.1 MPG. But over the last few years, those number have fallen off. However, his shooting chops have improved. Last year, he hit 68.4% of his field goals, a good six percentage points higher than his career average.
Finally, Kevin Knox II comes in for both forward spots. This is his third NBA season, and his third year with the Knicks. Last season, Knox's point production fell from 12.8 the previous season to 6.4 PG. However, his field-goal percentage remained the same. He was used less in 2019-2020, as his average minutes per game went from 28.8 to 17.9.
NY Knicks Preview 2020 – 2021 – Coaching
Our NY Knicks preview 2020 – 2021 notes that the team has a new head coach, veteran helmsman Tom Thibodeau. Thibodeau, who has been an NBA head coach for eight seasons, was with the Chicago Bulls from 2010-2015 and the Minnesota Timberwolves from 2016-2019. The Timberwolves fired him at the midpoint of the 2018-2019 season. Despite the firing, Thibodeau has a solid reputation and is noted for his attention to detail, defensive strategies, and demanding discipline. He could be just what this team needs.
New York – Pluses and Minuses
Small forward Obi Toppin is a solid addition
Increased scoring potential with incoming veterans
Thibodeau is a fine coach
Lack of defense looks to still be an issue
Knicks lack the talent and depth of upper echelon teams
Still need more offense
NY Knicks Preview 2020 – 2021 – Final Word
This Knicks team should be interesting to watch. They've added quite a bit of talent in all areas. That's good. Plus, new head coach Thibodeau could help change things up on the team for the better. However, our NY Knicks preview 2020 – 2021 asks if New York has done enough to add more offensive punch and defensive prowess? We think they will falter over the course of this year's 72-game season. We're picking the Knicks to finish fifth in the Atlantic Division and below the Eastern Conference seeding line for the playoffs. Although they will win more games than they did last season, the Knicks will still lose more than they win. Consequently, they will not make the playoffs.
New York Knicks Projection – 32-40 Fifth-Place, Atlantic Division