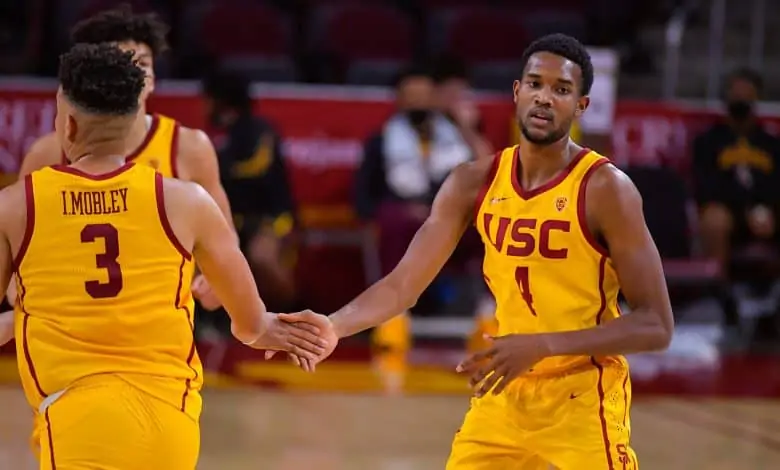 Every game is one step closer for the Bulldogs as they chase history. The NCAA tournament USC vs Gonzaga matchup is another tough test for Mark Few's 29-0, #1 Bulldogs – but they've answered the bell every time they've taken the court since November 26th.
Gonzaga is a -8.5 favorite for Tuesday night's matchup, but the Trojans are one of the few teams that have the size to equal the Bulldogs. Gonzaga has the #1 offense and field goal percentage in the country, but USC's tough 2-3 zone defense makes you beat a team and not the man. This game has all the makings of a classic.
USC Defense Reaching Elite Status
It's not like USC's defense was bad during the regular season – in fact they led the country with the best 2-point defense in the nation (41.5%). Andy Enfield has decided to switch things up to a 2-3 zone in the tournament and believe it or not things have been even better.
USC held Drake to 29% shooting in a 56-72 win as -7.5 favorites. OK, Drake's not the best offensive team in the country but the Trojans followed that up by limiting Kansas to 18-62 shooting, also 29%. It's a down year for the Jayhawks too (85-51 USC), but most recently the Trojans held Oregon to 26 first half points en route to an 82-68 win in the Sweet 16.
The reason this defense has worked for the Trojans heading into the NCAA tournament USC vs Gonzaga pick is because of their impressive size. 7'0 Evan Mobley and his 6'10" brother Isaiah Mobley are big, athletic, and have some obvious built-in chemistry. 6'7″ Isaiah White and 6'8″ Drew Peterson are also gigantic at the guard position. The Bulldogs could have some real matchup problems.
Gonzaga Offense With a Major Test
One of the major complaints critics have about Gonzaga year in and year out is that they don't play anybody once they get into the conference portion of the season. That was true again this year, and the Bulldogs ranked just 86th in the country in adjusted strength of schedule.
Make no mistake the Bulldogs beat some solid teams earlier this season, taking down Kansas, West Virginia, Iowa, Virginia, and BYU. That being said, this record setting offense that has hit 63.9% of their two point shots need to be at least with a bit of a grain of salt. Even their last two tournament foes Oklahoma (lost 6 of previous 7) and Creighton were somewhat pushovers.
What all this background does is fire up Gonzaga, as usually a 29-0 team doesn't have to face this much criticism. If the Bulldogs can hit their usual 80-85+ points against this USC defense than there isn't going to be anybody stopping them in the next two rounds.
Free NCAA Tournament USC vs Gonzaga Pick
Both teams have the horses, there's no doubt about that. The Mobley's present a challenge that Gonzaga star Drew Timme hasn't seen in awhile though. Evan Mobley is a top 3 pick in the next NBA draft, but he's also a freshman and may get caught up in the moment (same with GU's Jalen Suggs though).
Ultimately you have to give USC some credit here. They are battle tested in the Pac-12 and have just a suffocating defense. Defense travels, offense doesn't always.
USC 71 – Gonzaga 76
Free Pick: USC +8.5