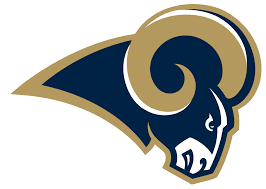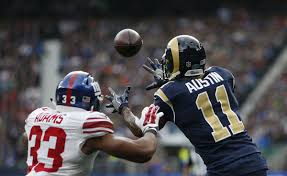 In 2016, the St. Louis Rams returned to their roots to become the Los Angeles Rams (4-12) once again, arriving on the West Coast with all of the hope one can have for a new beginning. Despite an upbeat 3-1 start by midseason the Rams, who were 3-5. had lost much of that hope. The second half of the season saw them go 1-7 and with the end of their initial year back in LA, Ram Owner/Chairman Stan Kroenke fired head coach Jeff Fisher. Fisher had served at the helm of the team for five years, garnering very few positive results. Kroenke then hired Sean McVay as the new head coach. McVay, who is 31 and the youngest head coach ever in the NFL, brings a new offense to LA as well as some innovation. How unique is the new system? It's so unique that McVay has added three offensive coaches who have vast amounts of experience in areas in which they are not focusing. Our Los Angeles Rams 2017 NFL preview notes that McVay is looking for his coaches along with himself to create a group of "we" and not "me."
Offense: 7.5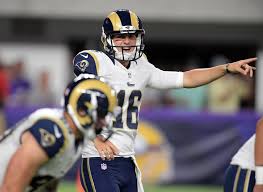 Rookie QB Jared Goff got tossed into the middle of things and was surrounded by 10 other players but very little talent. He was doomed to struggle at best and he certainly did. Goff threw 322 passes, connecting on 196 for a total of 2,201 yards, nine touchdowns and 11 interceptions. He was sacked 49 times (31st), had a third down success rate of 32% (32nd) and average 184.4 passing yards (31st). The Rams averaged 14 PPG (32nd). It was a long season for the offense. The big question for Goff is how will the O-line be this season? It's young and been reshuffled to hopefully create a better working group who can protect the young QB.
The line will also need to support dual threat RB Todd Gurley who in 2015 won the NFL's Rookie of the Year Award. They did not help him much last season, as he averaged 3.2 YPA and ran for 855 yards and six TDs. He also had 43 catches for 327 yards. WR Tavon Austin caught 58 passes for 508 yards, averaging 8.8 YPC and scoring three TDs. Kenny Britt was the team's top pass catcher, grabbing 68 passes for 1,002 yards while averaging 14.7 yards per catch and scoring five times. Overall, the Ram offense was ranked 32nd. One thing is for sure, they really can't do any worse.
Defense: 8.0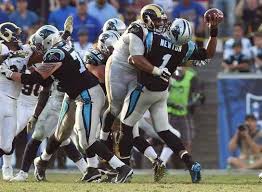 There's certainly hope on defense. Although LA was 23rd in points allowed (24.6 PPG), they were ninth in total yards allowed (337.0 YPG). Their pass D was ranked 10th and rush D was 16th. They were tied for 23rd in picks with 10 and tied for 24th in sacks with 31. The team's turnover differential was -11 (28th). Defensive coordinator Wade Phillips has been brought in by McVay to change things up, and he is going to do just that.
All-Pro DE Aaron Donald, a quick and athletic versatile player, is tough to block. He led the team in sacks with eight. The always-improving Michael Brockers returns at tackle, while the rest of the line is comprised of young talent that will rotate in and out. The LBs are also strong, and like the O-line are being reformatted. Connor Barwin, who has been and end, comes to this season as an OLB, a position for which he's better suited. The often-injured Robert Quinn (4 Sacks) also moves outside. He's been injured a late over the past few seasons and must stay healthy to continue in the league. Alec Ogletree, a masterful ILB, stays in that position. Last season he made 171 tackles and had two picks. Finally, in the secondary, CB Trumaine Johnson had seven INTs in 2015 and just one last season. He needs to get back on track during this contract year, while fellow corner E.J. Gaines needs to stay healthy in order to fully contribute. There's enough new talent coming in to shake things up. Look for safety Maurice Alexander (2 INTs) to continue to improve.
Special Teams: 9.0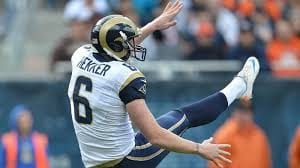 Placekicker Greg Zuerlein had an off-2015, but had a fine rebound year in 2016 hitting 23 of 23 extras and 18 of 22 field goals. Punter Johnny Hekker averaged 47.8 per punt and netted 46.0, breaking the former NFL record. Kick returns were solid in 2016, but punt returns need improvement.
Coaching and Management: 7.5
McVay is the new guy on the block and he's a very young new guy. He's already made some good decisions including hiring Wade Phillips to coordinate the D. Phillips has been in the NFL for 40 years. Plus five of McVay's offensive coaches come with over 60 years of NFL experience. Thus, the inexperienced guy has surrounded himself with a lot of smart, experienced, and knowledgeable professionals.
Los Angeles Rams 2017 NFL Preview: Last Word
It will take the Rams more than a year to improve enough to be in the NFC West mix. But our Los Angeles Rams 2017 NFL preview finds that there are positive developments here. We're skeptical about how much can be done with the present offensive talent. Goff needs some high-end performers. However, if the O-line can show progress, Gurley, who is high-end, will have some room to run and Goff some time to pass.
Los Angeles Rams 2017 NFL Preview Prediction: 3rd NFC West; Record: 6-10
GO BACK TO: