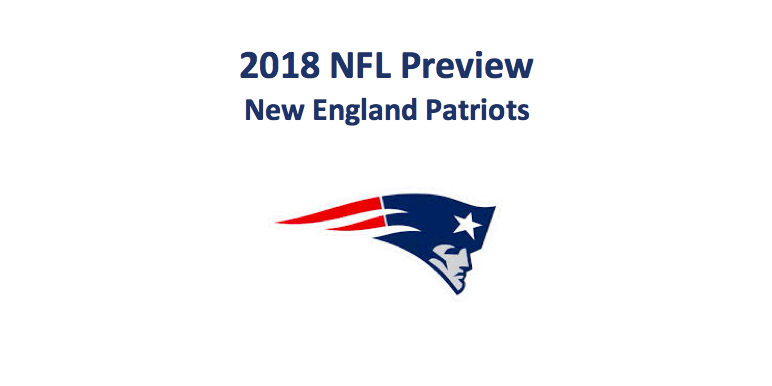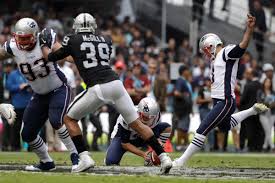 It turned out that 2017 was a typical year for the AFC East New England Patriots (13-3), as they won their division, took the AFC, and made it to the Super Bowl. But this time, unlike the last two times they won the Super Bowl, they faltered on the final drive, and Philly literally took victory away from QB Tom Brady the the team. However, our 2018 New England Patriots NFL betting preview projects this team to be extremely competitive once again. But how far will they go? Be cautious, as they may not make it to the big game this time around.
Offense
As has often been the case, last season the Patriot offense won games. They were first in the NFL in total yards (394.2 YPG), second in passing yards (276.1 YPG), and 10th in rushing yards (118.1 YPG). The Pat's 28.6 PPG tied them for second in the NFL and their third-down conversion rate of 41% tied them for ninth.
Quarterbacks and Running Backs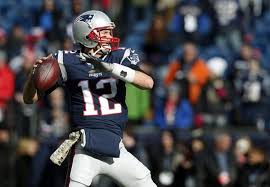 Our 2018 New England Patriots NFL betting preview acknowledges that Tom Brady (581 ATT, 385 COMP, 4577 YDs, 32 TDs, 8 INTs) is still the best of the best. His ability to audible, see the entire field, and find the open man while often threading the needle is unrivaled. Although he is entering his 19th NFL season and turning 41, Brady is still in amazingly good physical condition. Plus, his leadership abilities are outstanding.
RB Dion Lewis, who averaged 5.0 YPA and gained 896 yards while scoring six TDs, has moved on. Former Bengal Jeremy Hill, who lost half of the 2017 season to an ankle injury, joins the Patriots. If he can find his form again, Hill could gain close to one thousand yards this season. Rex Burkhead did not get a lot of carries this past season, but he scored eight rushing TDs. Rookie RB Sony Michel, out of Georgia, joins the unit. He's got fine potential.
Receivers and Tight Ends
Although Danny Amendola and Bradin Cooks are gone, New England still has an impressive group of receivers. Julian Edelman, who missed last season due to injury, does return. He's a sure-handed receiver and accurate route runner. Top TE Rob Gronkowski (69 REC, 1084 YDs, 15.7 YPC, 8 TDs), who's had to deal with numerous injuries over the years and seemed to be considering retirement, is back for a ninth season. He's the best TE in the game. Slot receiver Jordan Matthews comes to the Pats from the Bills. He's looking to get his A-game back. There's depth in the ranks.
Offensive Line
Brady was sacked 35 times last season. The Patriots were tied for 13th in that category. Most of the line returns, and it's a very solid group. However, tackle Nate Solder is gone, and Brady's blind side is vulnerable. There are candidates to fill that big, open spot. But will someone be able to do so this season? Our 2018 New England Patriots NFL betting preview sees this as a major challenge for this team.
Defense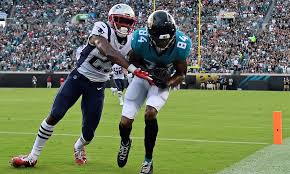 There was some good news on defense last season. New England was fifth in the NFL in points allowed (18.5 PPG). That gave them a PF/PA diffential of +10.1. Our 2018 New England Patriots NFL betting preview also notes that the Pats recorded 42 sacks (T-7th NFL) and had a turnover differential of +6 (11th NFL). That all occurred despite the fact that they were 29th in total defense (366.0 YPG).
Defensive Line
Our 2018 New England Patriots NFL betting preview discovered that this D-line is impressive in terms of what each player brings to the game. DE Trey Flowers (6.5 SCKs) is a top pass rusher, while former Atlanta Falcon DE Adrian Clayborn joins the Pats as a free agent after posting a career-high 9.5 sacks. Tackle Danny Shelton, who started 44 games for the Browns, should be a welcome addition, and Malcom Brown is a big run stuffer.
Linebackers
If you're looking for the anchor on this side of the ball, our 2018 New England Patriots NFL betting preview suggests you look no further than Don't'a Hightower. Hightower, a smart leader with excellent run-stopping skills, is coming back from various injuries. The other primary LB is Kyle Van Noy (73 TCKLs, 5.5 SCKs), a player who proved last season that he could step up.
Secondary
The secondary is a mixed-bag. Safety Duron Harman (4 INTs) proved to have a nose for the ball, while Pro Bowl safety Devin McCourty (94 TCKLs) serves as the QB of the defense. It took corner Stephen Gilmore (2 INTs) some time to find his stride. But by mid-season, he had. Corner Jason McCourty, Devin's brother, looks to replace Malcolm Butler. Safety Patrick Chung is a hard fighter who's best at stopping the run.
Special Teams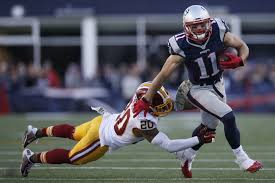 The coverage teams are led by Pro Bowler Matthew Slater and are some of the finest in the NFL. Stephen Gostkowski is one of the best at kicking off and an on-target field goal specialist. He struggles, at times, at PATs. Ryan Allen is one of the weaker punters in the league. Improvement is needed. The pats need to replace Lewis and Amendola on run backs. There are plenty of good candidates.
Coaching
Bill Belichick (241-84 Overall, 27-10 Postseason) is one of the most innovative coaches in the NFL. This year, his O-C of 15 years, Josh McDaniels, gave up the chance to be the head coach of the Colts and, instead, stayed with the Pats. Our 2018 New England Patriots NFL betting preview observes that despite D-C Matt Patricia leaving the Pats for the Lions, New England should be just fine. That's because Belichick is the guy who plans out the D.
2018 New England Patriots NFL Betting Preview: Final Word
Our 2018 New England Patriots NFL betting preview projects another first-place finish for the Patriots. But, like any top team, the Pats are vulnerable. The Jets look improved, Miami sees Tannehill come back, and Buffalo has a decent squad. Plus, there are numerous health issues and concerns occupying the Pats.
2018 New England Patriots NFL Betting Preview Projection: 11-5 Record, 1st AFC East
Unit Ratings
Offense:
QB: 9.8, RB: 8.3, OL: 8.2, WR: 8.5,TE: 9.0
Defense
DL: 8.2, LB: 7.9, DB: 8.0
Special Teams
PK: 8.6, PT: 6.5, RT: 8.2
Other
Coaching: 9.6
Intangibles: Most agree Belichick's benching of Butler in Super Bowl gave Philly a major advantage. Has Belichick learned anything from that?
Overall Rating = 8.4
Links