US Betting Sites
MLB Moneyline Pick – Arizona Diamondbacks vs Milwaukee Brewers
Two Young Starters Try to Nail the Rubber Game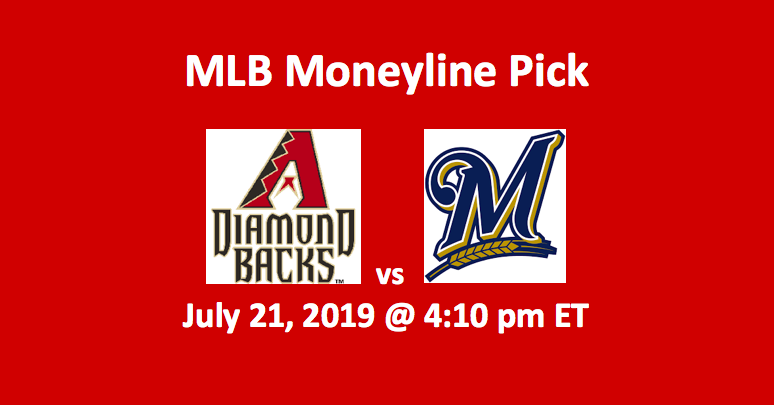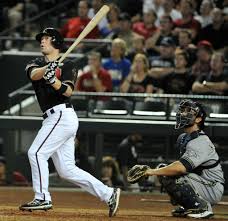 Our Arizona Diamondbacks vs Milwaukee Brewers pick has the Milwaukee runline at +107 (-1.5). This Arizona Diamondbacks vs Milwaukee Brewers pick offers the Backs at -117 (+1.5). If you're interested in the moneyline, the odds on the Brewers are -155 and Arizona at +140. This is the third game of the weekend series and the rubber match. The Brewers took the Friday contest 5-1, while the Diamondbacks won Saturday's game 10-7. The third game of the series will be played at 4:10pm ET on Sunday, July 21, 2019.
The Milwaukee Brewers (51-48 Overall, 21-27) are third in the NL Central. They sit 3.5 games out of first, which is presently occupied by the Chicago Cubs. The Brewers have won four of their last 10 games. The Arizona Diamondbacks (50-48 Overall, 21-23 Home) are third in the NL West, but a hefty 14 games in back of the division and league leading Los Angeles Dodgers. However, both teams are hot in the hunt for a wild card. The Brewers are .5 games out of a wild card spot and the Brewers are just one game away.
Arizona Diamondbacks vs Milwaukee Brewers Pick – Pitching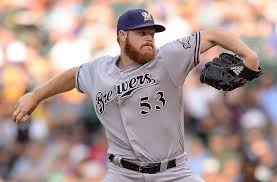 Brandon Woodruff (11-3 W/L, 3.53 ERA, WHIP) will start for the Brewers. Since April 16, the righty has lost just two games. During that time, over 16 starts, he is 10-2-4 and the Brewers have won three-of-four of his no-decisions. In each of his last three starts, where Woodruff is 2-1, he's allowed just one run. In that string, he pitched a total of 18 innings, striking out 19, walking two, and giving up 18 hits. He allowed one homer. Woodruff offers a very hot 97mph fastball and an elusive 96mph sinker. Both result in a wealth of groundballs and strikes. He also utilizes a very hard, 89mph slider.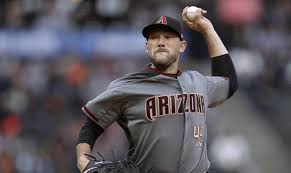 Lefty Alex Young (3-0 W/L, 0.96 ERA, 0.48 WHIP), a 25-year-old rookie, came up to Arizona in Late June. Since then over four starts, he's averaged a little over four innings a start, giving up a total of two runs. On July 7, he started against Colorado, going six innings and allowing no runs and no hits. He had three strikeouts and one walk. He last game was July 16 against Texas. In that contest, Young went 5.1 innings allowing one run on three hits. Our Arizona Diamondbacks vs Milwaukee Brewers pick notes that Young uses a three-pitch mix that includes a 92mph fastball, slider/curveball, and changeup. His location is solid. His best pitch is his curveball.
Diamondbacks and Brewers – Stats
The Brewers come to this game batting .249, while opponents are hitting .255 against them. Milwaukee has stroked 166 homers and has a slugging percentage of .451. Opponents have put 134 balls over the wall and possess a .429 SLG%. The Diamondbacks are hitting .260. Opponents are batting .248 against Arizona hurlers. The Backs have 141 homeruns and a .451 SLG%. Other teams have smacked 121 homers and posted a .422 SLG%. In RS/RA differential, the Diamondbacks are +71 and Brewers -12.
The Brewers are powered by Christian Yelich and Mike Moustakas. Yelich is hitting .333 with 35 homeruns and 75 RBI. Moustakas has contributed 56 RBI and 25 round trippers. On offense, Colorado features Eduardo Escobar and Ketel Marte. Marte is hitting .316 with 60 RBI and 20 four baggers. Escobar, who's batting .291, has hit 22 homers and driven in 77 runs.
Our Arizona Diamondbacks vs Milwaukee Brewers Pick
Our Arizona Diamondbacks vs Milwaukee Brewers pick really likes the Backs for a few reasons. First, their offense is more dynamic. Second, Young has been impressive, and he's unknown to Milwaukee hitters. That offers him an advantage over about the first three innings. Our pick for the Arizona vs Milwaukee rubber game is the Diamondbacks with the moneyline at +140. Also, make sure you check out our New York vs Colorado pick for Sunday, July 21, 2019.
Summary Runline Prediction – Arizona Diamondbacks vs Milwaukee Brewers
Arizona Diamondbacks Moneyline +140