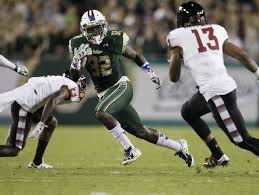 Tonight at 7:30 p.m. E.T. the underdog Temple Owls (2-1) visit the #21 USF Bulls in a AAC game. The Bulls are first in the AAC East, while the Owls are tied for second with Cincinnati. Temple opened their 2017 NCAAF season with a 49-16 loss to Notre Dame and then won their next two, beating Villanova 16-13 and UMass 29-21. The Bulls took down San Jose State 42-22, as they opened on the road, and then beat Stony Brook 31-17. Last week, they easily handled Illinois 47-23. Our 2017 Temple plays USF college football pick offers the Bulls at –19.5 and the over/under at 62.5.
Temple Offense vs. Bulls Defense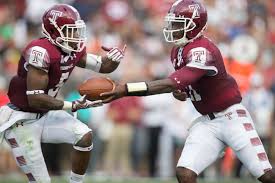 Temple is averaging 20.3 PPG with their primary offensive thrust being the air game. If their passing game is in gear, the Owls will have a chance to score against the Bulls. Sophomore QB Logan Marchi (57.5 COMP%, 5 INT, 0 INTs) has been overall on target this season. He's got a solid group of pass catchers to toss to, including Keith Kirkwood. Kirkwood leads the Owls with 12 catches and two for TDs. Isaiah Right, who has nine receptions and one TD, is averaging 20.0 YPC. Primary RB Ryquell Armstead has had 48 carries and is averaging 3.7 YPC.
The Bulls have been tough against the run, holding teams to under 90 yards per game. Opponents are scoring on average 20.7 PPG. They'll need to shutdown the Owl air attack. The Bulls have a very fine secondary that has already grabbed eight picks and defended 20 passes. In the secondary, Devin Abraham (2 INT, 1 PD) and Mazzi Wilkins (2 INT, 2 PD) are both exceptional. The LB unit and secondary are both deep. DT Bruce Hector (11 TCKLS, 2 SCKs, 5 TFL) can shutdown offenses upfront.
USF Offense vs. Owls Defense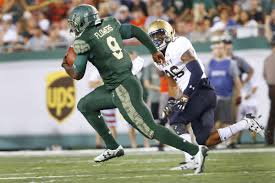 USF has a dynamic offense that can generate points on the ground and in the air. QB Quinton Flowers is a major part of that offensive thrust, as he has run for two scores and thrown eight TD passes. Flowers, who has completed 55.6 percent of his passes, has thrown two picks. He's averaging 4.0 yards per rush. RB Darius Tice has accumulated 256 yards on 48 carries while scoring four touchdowns. He's averaging 5.3 YPA. Six different players have at least one TD catch with Marquez Valdes-Scantling grabbing 48 passes overall and scoring twice.
The Temple defense has had a tough time stopping opponents. They are allowing 488.7 yards of offense per game, including 314 in the air and 174 on the ground. Teams are averaging 27.7 PPG against them. The D has forced six fumbles and recovered two. The team has 14 sacks and 25 TFL. DL Quincy Roche has four sacks and 6.5 TFL, while LB Sharif Finch has two sacks and five TFL. If these players can turn up the heat, Temple has a shot at keeping the game close.
2017 Temple Plays USF College Football Pick
Although the Owls have a decent defense, they will be challenged on offense. The Bulls D is very tough and seasoned, while its offense can be explosive. Our 2017 Temple plays USF college football pick is the Bulls at -19.5 and the over at 62.5.
2017 Temple Plays USF College Football Pick: USF at -19.5 and over 62.5