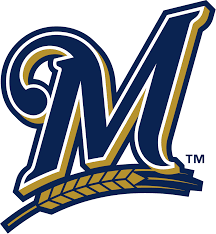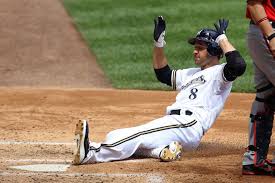 The Milwaukee Brewers (86-74) were in the playoff hunt last season until the bitter end. Despite the fact that they were competitive and recorded the most wins they'd seen since 2011, this is a team that's looking to restructure and rebuild. Our Milwaukee Brewers 2018 preview sees a team that will take a step backwards this year in order to take three or four steps forward over the following few seasons. To be competitive in the NL Central, they especially need hitters who can deliver on a consistent basis.
Pitching
The Brewers led the majors in saves with 54. That ability to hang onto the lead in the late innings was key to their success. They were ninth in overall ERA, posting a 4.00 mark, and their .252 OB% for opponents ranked 11th. They allowed 185 homers, which ranked them fifth in the NL.
Starters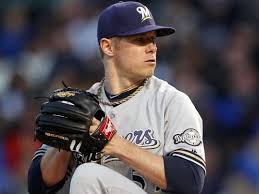 Righty Chase Anderson (12-4 W/L, 2.74 ERA, 8.5 K/9) made marked improvement from 2016, as last season he subtracted about 1.50 from his ERA and earned three more wins. He has an arsenal of five pitches that really keep hitters guessing. Zach Davies (17-9 W/L, 3.90 ERA, 5.8 K/9) had a breakthrough season last year. He tied for fifth in wins in MLB with 17 and led Milwaukee in innings pitched with 191. Davies has better-than-average command of his pitches. Jhoulys Chacin (13-10 W/L, 3.89 ERA, 7.6 K/9) recorded his best numbers since 2013, increasing his wins and lowering his ERA. Junior Guerra (1-4 W/L, 5.12 ERA, 8.6 K/9) struggled with his splitter for much of last season, while fifth starter Brandon Woodruff (2-3 W/L, 4.81 ERA, 6.7 K/9) travelled between Triple-A and the majors.
Relievers
There are certainly some solid pitchers in the pen. Closer Corey Knebel (1.78 ERA, 39 SVs, 14.9 K/9) accumulated 39 saves last season, which was the fourth highest total in the majors. Jacob Barnes (3-4 W/L, 4.00 ERA, 10.0 K/9) was tops on the team in holds with 24. He made the second-most appearances, 73. Rookie reliever Josh Hader (2-3 W/L, 2.08 ERA, 12.8 K/9) posted fine numbers last year, which was his rookie season.
Everyday Players
The Brewers tied for 20th in runs (732), 21st in RBI (695), and 22nd in batting average (.249). They finished 15th in OPS (.751), 16th in slugging percentage (.429), 17th in on-base percentage (,322). They did excel in two areas, stolen bases and homeruns. The Brewers stole 128 bases (2nd) and hot 224 round trippers (tied 7th). The made 164 double plays (tied 6th), but posted a fielding percentage of .981 (28th).
Hitting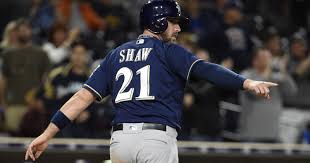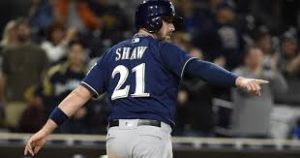 In the leadoff spot, second baseman Jonathan Villar (.241 BA, 40 RBI, 11 HRs) struggled at the plate, which greatly reduced his steals from the year from as they went from 62 to 23. One thing Milwaukee batters could do was hit homers. In the second position, first baseman Eric Thames (.247 BA, 63 RBI, 31 HRs), who came back from Korea, tied for the team lead in round trippers. Although left fielder Ryan Braun (.268 BA, 62 RBI, 17 HRs) managed to accumulate 47 extra-base hits last season, that total was well below his prior stats from his past 11 seasons, as were his 52 RBI.
Third baseman Travis Shaw (.272 BA, 101 RBI, 31 HRs), in the fourth spot, just about doubled his homerun total from the previous season, while right fielder Domingo Santana (.278 BA, 85 RBI, 30 HRs) set career highs for RBI, homers, and runs. Catcher Stephen Vogt (.233 BA, 40 RBI, 12 HRs) is a good hitter, but he went into a major slump in September. Shortstop Orlando Acia (.277 BA, 63 RBI, 15 HRs) has a fine rookie season. He led the team in games playing in 153 and was third in hits with 140. Center fielder Keon Broxton (.220 BA, 49 RBI, 20 HRs) is a placeholder for top prospect Lewis Brinson.
Defense
The left side of the infield is well manned, as Shaw plays a fine third base and shortstop Acia brings top glove skills and fine range. On the right side, Thames is adequate while Villar is less than average. Vogt's catching skills leave something to be desired. In the outfield, Braun, who plays left, is the team's best defender, while Santana, in right, has a tough time tracking down balls. Broxton is average in center.
Management and Front Office
GM David Stearns, who is 33, is the youngest GM. But neither his age nor his lack of experience has deterred him from making sound decisions. He's loaded the Brewer front office with savvy baseball minds. Manager Craig Counsell does a fine job working with what he's given. He's a smart baseball guy who knows how to handle players and use analytics.
Milwaukee Brewers 2018 Preview: Final Word
Our Milwaukee Brewers 2018 preview acknowledges that there is still work to do in order for this team to perform consistently. The Brewers need more depth on the offensive side and consistency from the rotation. The bullpen is sound and reliable. This team will be competitive throughout much of the season, but will have a tough time making it to the finish line.
Projected Finish: 3rd NL Central, Record: 83-79