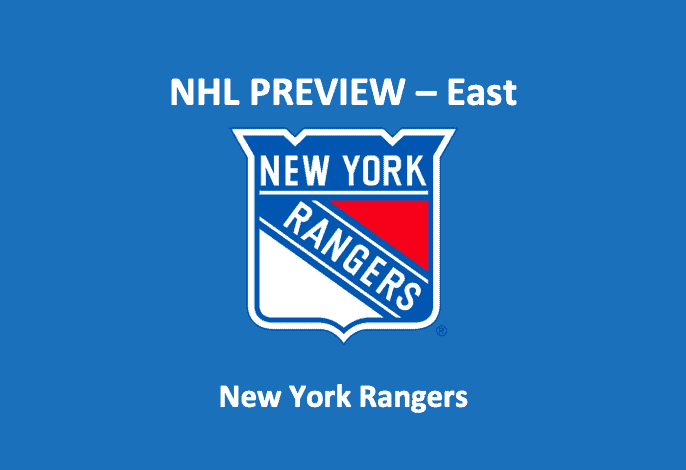 While the Rangers failed to make the playoffs last season, they definitely showed improvements compared to the year prior. Despite playing only 70 games due to COVID, their 79 points was one point higher than their 2018-2019 total. Their 37-28-5 record was good enough to make the qualifying round where they were bounced by the Carolina Hurricanes. Our New York Rangers Preview 2021 looks at whether the Rangers can make the playoffs this season.
Rangers Forwards
The Rangers added a key piece upfront when they won the first overall pick in the 2020 entry draft. The selected the consensus top pick, Alexis Lafreniere. Lafreniere is expected to produce around 40 points over the 56 game slate this season. If he can reach this benchmark, it will provide some quality secondary scoring behind star Artemi Panarin.
Panarin finished as a Hart Trophy finalist last season after finishing tied for third in scoring. He had 32 goals and 63 assists while topping the league in points at even strength at 71. The Rangers scored 149 goals at even strength meaning that Panarin factored into about half the club's even strength goals. The "Breadman" is by far the most valuable player on New York's roster and should help carry an offense that looks very strong on paper.
Solid Centers
Mika Zibanejad and Ryan Strome will center the team's top two lines and give the Rangers a very solid foundation down the center of the ice. Zibanejad was on pace to finish close to Panarin in points if he had played as many games as the winger. Zibanejad was limited to 57 games but led the team with 41 goals and was second with 75 points. He has quietly developed into one of the elite centers in the NHL and if he can stay healthy this season could find himself among the league leaders in scoring.
Strome had the most productive season of his seven year career putting up 59 points while maintaining a +21 plus-minus Overall the Rangers' top-six forward group is extremely solid. Panarin and Zibanejad have the potential to be league leaders in scoring while Lafreniere should make an immediate impact. New York scored the fifth most goals last season and should have little trouble finding the back of the net in 2021.
New York Rangers Preview 2021 – Defense
While the Rangers' defensive core is fairly young, they have shown that they can perform in the NHL. Jacob Trouba despite carrying the second highest salary cap hit on the team had a somewhat disappointing first season in New York. Although he led the team in time on ice, he saw his point total and plus-minus plummet. In the 2018-2019 season the American blueliner had 50 points and a +8 rating. These totals fell to 27 and -12 respectively last year. Despite this Trouba will still be relied up heavily in 2021 and will need to play better if the Rags are going to finish better than 23rd in goals against.
The Rangers saw the emergence of Tony DeAngelo, Adam Fox, and Ryan Lindgren during the 2019-2020 season. DeAngelo finished fourth in scoring among all NHL defensemen. The right-shot D-man put up 53 points in 68 games while quarterbacking a powerplay that had a 22.9% conversion rate, the 7th best in the league. He looks to be one of the better powerplay specialists coming into 2021.
Adam Fox had a terrific rookie season and will be one of the Ranger's top D-men this season. Fox finished fourth in Calder Trophy voting last year after compiling 42 points and a +22 plus-minus. Lindgren in his first-full NHL season played in 60 games while maintaining a +16 plus-minus over the course of the season. He will be expected to provide a solid stay at home presence for New York. Overall, the Rangers have a very solid backend. They have a diverse group of offensive and defensive minded defenders who are capable of solid play at both ends of the ice.
New York Goaltending
The Biggest change for the Rangers in the 2021 season will be in net. After spending the entirety of his 15-year career playing in Madison Square Garden, Henrik Lundvist will no longer be playing for the Blueshirts. Instead, the Rangers have elected to move forward with a younger tandem consisting of Igor Shesterkin and Alexander Georgiev. Shesterkin was limited to just 12 games last season but was stellar in his starts. He finished with a 10-2 record while recording a 2.52 GAA and a .932 save percentage. Shesterkin looks to be one of the best young goaltenders in the NHL despite his limited experience.
Georgiev started the most games for New York last season and posted a .910 save percentage along with a 3.00 GAA. This lackluster GAA can somewhat be attributed to that Georgive faced an average of 33.7 shots per game, the fourth most among goaltenders who started at least 20 games. The Rangers most likely will allow the two Russian netminders to split the load of games evenly, although Sherserkin looks to have greater upside than Georgiev. Overall, the team has a very good tandem in net.
New York Rangers Preview 2021: Outlook
Our New York Rangers Preview 2021 likes the Rangers outlook moving forward. Despite this, it will be difficult for them to make the playoffs. The East Division features plenty of strong teams. We do like their situation in net as well as their scoring potential. Expect them to compete for a playoff position, although they are far from a lock.
New York Rangers Preview 2021: Prediction
Record: 27-17-12, 66 points
Finish: 4th in the East Division