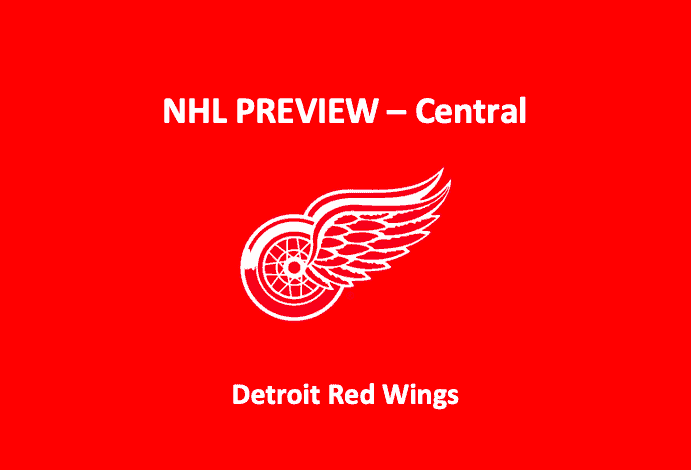 The Detroit Red Wings had an abysmal 2019-2020 season. They finished with the fewest points of any NHL club. Before the season stoppage, they owned a 17-49-5 record for 29 total points. The next lowest point total belonged to the Ottawa Senators who had 62 over 71 games. However, the Wings look to have made some improvements over the offseason. Our Detroit Red Wings Preview 2021 looks at whether these moves will be enough to make them a competitive club this year.
Detroit Red Wings Preview 2021 – Red Wings Forwards
While the Red Wings' top line is solid, the club lacks depth at the forward positions. As a result, Dylan Larkin and Anthony Mantha will be relied upon to drive the Wings' scoring. Larkin led the team with 53 points last season despite seeing his production dip substantially compared to the year prior. Additionally, Mantha was the team's most reliable offensive presence when healthy last season. The hulking winger was on pace to surpass his career high in points if he played the full slate of contests. Mantha ended the season with 16 goals and 22 assists in 43 games. Consequently, Detroit will need him to stay healthy this season if they want to avoid the results that they had last season.
Larkin and Mantha will be joined on the top line by Tyler Bertuzzi, who has flown under the radar despite scoring over 20 goals in each of the last two seasons. Last year he led the Wings with 21 goals while adding 27 assists. He also provides some much needed grit to the club's forward group.
The biggest breakout candidate for Detroit this season will be Filip Zadina. Drafted sixth overall in 2018, Zadina has yet to spend a full season in the NHL. Last season, he suited up for 28 games with the Red Wings while scoring eight goals and adding seven assists. Zadina is expected to play the entire shortened season with Detroit and could be one of the team's scoring leaders.
Off-Season Additions
In terms of offseason additions to the Wings' forward corps, Vladislav Namestnikov and Bobby Ryan were both signed to provide scoring depth. Namestnikov and Ryan both played for Ottawa last season, although the former was dealt to Colorado at the trade deadline. On the season, the Russian center compiled 17 goals and 14 assists. However, Ryan was less productive. Although, he is one season removed from registering 42 points. As a result, both signings are upgrades to Detroit's roster, and come at cheap enough price tags that they are relatively low risk. While the Red Wings have made improvements up front, the club is still expected to finish close to the bottom of the league in scoring.
Detroit Red Wings Preview 2021 – Defense
Detroit also made some offseason improvements to their blueline. Although, it is still weaker than most teams'. Consequently, Both Marc Staal and Troy Stecher will play their first seasons on different teams than where they started their careers. Staal, while less effective than earlier in his career, will add a shutdown presence. On the other hand, Stecher will provide a more offensive role. Staal finished with 11 points and a +5 plus-minus rating with the Rangers last season. Stecher had 17 points with the Canucks in the COVID shortened season.
Filip Hronek and Danny Dekeyser will be the most important members of the Red Wings' D-core in 2021. Hronek is entering his third NHL season and has already become an integral part of Detroit's blueline. Subsequently, the Czech finished with 31 points in 65 games while leading the Red Wings in time on ice. Conversely, Dekeyser was limited to just eight games last year. In those contests, he had four assists while playing over 22 minutes a night. Arguably Detroit's most reliable defenseman, a healthy Dekeyser should help the team cut down on their league worst goals against.
Detroit Goaltending
Of note, the Red Wings added Thomas Greiss over the offseason to replace longtime Red Wing Jimmy Howard. While Greiss has had the benefit of playing behind a staunch Islanders defense, it is hard to argue that this move is anything except an instant upgrade. Greiss finished the 2019-2020 season with a .913 save percentage and a 2.74 GAA. In comparison, Howard compiled a 4.20 GAA and a .882 save percentage.
Our Detroit Red Wings Preview 2021 projects that the team is expected to give a pretty even split of games to Greiss and Jonathan Bernier, who will complete the club's tandem. However, Bernier wasn't particularly impressive last season. Although he was serviceable considering how porous Detroit's defense was. Consequently, Bernier went 15-22-3 with a 2.95 GAA and a .907 save percentage. Despite bringing Greiss onboard, the Red Wings presence in net will still rank toward the bottom of the league this season.
Detroit Red Wings Preview 2021: Outlook
Our Detroit Red Wings Preview 2021 notes that while the Red Wings did improve compared to last season, they still lack most of the necessary components of a playoff team. They have very little depth and top-level talent both at the forward and defense positions. The additions of Namestnikov, Ryan, Stecher, and Griess improve the overall makeup of the roster but don't do enough to make the club a contender.. Although they may grab a few more wins this season look for the Red Wings to be a bottom feeder in the standings once again.
2021 Detroit Red Wings Season Preview: Projection
Record: 20-30-6, 46 points
Finish: 7th in the Central Division