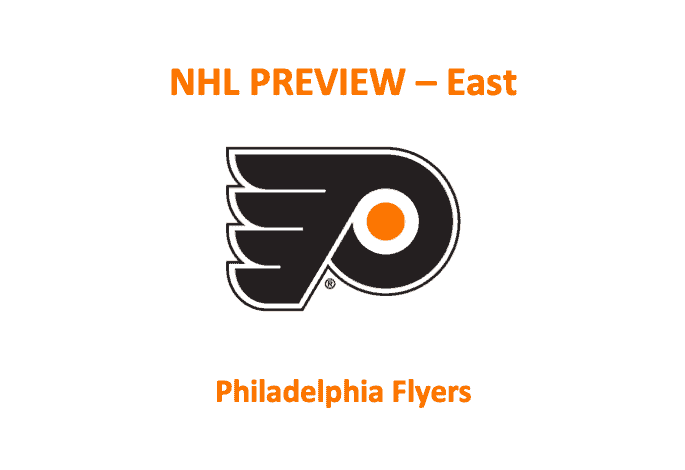 The Flyers finished the 2019-2020 season with a 41-21-7 record. Their 89 total points placed them second in the Metropolitan Division just a single points behind the Washington Capitals. They lost to the Islanders in seven games during the second round of the playoffs. Our Philadelphia Flyers Preview 2021 looks at whether the team can surpass the results that they had last year.
Philadelphia Flyers Preview 2021 – Forwards
The Flyers had little trouble scoring goals last season, and could come close to topping their division in offensive output this year. They have plenty of forwards capable of scoring and don't rely on a single player to drive their offense. Four Flyers scored more than 20 goals during the 2019-2020 season while six had at least 40 points on the shortened year. Travis Konecny led Philly in both categories. He potted 24 goals and finished with 61 points. Sean Couturier, Jakub Voracek, and Claude Giroux all were all major factors in the club's offense as well. Couturier finished with 59 points and a +21 plus-minus en route to winning his first Selke Trophy. Voracek and Giroud had 56 and 53 points respectively.
Kevin Hayes, James Van Reimsdyk, and Oskar Lindblom will be tasked with providing secondary scoring for the Flyers. Hayes and Van Reimsdyk both eclipsed 40 points on the season. Hayes had 23 goals as well and is a solid second line center. Van Reimsdyk had 19 goals and 21 assists. Lindbolm missed the majority of last season after being diagnosed with Ewing's Sarcoma. Lindbolm looked very good in the 30 games he played in. He compiled 11 goals and 7 assists. He could be a breakout candidate this year now that he has beaten his cancer diagnosis.
Joel Farabee is another young player who could have a breakout campaign. During his rookie year Faravee had 21 points in 52 games. The 2018 first round pick is slated to be on a line with Claude Giroux and Kevin Hayes. Overall the Flyers' forward group has skill and depth. They should have very few problems scoring barring any injuries.
Defense
The Flyers have a pretty decent blueline as well. Ivan Provorov is the team's stud on the backend and will be one of the top defensemen in the East Division. Last season Provorov played almost 25 minutes a game while scoring 13 goals and 23 assists. He is capable of both producing offensively and being a stable presence in his own end.
The only big subtraction on the backend this offseason came when Matt Niskanen decided to retire due to concerns about the COVID pandemic. Niskanen played 21:54 per game when in the lineup. Philippe Myers and the newly acquired Erik Gustafsson will be tasked with picking up more minutes. Myers played just over 17 minutes a night last year but proved that he could be a very stable defensive presence. He led all Flyers defensemen with a +17 plus-minus. Gustafsson was signed over the offseason. He is a very solid offensive defenseman and is capable of putting up big numbers if given the opportunity. He had 29 points last year but in 2018-2019 he had 60 points in 79 games.
Travis Sanheim will also eat a lot of minutes for Philadelphia in 2021. The Left-shot defenseman had 25 points last year while averaging over 20 minutes of ice time per game. He could see an increase in playing time as the Flyers try to replace Niskanen.
Goaltending
Carter Hart is one of the best young goaltenders in the NHL. In his second season the 22-year-old had a 2.42 GAA and a .914 save percentage. He was even more impressive in the Flyers playoff games. In his 14 postseason starts he had a 2.23 GAA and a .926 save percentage. Look for another impressive season out of Hart.
Brian Elliott will be the backup option behind Hart. While he was not impressive last year, he provides a veteran presence and should be serviceable behind Hart. Ellitott had a 2.87 GAA and a .899 save percentage through 27 starts. Despite the lackluster numbers he keep his team in games. He had a 16-7-4 record.
Philadelphia Flyers Preview 2021: Outlook
Our Philadelphia Flyers Preview 2021 likes Philly's chance to lead the East Division. They have a deep forward group that can find goal scoring throughout their lineup. The Flyers also have an elite goaltender in Carter Hart and a bonafide number one defenseman in Ivan Provorov. The only real question will be how they replace Matt Niskanen, although they have plenty of young defensemen that should be capable of stepping into that role. Look for the Flyers to be among the top teams in their Division.
Philadelphia Flyers Preview 2021: Projection
Record: 33-19-4, 70 points
Finish: 1st in the East Division