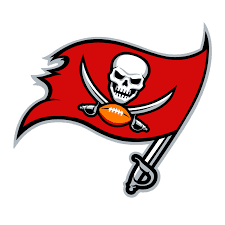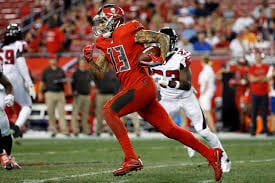 Our Tampa Bay Buccaneers 2017 NFL preview is optimistic about this team, as was our 2016 preview. Last season, the Tampa Bay Buccaneers (9-7) just missed the playoffs. We expect them to just make them this year. Last year, they posted their first winning record in six years, and that was after a 3-5 start. This season they could be 6-2 after eight games. In order to achieve this mark, they'll have to do a little better in the scoring area, as well as a bit better on stopping other teams from scoring. In 2016, the Buccaneers averaged 22.1 PPG and allowed 23.1 PPG. But the scales seem ready to tip in the other direction, and with a kinder point differential, this team that has been on the upswing for a few seasons should break through and get into the postseason.
Offense: 8.5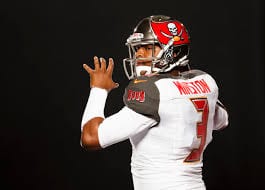 In his second NFL season, Jameis Winston jettisoned 20 pounds before the start of the 2016 campaign and took on a whole new energy and toughness. As he did in his first pro football season, he threw for over 4,000 yards, making him the first NFL QB to do so. He threw 28 TDs and 18 INTs and was sacked 30 times. Winston led an offense with a 44% third down success rate, which was sixth in the NFL. On the receiving end, WR Mike Evans averaged 13.8 YPC and caught a dozen TD passes, while TE Cameron Brate averaged 11.6 YPC and crossed the goal line eight times. Free-agent WR DeSean Jackson brings his speed and deep threat chops to the Bucs, while 2017 draft pick TE O.J. Howard (Alabama) will give Winston another quality pass-catcher to hit.
The weak spot on this offense is the running game. Doug Martin, who averaged just 2.9 YPA, comes into the new season having dealt with a groin injury early last season, then going through rehab for a drug dependency issue in the postseason, and needing to serve a three-game suspension for violating the NFL's drug policy. You can call him a major question mark. Look for RB Jacquizz Rodger, who had 129 carries last season for 560 yards and averaged 4.3 YPA, to get the call. Tampa Bay needs him to deliver. Two young players, second-year man Peyton Barber and rookie Jeremy McNichols, could offer important contributions at running back. Last season, the frontline had a tough time opening holes and protecting Winston. Adjustments have been made that could help, including moving Ali Marpet from right guard to center and J.R. Sweezy to right guard as a starter. There's a good veteran presence on the line, but not a lot of depth.
Defense: 7.5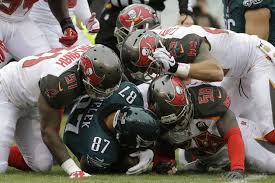 The strong area of this defense in the linebacking squad led by MLB Kwon Alexander who topped the list of Tampa tacklers by making 145. On the outside, Lavonte David, who had 87 tackles, is an underappreciated performer, ably bringing down opponents. There's depth on this squad and there will be competition for the strong-side spot, as Devante Bond and rookie Kendall Beckwith both try to secure starter status. On the line, the team's leader in sacks with seven, tackle Gerald McCoy, returns, while free-agent tackle Chris Baker looks like a solid upgrade on the other side of the line. DE is a problem spot due to injuries and aging, and it was not addressed in the draft or through the free agent market.
It was a good sign that the defensive backs did improve partway through the season. In the first half, they allowed opponents too many big plays, but in the second, they were more aggressive and confident, as they stepped up. Safety Keith Tandy and corner Brent Grimes each had four picks in 2016 and were part of a secondary has 14 INTs (Tied 4th). Plus, Chris Conte (2 INTs) made some big plays in critical situations. The Bucs think that second-year corner Vernon Hargreaves has the potential to be one of the best.
Special Teams: 8.0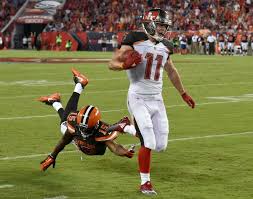 Reliable veteran Nick Folk has been signed to compete with Roberto Aguayo for the role of placekicker. Aguayo missed nine field goals last season and seven of those were from 40-plus yards. Punter Bryan Anger, who was ranked third in the NFL last season, is accurate and reliable. Kick return duties are up in the air while Adam Humphries will return punts again. In 2016, the Bucs were last in kick returns but 12th in punt bring backs.
Coaching and Management: 8.5
Head coach Dirk Koetter (9-7) had to learn some tough game lessons the first few weeks, but he improved throughout the season. He ably earned the respect of his players, other coaches, and the front office. He and GM Jason Licht have a good working relationship. Reliable Mike Smith handles the defensive coordinator chores, allowing Koetter to focus on offense.
Tampa Bay Buccaneers 2017 NFL Preview: Last Word
Our Tampa Bay Buccaneers 2017 NFL preview envisions a playoff bound Buc team. They are loaded when it comes to receivers, Winston has proved to be an up-and-coming force in the NFL, and the coaching staff is solid. Some improvements have been on both sides of the ball, but there's certainly concern about the defensive end spot. If Tampa Bay can have a reliable placekicker, that will give them an extra win or two.
Tampa Bay Buccaneers 2017 NFL Preview Prediction: 2nd NFC Central; Record: 10-6
GO BACK TO: