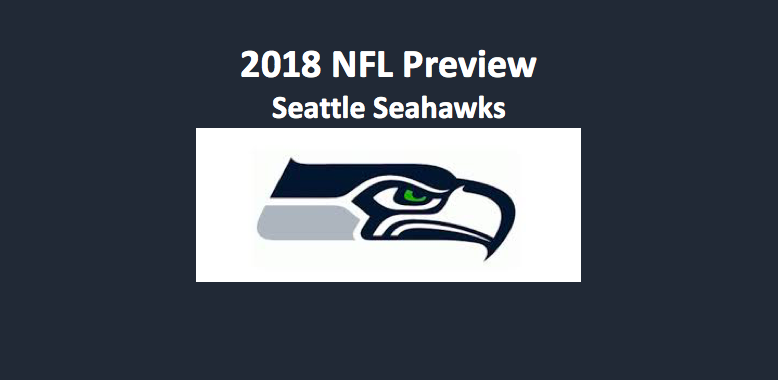 From 2013 through 2016 the Seattle Seahawks (9-7) of the NFC West were playoff bound. In 2013, they won the Super Bowl and in 2014, they had the Super Bowl taken out of their hands on a goal line play by the Patriots. In the last two seasons, they've gone 11-5 each time. But in that time, they never made it past the division title. Last season, they did not make it to the postseason at all. They've lost 24 players from last year's squad. Our 2018 Seattle Seahawks NFL betting preview sees this team in major transition mode. We expect them to struggle a lot this season.
Offense
Statistically, the offense was average at best. They scored 22.9 PPG (T-10th NFL), averaged 228.6 passing yards per game (14th NFL), and had 330.4 total yards per game (15th NFL). Then there are the other stats. The Seahawks tied for 20th in third-down conversions (37%), were 22nd in sacks allowed (43), and 23rd in rushing yards (101.8).
Quarterbacks and Running Backs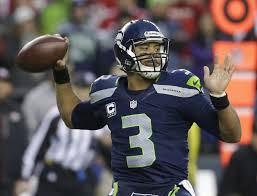 QB Russel Wilson (553 ATT, 339 COMP, 34 TDs, 11 INTs) played well last year. His 34 passing TDs led the league, and he also ran for another three. Wilson was Seattle's top rusher, with 95 carries, 586 total ground yards, and 6.2 yards per attempt. He really performed well. Unfortunately, there was little else that was successful on offense.
When it came to the ground game, free agent Eddie Lacy was a bust and Thomas Rawls, who had showed so much promise, completely disintegrated. Rookie Chris Carson got off to a good start, but was sidelined with a season-ending injury in the fourth game. Carson is back. But there's very little else on the depth chart. Our 2018 Seattle Seahawks NFL betting preview observes that Mike Davis could possibly offer some quality carries. That's to be seen.
Receivers and Tight Ends
With major loses to free agency, the receiving unit isn't much better off than the running squad. Doug Baldwin and Tyler Lockett are the top two wideouts on the team. Baldwin is a smart vet who can still get the job done, while Lockett needs to finally have a productive season. Free agent Ed Dickson will start at tight end.
Offensive Line
The O-line is also another weak area. This was one of the reasons as to why, and probably the major reason, Seattle didn't have a running game. There's been very little done during the offseason to correct deficiencies. They did make one move, signing former first-round pick D.J. Fluker to play right guard. Otherwise, the Seahawks are banking on former Pro Bowl pick Duane Brown to stay healthy and stabilize left tackle and for other returning players to improve through experience. Mike Solari, a 30-year coaching vet, has been brought in as the new O-line coach.
Defense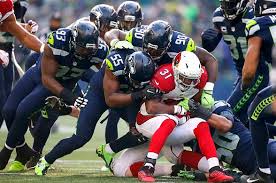 The Seattle defense was good but not as good as it once was. This side of the ball showed decline. Their passing D was still solid, as they limited teams to 209.2 YPG (6th NFL), but their 14 picks (T-13th NFL) were disappointing. The team's rush defense was ranked 19th, while their total defense came in at 11th. Sacks stood at 39 (T-13th NFL). The team's turnover differential was healthy at +8 (8th NFL).
Defensive Line
The Seahawks started 2017 with what many thought was the best defensive line in the league. Gone are three-of-four starters, Michael Bennett, Cliff Avril, and Sheldon Richardson. Frank Clark, who led the team with nine sacks returns. Three players who have made modest contributions in the past are not only expected to fill big shoes, but to fill a lot of big shoes.
Linebackers
The LB unit has remained overall intact. Bobby Wagner returns as MLB and K.J. Wright plays one of the outside spots. Wagner, who is one of the best around, led the team with 133 tackles. He also took in two picks. Wright, who starts his eight-year, was second on the team in tackles with 108. They are a solid duo. Barkevious Mingo comes from the Colts to man the strong side. Also, our 2018 Seattle Seahawks NFL betting preview finds that there's some depth in this unit.
Secondary
Richard Sherman, who suffered an Achilles injury last season, is gone to the 49ers. Earl Thomas (2 INTs), who many consider to be the best free safety in the NFL, remains. Veteran corner Byron Maxwell, who was injured for part of last season, played the final six games and was signed to one-year deal. Second-year corner Shanquill Griffin will start, as will strong safety Bradley McDougald. Griffin and McDougald were both sound contributors last season.
Special Teams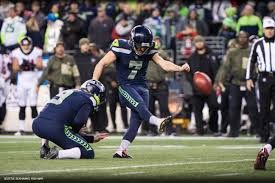 Lockett will continue to return punts and kicks. But also look for rookie Rashaad Penny to get a chance to take some run-back reps. He's speedy and quick. Rookie Michael Dickson of Texas will get a shot as the team's punter. Sebastian Janikowski, who spent years with the Raiders, takes over as placekicker.
Coaching
It may have been good that coach Pete Carroll (88-53-1 Seattle, 122-87-1 Overall, 10-7 Postseason), who's been with the Hawks for nine years, actually made some significant changes in his coaching staff. He fired offensive coordinator Darrell Bevell, defensive coordinator Kris Richard, and offensive line coach Tom Cable. Then he brought in three replacements with a total of 68 years of NFL coaching experience. Brian Schottenheimer is the new O-C, Solari, as noted, the new O-L coach, and Ken Norton Jr. the new D-C. Two things Carroll knows this team needs to do, revive the ground attack and reinvigorate the defense. The big question is does he have the right players in the right positions who can accomplish what needs to happen?
2018 Seattle Seahawks NFL Betting Preview: Final Word
This is a team that is going through major changes and has some big issues regarding personnel and depth. Our 2018 Seattle Seahawks NFL betting preview envisions Seattle attempting to make a lot of adjustments. At the same time, they must deal with a shift of power in their division, as both the Los Angeles Rams and San Francisco 49ers are on the rise. This will be a long, tough season. We expect this team to improve over the course of the year.
2018 Seattle Seahawks NFL Betting Preview Projection: 6-10 Record, 3rd NFC West
Unit Ratings
Offense:
QB: 9.3, RB: 6.1, OL: 6.3, WR: 6.8 ,TE: 6.4
Defense
DL: 6.1, LB: 8.8, DB: 7.1
Special Teams
PK: 8.0, PT: 7.5, RT: 7.7
Other
Coaching: 8.6
Intangibles: Three new coaches in major areas and a lot of units dealing with patchwork fixes and possessing much less talent.
Overall Rating = 7.4
Links