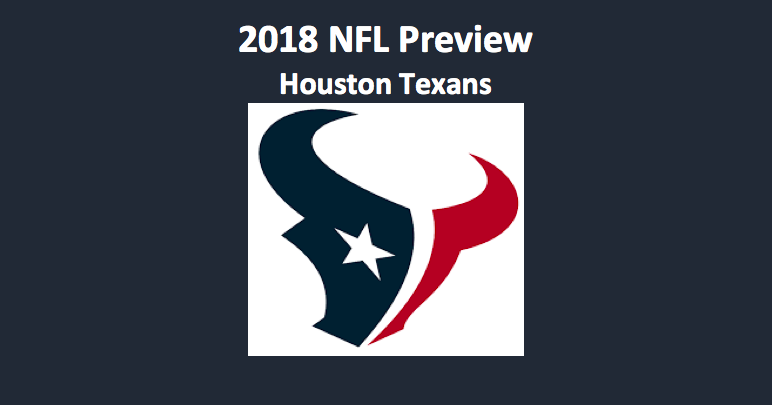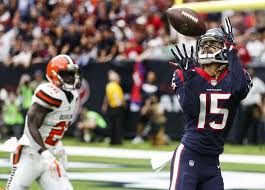 The first question for our 2018 Houston Texans NFL betting preview is will key players like DE J.J. Watt and QB Deshaun Watson stay healthy this season? As of late, Houston has had a tough time of it with injuries, and in order to succeed key players have to be key. That can only happen if they can stay healthy and in the game. Although the Texans were 4-12 last season, remember that the preceding three seasons this team went 9-7 each year. In 2015 and 2016, they won the AFC South. Which team will we see in 2018?
Offense
In 2017, Houston put a decent rush attack on the field. They averaged 115.1 YPG (14th NFL) on the ground. Their 21st ranked pass attack averaged 204.9 YPG, while their total offense, which was 320.0 YPG, earned a ranking of 20th. The team averaged 21.1 PPG (17th NFL). Their third-down conversion rate was 36%, which tied them for 22nd.
Quarterbacks and Running Backs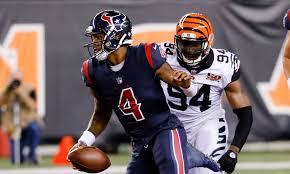 QB Deshaun Watson (204 ATT, 126 COMP, 1699 YDs, 19 TDs, 8 INTs) is a talented, mobile, and skilled player. Now entering his second year, he showed in his rookie season that he has the potential to be Pro Bowl material. Watson is an electric playmaker. When he was injured last season, he was on pace to toss 43 TDs. Our 2018 Houston Texans NFL betting preview notes that the Texans need him to stay healthy, focused, and confident.
RB Lamar Miller (238 ATT, 888 YDs, 3.7 YPA, 3 TDs) had an off season last year. One reason for this has to do with the lack of blocking by the frontline. D'Onta Foreman, who showed good flashes of speed last season, could be a fine second RB as long as he comes back fully from his torn Achilles. The line has been upgraded a bit, which should help, and veteran FB Jay Prosch, who's a fine blocker, is back to clear the way.
Receivers and Tight Ends
DeAndre Hopkins (96 REC, 1378 YDs, 14.4 YPC, 13 TDs) is a major player. He's athletic, skilled, and talented. Hopkins is a top-notch route-runner with excellent speed and amazingly refined pass catching skills. Rookie slot receiver Keke Coutee could be an instant factor on this team. TE Ryan Griffin may be the C.J. Fiedorowicz replacement. That is, if any can come close to replicating the efforts of the veteran TE who retired after last season. WR Will Fuller V has lightning speed but poor health has hobbled him. Fuller had seven TD catches on 28 receptions last season.
Offensive Line
In 2017, the O-line gave up 54 sacks. That was the second-most in the NFL last season. This 2018 Houston Texans NFL betting preview finds that there may be four new starters on this unit. Free agents Zach Fulton (tackle), Senio Kelemete (guard/tackle), and Seantrel Henderson (tackle) have been added. Nick Martin, who's been hampered by injuries, is the best choice at center. If he's healthy, this line will be more stable. There will be a lot of competition for the starting spots on this team's offensive line.
Defense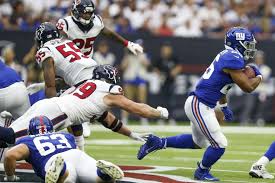 The Houston defense was porous in 2017, as they allowed a NFL high of 27.2 PPG. Their 32 sacks (23rd NFL) and 11 INTs (T-20th NFL) reflect how ineffective the units on this side of the ball were. They posted the 13th ranked rush D (109.2 YPG), 24th pass defense (237.4 YPG), and 20th overall defense (346.6 YPG). Their turnover differential of -12 was 28th in the league.
Defensive Line
This could be one of the best D-lines in the game if DE J.J. Watt can stay healthy. The seven-year vet, who was the NFL Defensive Player of the Year three times, has struggled with injury issues the past few seasons. He is aggressive and smart and a major pass rusher and run stopper. NT D.J. Reader, the anchor of this unit, is consistent. He also makes big plays. At the other end, Joel Heath has fine potential, but he needs to use it fully.
Linebackers
Our 2018 Houston Texans NFL betting preview finds that this is the deepest unit on this side of the ball. OLB Jadeveon Clowney (9.5 SCKs) is an aggressive, disruptive force, while ILB Zach Cunningham (82 TKLs) continues to improve. He is versatile, fast, and has fine football instincts. Also on the inside is Benardrick McKinney (95 TKLs, 3 SCKs). He's strong, instinctive, and quick. OLB Whitney Mercilus returns after being sidelined by a pectoral injury last season. His presence is needed.
Secondary
When it came to stopping the passing game, the Houston Texan secondary faced numerous challenges last season. As we developed our 2018 Houston Texas NFL betting preview, we discovered that this team has made some solid upgrades, which should help. CB Aaron Colvin and All-Pro safety Tyrann Mathieu join the squad. CB Kareem Jackson, who had 73 tackles last season, comes back. He's got a penchant for causing fumbles. Rookie safety Justin Reid, of Stanford, joins the team and should have an immediate impact. He could supplant vet Andre Hal (3 INTs). Some solid vets return too.
Special Teams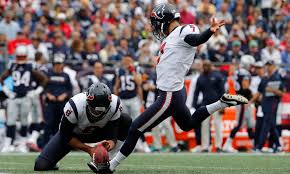 The Texans struggled on coverage last season. With that being an issue, they fired ST-C Larry Izzo and brought in former Oakland coordinator Brad Seely. Houston signed Johnson Bademosi, who was instrumental on Patriot STs, and resigned their top special teams player Brian Peters. Our 2018 Houston Texans NFL betting preview notes that there's some solid explosive runback potential with Keke Coutee joining the group. Pro Bowl long snapper Jon weeks returns, as does punter Shane Lechler. Lechler, who is in his 19th NFL season, is a future Hall of Famer. PK Ka'imi Fairbairn needs to find consistency.
Coaching
Head coach Bill O'Brien (32-35 Overall, 1-2 Postseason) starts his fifth season at the helm. O'Brien is a collaborative coach who listens to players, assistants, and coordinators. His focus on offense is the running game. O'Brien wants his team to play with intensity. The coach needs to improve his clock management skills. He likes Watson's ability to create opportunities and wants to see more production from the offense. Veteran D-C Romeo Crennel returns, as Mike Vabrel goes off to be the head coach of the Titans. Crennel is an exceptional coordinator.
2018 Houston Texans NFL Betting Preview: Final Word
Our 2018 Houston Texans NFL betting preview projects a second-place finish for this team. We think they have a good shot at a wild card berth. The Texans have some fine ingredients for success, have upgraded certain areas, and possess a solid group of coaches. But health is a major issue. Watson, Watt, and others must play.
2018 Houston Texans NFL Betting Preview Projection: 9-7 Record, 2nd AFC South
Unit Ratings
Offense:
QB: 8.4, RB: 7.5, OL: 6.5, WR: 8.2,TE: 8.0
Defense
DL: 9.0, LB: 8.8, DB: 7.8
Special Teams
PK: 6.5, PT: 9.2, RT: 8.0
Other
Coaching: 7.8
Intangibles: Houston is determined to prove last season was an anomaly.
Overall Rating = 8.0
Links