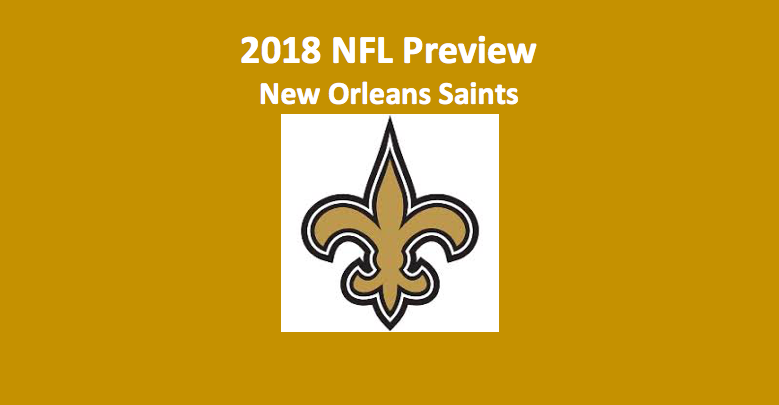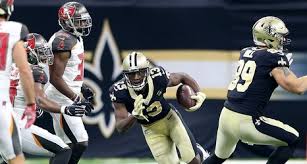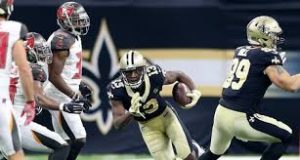 Last season, the playoff run ended for the New Orleans Saints (12-4) in Minnesota when they lost to the Vikings 29-24. Still, New Orleans had its best season since 2013 when they won 12 games and earned a wild card berth. In each of the next three seasons following those dozen wins, they posted 7-9 records. But something happened in 2017. The Saints not only had a dynamic offense, but they also had an opportunistic defense. Our 2018 New Orleans Saints NFL betting preview sees this team returning two very fine units and, once again, vying for the top spot in the NFC South.
Offense
We always knew with Drew Brees at the helm that the Saints could pass. Last season, they were fifth in the league in passing yards with 261.8 PG. At the same time, in 2017, they showed that they could run. New Orleans was also fifth in ground yards, averaging 129.4 PG. Their total offensive yards of 391.2 PG placed them second in the NFL. The team averaged 28.0 PPG (4th NFL).
Quarterbacks and Running Backs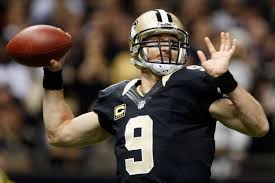 Our 2018 New Orleans Saints NFL betting preview finds that this team will once again offer a balanced attack. QB Drew Brees (536 ATT, 386 COMP, 4,334 YDs, 23 TDs, 8 INTs) starts his 18th NFL season, but he still has plenty of zip on the ball. He's accurate, composed, and strong. Brees' 72% completion rate set a new NFL mark. Look for him to break Peyton Manning's record for most passing yards, as Brees needs less than 1,500 to do so.
This team has two solid running backs. Mark Ingram (230 ATT, 1,124 YDs, 4.9 YPA, 12 TDs) leads the way, Alvin Kamara (120 ATT, 728 YDs, 6.1 YPA, 8 TDs) was the second man in last season, but still very productive. Kamara, who like Ingram, also caught passes, was the 2017 NFL Offensive Rookie of the Year.
Receivers and Tight Ends
Last season, Kamara (81 REC, 826 YDs, 10.2 YPC, 5 TDs) and Ingram (58 REC, 416 YDs, 7.2 YPC, 0 TDs) were number two and three in receptions. The top pass catcher was Michael Thomas (104 REC, 1,245 YDs, 12.0 YPC, 5 TDs). Thomas, who was hugely productive, starts his third NFL season. Also on hand is Ted Ginn Jr. (53 REC, 787 YDs, 14.8 YPC, 4 TDs). Ginn, an 11-year vet, had a fine first season with the Saints last year. In the offseason, they added TE Benjamin Watson, WR Cameron Meredith, and wideout draft pick Tre'Quan Smith. This is a rich and deep group.
Offensive Line
Was the line effective? The rush attack prospered, and the guys in front allowed just 20 sacks, ranking them second in the NFL. Yes, they were effective. The starting unit is back but depth could be an issue. Veteran center Max Unger is the leader of this O-line.
Defense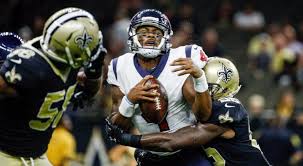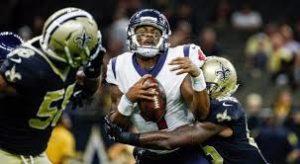 There were some important defensive high-water marks for this team in 2017. The Saints posted 20 interceptions (3rd NFL), 42 sacks (T-7th NFL), and allowed 20.4 PPG (T-10th NFL). Those were all impressive stats for a team that has struggled mightily on defense. They allowed a total of 336.5 YPG (17th NFL) in total opponent offense and were +7 in turnover differential, tying them for ninth.
Defensive Line
Rookie right end Marcus Davenport has a shot at starting. He'll compete with veteran Alex Okafor (4.5 TKLs), who missed the last six weeks of last season due to an Achilles injury. On the other end, Cameron Jordan (13 SCKs) proved to be monumental, as he led the team in QB takedowns. The tackles on this team are not big playmakers, but they are overall solid in the trenches.
Linebackers
Our 2018 New Orleans Saints NFL betting preview notes that the LB unit, unlike the D-back and D-line squads, has some question marks. Health issues have been a problem with this group. Last season rookie OLB Alex Anzalone and vet OLB A.J. Klein both got knocked out of the season due to injuries. Both are solid performers in their positions. MLB Demario Davis (172 TKLs, 5 SCKs) comes from the Jets. The free agent led the team in tackles and sacks. He should be a major stabilizing force in the middle. Te'o Manti and Craig Robertson are both fine backups.
Secondary
CB Patrick Robinson returns to the Saints after having won a Super Bowl with the Eagles. He led Philly last year with four picks. Rookie corner Marshon Lattimore led the team with five interceptions and earned 2017 NFL Defensive Rookie of the Year honors. Last year rookie safety Marcus Williams (70 TKLs, 4 INTs) proved to be a fine performer. That is until he overplayed his coverage on WR Stefon Diggs, allowing Diggs to run down the field to victory in the deciding and final play of the playoff game with the Vikings. Williams is back. Hopefully, a little wiser. Third-year safety Von Bell (4.5 SCKs) looks like he could be a major part of this D.
Special Teams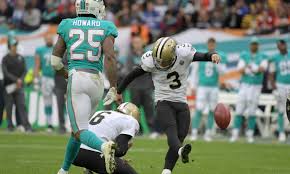 Punter Thomas Morehead's 42.2 YPP in net yardage was sixth-best in the NFL last season. He's exceptionally dependable and accurate. Placekicker Wil Lutz was 47-of-50 on extra points and 31-of-36 on field goals. The return game was fairly uninspired, except when Alvin Kamara was used. He had a 106-yard run back for a TD and averaged 31.5 YPR.
Coaching
Coach Sean Payton (112-76 Overall, 7-5 Postseason) starts his 13th season with the Saints. After putting up three 7-9 season straight, his job was looking a bit tenuous. But last season, he utilized a more balanced offensive approach, running more than he had in the past. Plus, defensive upgrades helped this team a lot. He's got a fine bunch of players, assistants, and coordinators. Balance will be everything.
2018 New Orleans Saints NFL Betting Preview: Final Word
Our 2018 New Orleans Saints NFL betting preview sees this team as having all of the elements it needs to succeed. However, they will have to prove themselves in a very tough NFC South division. It won't be an easy road back to the playoffs for the Saints.
2018 New Orleans Saints NFL Betting Preview Projection: 11-5 Record, 1st NFC South
Unit Ratings
Offense
QB: 9.0, RB: 9.3, OL: 8.9, WR: 8.6, TE 8.4:
Defense
DL: 8.2, LB: 7.5 , DB: 9.0
Special Teams
PK: 8.5, PT: 8.6, RT: 6.5
Other
Coaching: 8.5
Intangibles: The secondary and linebacking units are young and talented but could be prone to basic mistakes as the type that ended the postseason for the Saints last year.
Overall Rating = 8.4
Links