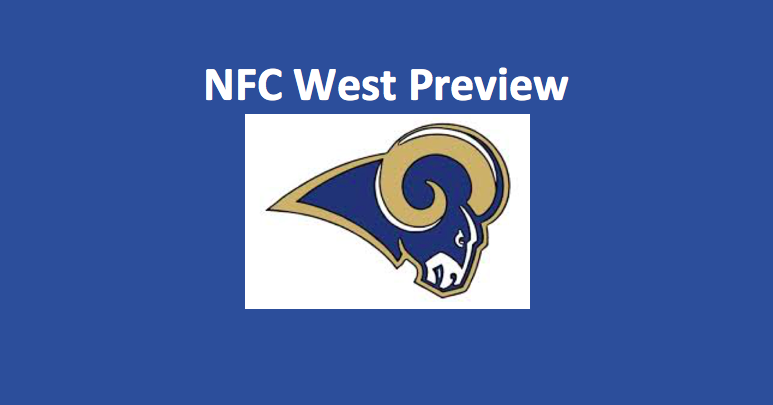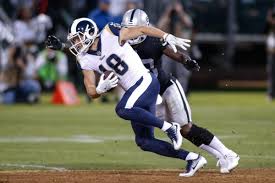 Our NFC West Los Angeles Rams Preview 2019 projects a first-place finish for this team. This Los Angeles Rams Preview 2019 notes that this team is loaded on offense. Head coach Sean McVay (26-10 LA & Overall, 2-2 Postseason) starts his third season with the Rams. In the three seasons before McVay took over, Los Angeles won a total of 17 games and did not post a winning season. In 2017, the Rams went 11-5 and in 2018, they were 13-3. They made the playoffs both times and last season they took the NFC beating Dallas 30-22 and New Orleans 26-23 in a controversially refereed OT. The Rams then lost to New England in the Super Bowl 3-13.
Los Angeles Rams Preview 2019 – Team
Our Los Angeles Rams Preview 2019 certainly sees this teams as being highly competitive. Their offense can hurt teams in the air and on the ground, their O-line offers fine protection, and the team is always competitive. On the other hand, the defense is not as solid as one would like. At times, they are average and other times below average. Although, they are solid in the defensive back spots.
Los Angeles – Offense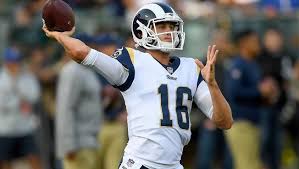 The Rams were good for 421.1 YPG (2nd) with 281.7 YPG in the air (5th) and 139.4 YPG on the ground (3rd). In 2018, Los Angeles averaged 32.9 PPG (2nd) and converted 45% of their third-down attempts (Tied-4th). The 33 sacks they allowed tied them for 8th in the NFL.
QB Jared Goff (561 ATT, 364 COMP, 4688 YDs, 32 TDs, 12 INTs) is a quality talent. He started fast last season, but struggled in his last seven games, posting a 57% completion rate. The Rams signed jettisoned Jaguars starter Blake Bortles as backup. RB Todd Gurley II (256 ATT, 1251 YDs, 4.9 AVG, 17 TDs) is a major dual-threat and playmaker. Gurley caught 59 passes for 508 yards and four scores, while averaging 9.8 YPC. The receiving corps is one of the best in the NFL. It includes reliable Robert Woods (86 REC, 1219 YDs, 14.2 AVG, 6 TDs), sure-handed Brandin Cooks (80 REC, 1204 YDs, 15.1 AVG, 5 TDs), and very productive Cooper Kupp (40 REC, 566 YDs, 14.2 AVG, 6 TDs). Kupp suffered an ACL tear last November but should be ready to start. The O-line loses two starters. The young talent must step up.
Rams – Defense
The Ram D had a tough time stopping the rush, as they gave up 122.3 YPG (23rd). Their 18 INTs (3rd) helped them control opponent passing games, although LA did allow 236.2 passing YPG (14th). Total yards allowed ranked 19th (358.6 PG), while they gave up 24.0 PPG (20th). Their 41 sacks ranked 15th. This team was solid on turnovers, finishing +11 (4th).
Our Los Angeles Rams Preview 2019 notes that the D-line is formidable. It includes the NFL's top defensive player, DE Aaron Donald (20.5 SCKs). NT Joseph-Sebastian Day steps into a starting role and end Michael Brockers, a tough run-stopper, returns. Two top players return to the LB unit, Cory Littleton (125 TKLs) and Dante Fowler Jr. (4 SCKs). Veteran LB Clay Matthews attempts to rebound from a disappointing 2018. SS John Johnson III (4 INTs) and FS Eric Weedle are top talents. Pro Bowl corner Marcus Peters and talented Aqib Talib, who was hampered by injury in 2018, are quality defenders.
Special Teams
The kicking game is exceptionally healthy. Punter Johnny Hekker (46.3 YPP) and placekicker Greg Zuerlein (35-36 XP, 27-31 FG) are both dependable. Hekker provides solid field position with a leg that's both strong and accurate. Last season, Zuerlein was perfect on field goals ranging from 20-40 yards and 8-12 from 40-56 yards. As long snapper, Jake McQuaide is very reliable. JoJo Natson brings back punts and kicks again.
Los Angeles Rams Preview 2019 – Prediction
The Rams certainly don't have an easy schedule. The first two weeks, they play Carolina and New Orleans, and later in the season, LA meets Atlanta, Pittsburgh, Chicago, and Dallas. Still, this Rams team is loaded. Our Los Angeles Rams Preview 2019 can see this team as getting another shot at the Lombardi Trophy.
Our Ratings
Quarterbacks – 8.8
Running Backs – 8.4
Receivers – 8.6
Offensive Linemen – 7.1
Defensive Linemen – 8.3
Linebackers – 6.8
Secondary – 8.1
Special Teams – 9.2
Coaching – 9.3
NFC West Los Angeles Rams Preview 2019 – Projection
Los Angeles Rams First in NFC West
LINKS