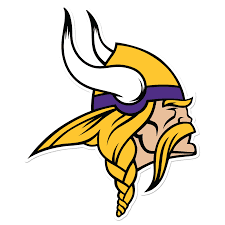 It was a transitional season for the 2016 Minnesota Vikings (8-8) as veteran quarterback Sam Bradford came to the team in a last-minute trade as a stopgap measure and was exceptional. At the same time, hallmark running back Adrian Peterson missed 13 games due to injury and was let go at the end of the season. During the offseason, Minnesota spent $100 million on three major offensive free agents and chose RB Dalvin Cook (Florida State) as their first draft pick. All efforts focused on upgrading the NFL's 28th ranked offense. The defense played fine in 2016, being ranked third overall and sixth in points allowed. If the offense can pull itself up, our Minnesota Vikings 2017 NFL preview finds that this team can be a real contender.
Offense: 7.5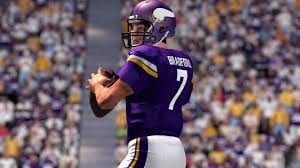 Miracles cannot happen overnight or in one offseason, but we do expect this Viking offense to be more productive than last season's. Bradford has some decent receivers to toss too, including newly acquired Michael Floyd. Floyd comes with legal baggage including a DUI conviction that may hamper his career. He's played for the Cardinals and Patriots and was on last year's Super Bowl team. He's already been suspended for four games. Better news comes from the fact that the Lions have three solid receivers returning, including Stefon Diggs, who averaged 10.8 YPC and scored three touchdowns, and Adam Thielen, who averaged 14.0 YPC and earned five TDs. TE Kyle Rudolph, who made 83 catches for 840 yards and scored seven times, is tough to defend.
At running back, Minnesota signed Latavius Murray, a big, 27-year-old back who scored 12 touchdowns last season with the Raiders. Dalvin Cook, who was a second-round 2017 draft-pick but Minnesota's first pick, has explosive speed, vision, and great reflexes, is really an first-round pick. The Viking O-line needed some major upgrades. With that in mind, Minnesota signed two tackles, Riley Reiff (LT) and Mike Reemers (RT). These guys should really help stabilize the line.
Defense: 9.0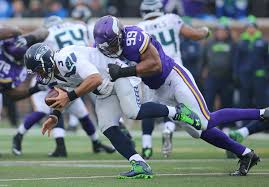 Coach Mike Zimmer puts a big focus on defense, and he has a good one. The Vikings has 41 sacks (5th NFL), allowed 19.2 PPG (6th NFL), and were +11 in turnovers (4th NFL). With stats like that, your D is giving the offense a real chance to win. The frontline is tough, but may also face a difficult challenge if three-technique tackle Sharrif Floyd cannot return from nerve damage he suffered after September knee surgery. With the notion that Floyd may not be back, Minnesota signed free-agent Datone Jones. Jones is a former Packer and first-round draft pick. Last season, fourth-round pick Jaleel Johnson was stellar, recording 7.5 sacks. Three-time Pro Bowler Danielle Hunter, who notched a dozen sacks, will be back as will Everson Griffen (8 Sacks) and Brian Robinson (7.5 Sacks).
The linebacking unit and secondary both look ready-to-go. Anthony Barr and Eric Kendricks anchor the LB squad. Kendricks has led the team in tackles for the past two seasons. Going deep, free safety Harrison Smith and corner Xavier Rhodes (5 INT) are young guys with Pro-Bowl chops. Smith is fast, smart, and versatile while Rhodes is big and a fast learner who can cover just about anyone. Corner Captain Munnerlyn went to the Panthers. That could impact this squad. It's hoped that 2016 second-round pick Mackensie Alexander can take up that slack.
Special Teams: 8.0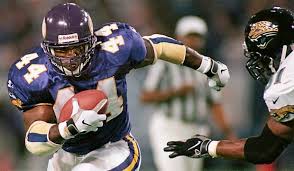 If there's an apparent weakness, it's on special teams. Although these may be less of a weakness and more of a question mark regarding how well the new punter, holder, and kick returner will play. The best news is that placekicker Kai Forbath is back. He replaced Blair Walsh last season and was 15 of 15 on field goals, although he did miss three extra points. Also, there's good news in terms of punt returns, as Marcus Sherels is back to anchor that unit, which ranked eighth in the NFL. He had two returns for touchdowns last season and holds the team record of five total. Pro Bowl kick returner Cordarrelle Patterson went to the Raiders and will be hard to replace. Either Ryan Quigley or Taylor Symmank will replace punter Jeff Locke who went to the Colts.
Coaching and Management: 7.5
Coach Zimmer (26-23 Overall) had to deal with a boatload of injuries last season, but, at the same time, he made some tactical mistakes in key games. The 8-8 Vikings lost four games by six of fewer points. He's in his fourth season with the Vikings, and they will be looking for him to come through with some positive results. Especially because the front office made a major effort to get him the offensive talent he requires to field a winner. He very well may do just that.
Minnesota Vikings 2017 NFL Preview: Last Word
In concluding our Minnesota Vikings 2017 NFL preview, we can't help but feel optimistic about this team. They have a lot going for them and the upgrades have been substantial. If they can stay healthy and go 4-1 in their first five, the 2017 season could go very nicely for this team.
Minnesota Vikings 2017 NFL Preview Prediction: Tied 2nd NFC North; Record: 9-7
GO BACK TO: