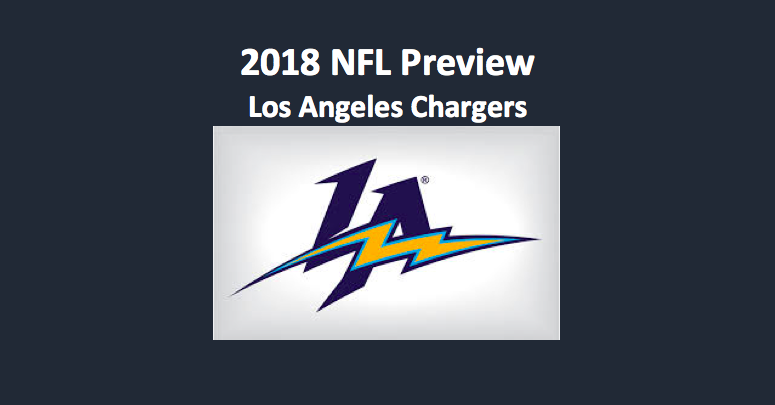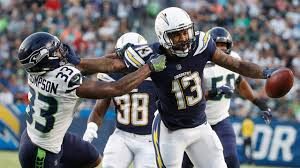 The AFC West Los Angeles Charges (9-7) have never been to the playoffs. However, the San Diego Chargers have been there with their last postseason berth occurring in 2013 when they secured a wild card bid. Our 2018 Los Angeles Chargers NFL betting preview sees this team as being very close to getting back to the playoffs. But to do so, they will need a very fine performance from QB Phillip Rivers, as well as a competitive rush attack. Plus, it would be helpful if, this season, they could stop the rush.
Offense
Our 2018 Los Angeles Chargers NFL betting preview notes that this team had a sound passing game. In the air, no one beat the Chargers 276.9 YPG (1st NFL). However, the rush attack left something to be desired, as they had just 99.7 YPG. Their total offense was 376.8 YPG (4th NFL). One reason for their awesome pass attack was the fact that they gave Phillip Rivers a lot of time in the pocket. The Chargers allowed just 11 sacks, which placed them first in that category. Finally, their third-down conversion rate of 40% tied the team for 11th place.
Quarterbacks and Running Backs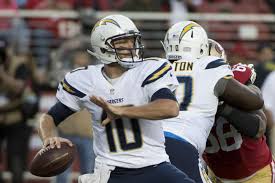 Our 2018 Los Angeles Chargers NFL betting preview finds that Rivers (575 ATT, 360 COMP, 4515 YDs, 28 TDs, 10 INTs) is one of the best QBs in the league. He led the number one ranked passing offense. Rivers was exceptionally solid in the pocket. Plus, he was the consummate team leader.
RB Melvin Gordon (284 ATT, 1105 YDs, 13.7 YPA, 6 TDs) had a fine season. Along with his 1,000-plus receiving yards, Gordon rushed for 476 yards om 58 carries. The back averaged 8.2 YPC and scored an additional four TDs as a pass catcher. Austin Ekeler (47 ATT, 260 YDs, 5.5 YPA, 2 TDs) came on board as an undrafted rookie. He proved to be a very fine change of pace rusher. FB Derek Walker did a good job clearing out defenders so the RBs could do their job.
Receivers and Tight Ends
The team's four top pass catchers from last season come back. Rivers' target of choice was WR Keenan Allen (102 REC, 1393 YDs, 13.7 YPC, 6 TDs). Allen had an impressive year, as he established himself as one of the league's premier receivers. Of the top returning pass catchers, Tyrell Williams (43 REC, 728 YDs, 16.9 YPC, 4 TDs) had the fewest receptions, but he gained the second-most yards and had the best average yards per catch stat. TE Hunter Henry (45 REC. 579 YDs, 12.9 YPA, 4 TDs), who starts his third NFL season this year, was also quite productive.
Offensive Line
Last season, the Chargers O-line allowed just 18 sacks. That was the least number of QB bring downs in the NFL. But they had a tough time setting up the rush. Our 2018 Los Angeles Chargers NFL betting preview notes that the signing of Pro-Bowl center Mike Pouncey could prove to be a major stabilizing force on the line. He can clear out opposing linemen and show the way. Two rookies from last year saw less action than they might have as injuries took them off of the field. Guards Dan Feeney and Forrest Lamp will make a concerted effort to stay in the game this season. Tackle Russell Okung, now starting his ninth NFL season, was a major reason for this unit's great QB protection.
Defense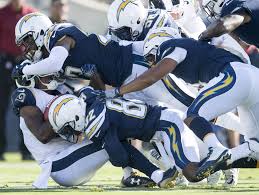 The Chargers could not stop the rush, as they gave up 131.1 YPG on the ground, ranking them 31st. They were tough on passers however, as LA allowed 197.2 YPG (3rd NFL). Consequently, when you balance off the passing and rushing yards, the Chargers ended up allowing 328.4 YPG in total offense. That got them a mediocre ranking of 15th. The other Oakland D stats are impressive. The team grabbed 18 INTs (T-6th NFL), manufactured 43 sacks (T-5th NFL), and posted a turnover differential of +12 (3rd NFL). Total points allowed come to 17.0 PPG. That ranked 3rd in the league.
Defensive Line
On the edges, Pro Bowler Joey Bosa (99 TKLs) and Melvin Ingram proved to be completely intimidating. Bosa, who led the team in tackles, was also tops in sacks with 12.5 sacks. Melvin was second with 10. Tackle Corey Liuget must serve a four-game suspension, which means he could lose his starting role to rookie Justin Jones or vet Darius Philon. NT Brandon Mebane, who starts his 12th pro season, is a tough run-stopper. However, he's slowing down a bit. Look for Damion Square to spell him from time-to-time. Our 2018 Los Angeles Chargers NFL betting preview finds that this unit has depth.
Linebackers
MLB Denzel Perryman is a team leader and top run-stopper. But he has to stay healthy and needs some help from the other guys in the unit. Our 2018 Los Angeles Chargers NFL betting preview notes that this group is the weakest of the three on this side of the ball. OLB Hayes Pullard III was good for 95 tackles and one interception. His play is key. Who will start at the other outside spot is a toss-up. It could be Kyle Emanuel, who underperformed in 2017, or maybe Jatavis Boston. Boston had 79 tackles for the second straight season. He also led the team with five picks.
Secondary
CB Casey Heyward (4 INTs) saw his second straight Pro-Bowl last season. His counterpart, Jason Verrett, did not play due to a knee injury. He's back, and it's hoped he'll show his former Pro-Bowl form. In 2017, safety Jahleel Addae (95 TKLs) established a personal high-mark for tackles and proved to be LA's hardest hitter. Rookie Derwin James, who was drafted out of Florida, is a versatile player who is expected to have an impact right from the start.
Special Teams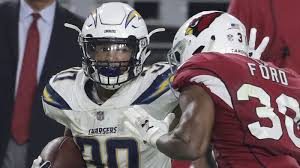 Our 2018 Los Angeles Chargers NFL betting preview notes that the kicking game was in upheaval mode last season. The Chargers saw four kickers come and go. Caleb Strugis comes to the Chargers from the Eagles. Plus, Roberto Aguayo is ready to compete for the job. LS Mike Windt, who is exceptionally dependable, returns, as does the NFL's third-ranked punter Drew Kaser. Kick returns were a tad better than average last season.
Coaching
Head coach Anthony Lynn (9-8 Overall and with Chargers) starts his second full year at the helm. As a first-time head coach, he mismanaged the clock at times and was a bit too conservative in his decision-making. He also lost the first four games of the season. But Lynn matured during the course of the season and has shown promise. Plus, the team likes his straight-forward, no-nonsense approach.
2018 Los Angeles Chargers NFL Betting Preview: Final Word
This Chargers team could be playoff bound. Our 2018 Los Angeles Chargers NFL betting preview sees them as having a shot at the division or the wild card. But they will have to establish themselves early and get some quick wins. They have a fine pass attack and decent D. Now, if only the rushing game and special teams can catch up.
2018 Los Angeles Chargers NFL Betting Preview Projection: 9-7 Record, 2nd AFC West
Unit Ratings
Offense:
QB: 8.2, RB: 7.8, OL: 6.5, WR: 8.3, TE: 8.5
Defense
DL: 8.2, LB: 6.0, DB: 8.7
Special Teams
PK: 6.0, PT: 8.5, RT: 7.5
Other
Coaching: 7.8
Intangibles: It's Rivers time to shine, he's not getting any younger.
Overall Rating = 7.8
Links