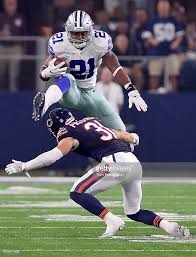 In creating our Dallas Cowboys 2017 NFL preview, we were struck by how well a young Dak Prescott performed last season, and also how youth played a role in the Cowboy loss in the first round of the playoffs to the seasoned Green Bay Packers. The Cowboys went 13-3 in 2017 and managed to win games in every possible manner. This season Dallas welcomes back quarterback Prescott and running back Ezekiel Elliot, both of whom have a season under their belts. But this is a very different team, as the Cowboys saw 11 players depart due to free agency and another two retire. They signed five free agents and drafted nine rookies. What will be the result of that new mix is anyone's guess.
Offense: 8.5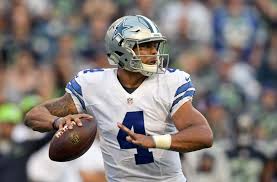 The Cowboys offense was one of the best in the NFL with an overall ranking of fifth. Last season, it was tough to stop them. In the regular season, the Giants did it twice and the Eagles once. Last season fourth-round draft-pick Dak Prescott did something most rookie QBs have a tough time with; he did not beat himself. While leading the 23rd rated passing game in the NFL, he tossed only four interceptions, while throwing 23 TD passes and rushing for six more scores.
The Cowboy running game was ranked second in the league due to the extraordinary talent of rookie Ezekiel Elliot. Elliot ran for over 1,600 yards collecting 15 scores and averaging 5.1 YPA. WR Dez Bryant caught eight passes for scores, averaging 15.9 YPC. The offensive line was tough and disciplined and that helped both the passing and running games.
Defense: 7.0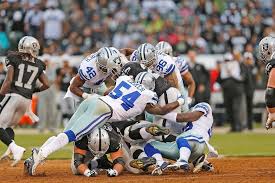 The Cowboy rush defense was number one in the league, while the pass D was ranked 26th. Their sacks were up from the prior season, going from 31 to 36, but that was still not good enough to break into the top 10 in the NFL. The addition of Taco Charlton, who had 9.5 sacks for Michigan, may help a bit, but he needs to get stronger to make a difference.
WLB Sean Lee, who made 145 tackles, which was 57 more than anyone else on the team, was the one standout on D. The middle was a problem that may be helped by the return of Jaylon Smith who missed last season due to a torn ACL. Free Safety Byron Jones was the best guy in the backfield and is the only player guaranteed to start this season. He made 88 tackles. An upgrade in the secondary is desperately needed.
Special Teams: 8.5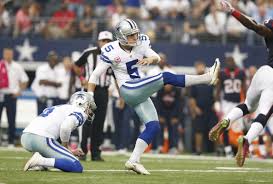 Dallas has one of the best kickers in the game, Dan Bailey. Bailey has a lifetime placekicking mark of 89.5% on field goals. Dallas punter Chris Jones had a fine season, averaging 45.9 YPP and a net of 40.5. He had only four touchbacks. The punt return game was rated 23rd and Dallas was tied for 22nd in kick returns. Rookie Ryan Switzer will get the chance to replace Lucky Whitehead on returns.
Coaching and Management: 8.0
Once again, it's the Jerry Jones show, as the flamboyant Owner/President/GM continues his successful reign at Dallas. Head coach Jason Garrett is 58-46 with the team and has guided them to two postseasons in the past three years. He's in his seventh full season at the helm. His two coordinators, Scott Linehan on offense and Rod Marinelli on defense, did an amazing job last year. Linehan was a true mentor to Prescott and Marinelli managed to get a lot more out of his defense than most thought humanly possible.
Dallas Cowboys 2017 NFL Preview: Last Word
Our Dallas Cowboys 2017 NFL preview sees this club as being the best team in the NFC East. However, at the same time, they will see some tough competition from the New York Giants and Washington Redskins. It will be interesting to see how Prescott and Elliot do their second time around after the league has had some time to adjust to them.
Dallas Cowboys 2017 NFL Preview Prediction: 1st NFC East; Record: 11-5
GO BACK TO: