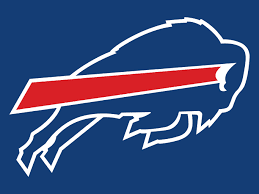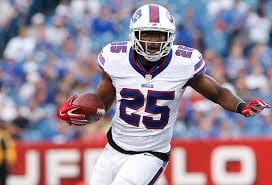 Last season, Rex Ryan seemed dedicated to making the Buffalo Bills (7-9) a winner. But that did not work out as the Bills posted losing numbers, including a 1-5 conference mark. Ryan was fired and Sean McDermott takes over as Buffalo's new head coach. McDermott seems dedicated to ensuring his team focuses on one thing only, winning football games. When he came in McDermott got rid of the pool table and video games that were in the locker room, keeping only the ping pong table because, as he noted, it helps develop "ball skills." Many players like his more serious and focused approach. Here's how our Buffalo Bills 2017 NFL preview sees that working out for him in his first season as this team's head coach.
Offense: 7.5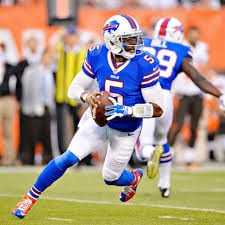 The best part of the Buffalo Bill's offense is its running game. After that it's the O-line. The Bills had the top-ranked rush attack in the league in 2016, as they gained 164.4 YPG. LeSean McCoy returns as the team's number one running back after a season where he gained 1,267 yards, averaging 5.4 YPA and scoring 13 TDs. McCoy also caught 50 passes for 356 yards and one touchdown. The 29-year-old McCoy has made the Pro Bowl two years straight. The running game might be all set if Mike Gillislee, who averaged 5.7 YPA and scored eight TDs, had not gone to New England. Jonathan Williams, playing in his third NFL season, will likely try to take his place. Mike Tobert, a 10-year vet who's played for McDermott before, will likely run in short yardage situations. The O-line is good but not great, and there are concerns regarding the unit's health, skills, and basic football smarts. They gave up 46 sacks last season.
QB Tyrod Taylor is back for his eighth season. As a runner, Taylor averaged 6.1 YPA and scored six TDs. He also passed for 3000-plus yards, hitting on 16 touchdown passes while tossing six picks. He did well in protecting the ball but was inefficient in connecting with receivers in mid-field. This year is his last chance to prove that he has the stuff to guide the Bills to victory and the playoffs. Sammy Watkins, who missed half of last season, is the team's number one receiver. Last season's foot injury resulted in Watkins undergoing two surgeries. Both Robert Woods and Marquise Goodwin, the team's number two and three receivers left, taking the free agent route. Charles Clay returns having caught 57 passes for 552 yards and four scores. He averaged 9.7 YPC. This receiving group is questionable.
Defense: 6.5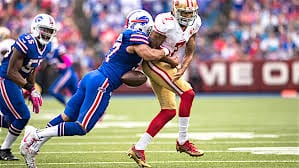 The defense was ranked 19th overall last season, earning a ranking of sixth against the pass and of 29th versus the run. They allowed 23.9 PPG, which put them 17th in the league. On the line, tackle Kyle Williams (5 Sacks) comes back for his 12th season. Williams is the ultimate pro, offering fine leadership and solid direction. He'll have his hands full with Marcell Dareus. The tackle missed more than half of last season games due to being suspended for drug violations. End Jerry Hughes also performed poorly in 2016 and needs to come back. The Bill's 3-4 defense that McDermott brings may suit Hughes better. Lorenzo Alexander put up Pro Bowl numbers last season. The 11-year vet led the Bills with 12.5 sacks, and has become a welcome asset for this team. The Bill's tackle-leader from last season, Zach Brown (149 Tackles), went to Washington in the off-season. OLB Preston Brown comes back having made 135 tackles and four sacks.
The Bills lost top CB Stephen Gilmore (5 Sacks) to the Patriots. That's a major blow for this team. First-round, 2017 draft-pick Tre'Davious White will likely start at corner. Veteran safeties Aaron Williams and Corey Graham are both gone and replaced by veteran free agents Jordan Poyer and Micah Hyde. Both players do extremely well at making adjusts and both possess fine defensive instincts.
Special Teams: 7.5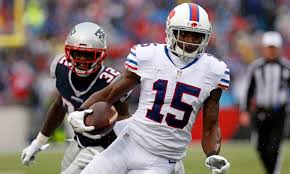 Stephen Hauschka comes to Buffalo from Seattle. He replaces placekicker Dan Carpenter who last season was 27th in extra point percentage, 28th in field goals made, and 30th in in field goal percentage. Hauschka holds the record for field goals by a Seahawk kicker. Buffalo was ranked 30th last year in net punting yardage (38.1 YDs). Still, punter Colton Schmidt is back for another try. Bradon Tate is the team's primary kick returner, while White will get a shot at bringing back punts and kicks.
Coaching and Management: 6.5
As noted, McDermott brings in a 4-3 scheme that includes zone coverage. This type of configuration offers players a much simpler system and less substitution. McDermott appears to be a welcomed change in Buffalo. He is a no-nonsense guy, but that attitude may be just what this team needs. The Bills are hoping it will yield results.
Buffalo Bills 2017 NFL Preview: Last Word
Our Buffalo Bills 2017 NFL preview offers that the Bills should have a better season that they did in 2016. But how good will it be? Don't look for miracles, especially with Taylor in the QB spot. Last place seems likely for this team.
Buffalo Bills 2017 NFL Preview Prediction: 4th AFC East; Record: 6-10
GO BACK TO: