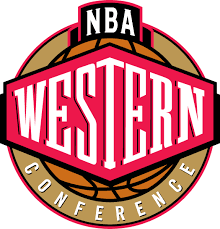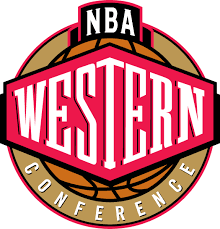 Our 2017 NBA Western Conference Playoffs first round midway report offers current information on each series, including potential outcomes. The teams are slugging it out with the (2) San Antonio Spurs and (7) Memphis Grizzlies locked in a very tough battle. At the same time, the (3) Houston Rockets and (6) Oklahoma City Thunder series features two of the league's top players, James Harden and Russell Westbrook.
Three of the four series could go seven games. No matter what the case may be, the second round of the Western Conference Playoffs is slated to start on May 1. A few days before that all of the initial series will be decided. Here's how we think the rest of this week will go in the NBA West.
(1) Golden State Warriors vs. (8) Portland Trail Blazers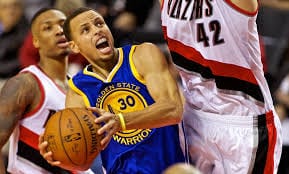 Here's the way this series is going. Game one ended Golden State 121 and Portland 109. The result of game two was Golden State 110 and Portland 81. And, finally, game three ended Golden State 119 and Portland 113. That third game was a tad different in that Golden State was down by 13 points at the half and Stephen Curry did not seal the deal on the win until late in the fourth. They next play in Portland on Monday at 10:30 p.m. That should finish this series.
(2) San Antonio Spurs vs. (7) Memphis Grizzlies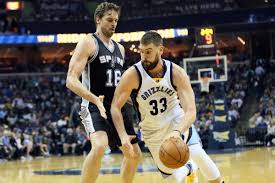 In this series, which is tied at two apiece, the home team has won every game. San Antonio took the first two, holding Memphis to 85 points each team. Then Memphis did the same, beating the Spurs 105-94 and 110-108. That last game was an OT win that was nailed by a 12-foot jumper by Marc Gasol with 0.7 seconds remaining. The two teams meet again on Tuesday in San Antonio. Who will win? Well if the trend continues, then the home team will. One thing is certain, this has been an interesting series thus far.
(3) Houston Rockets vs. (6) Oklahoma City Thunder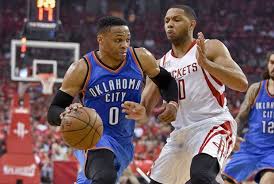 James Harden and his Rocket teammates won the first two of this series 118-87 and 115-111. They then went to Oklahoma City where triple-double man Russell Westbrook worked with the team to notch a 115-113 win. Houston has been slow out of the gate and they really need to play every minute of each game. Westbrook is having a magnificent series and in game three did not try to win it alone. This will be a battle to the bitter end. The next game is today, Sunday, at 3:30 p.m. See our pick.
(4) LA Clippers vs. (5) Utah Jazz
The Clippers lead the series two games to one. The Jazz took game one in LA 97-95. The Clippers then won the next game 99-91. The series moved to Utah on Friday where Los Angeles beat the Jazz 111-106, taking back the home court advantage. Clipper PF Blake Griffin was injured in the win on Friday and is out for the postseason. As a skilled and powerful inside player, Griffin is an essential part of the Clipper offense, averaging 20.3 PPG. The Jazz have also suffered a major loss as center Rudy Gobert, who during the regular season averaged 14.0 PPG, 12.8 RPG, and 2.6 BPG, is out having played under 20 seconds in the first game of this series. We do believe that the Clippers will win this series. They next play tonight at 9:00 p.m. and we have a free pick for that game.
2017 NBA Western Conference Playoffs First Round Final Word
The best team in the West is still Golden State. After that, we like Houston. We're looking forward to those two teams meeting in the Western Conference finals. Until then in our 2017 NBA Western Conference Playoffs first round review, along with LA and Houston, we like the Spurs and LA.