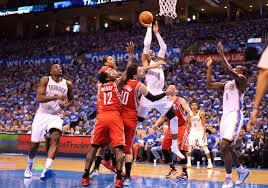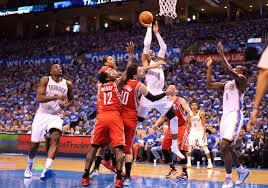 The first two games of this series, which has the Rockets ahead two games to one, saw Houston take control. In game one, the Rockets disassembled the Oklahoma City Thunder 118 to 87. Game two was closer with Houston winning 115-111. Both were played in Houston. The series moved to Oklahoma City on Friday and with that the Thunder took down the Rockets 115- 113. The fourth game will be played today, Sunday, April 23 at 3:30 p.m. Here is our Houston plays Oklahoma City NBA playoff free pick with the Rockets at -1.5 and the over/under at 123.5.
Houston Rockets Keys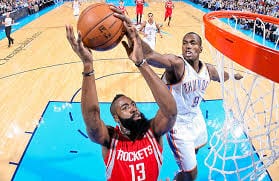 Shooting guard James Harden is averaging 38,7 PPG and 7.7 APG. He's also grabbing 5.5 RPG. But his three-point percentage is off at .333. The same is true of SG Eric Gordon who is hitting 36% of the time from the arc. The four top point producers for the Rockets in this series are perimeter players. Inside Patrick Beverley, Nene Hilario, and Ryan Anderson are grabbing a total of 20 RPG. That's close to half of the team's 45.0 RPG. On the other hand, point contribution from the three is at 25 per game, which is low.
Oklahoma City Thunder Keys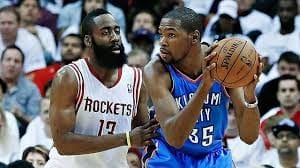 The triple double master, Russell Westbrook, is at it again, averaging 35.0 PPG, 11.0 ROG, and 10.3 APG. He's also averaging 3.0 SPG. SF Andrew Robinson has been an important factor, putting in 14.0 PPG and taking down 7.3 RPG. PF Taj Gibson, who is putting in 11.0 PPG, was instrumental in the team's game three win. A major key to Oklahoma City will be their ability to be less reliant on Westbrook. They also need to keep the pressure on the Rockets defensively. The Thunder has averaged 8.33 SPG and 7.00 BPG.
Houston Plays Oklahoma City NBA Playoff Free Pick
The Rockets have come out in this series very flat and they paid for it in game three. Houston is also seeing a lack of production from its perimeter guys. Their three-point shooters are not performing up to expectations. In game three, Westbrook proved to be a team player, and that certainly helped them snag a victory.
We expect the Rockets to get their act together today and start stronger. At the same time, we look to the home court advantage to help Westbrook and company. In our Houston plays Oklahoma City NBA playoff free pick we like the over at 123.5 and we look to the Thunder to tie the series. Take Oklahoma City at +1.5.
Houston Plays Oklahoma City NBA Playoff Free Pick: Over 123.5 and Oklahoma City at +1.5