NCAA Previews
#15 Utah Utes Preview 2019
Utes Top Team in Pac-12 South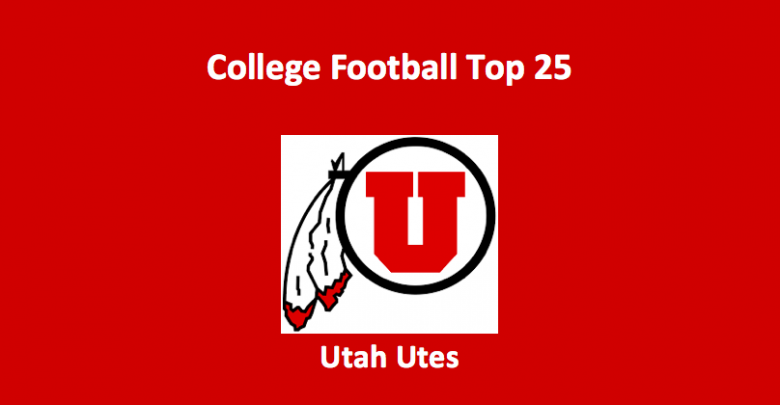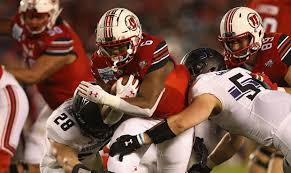 This Utah Utes Preview 2019 projects this team to be the best in the South. This Utah Utes preview observes that last season, the Utes took the Pac-12 South but lost the championship game to Washington 3-10. Along the way to the title game, Utah met the Huskies in the regular season and lost 7-21. They also lost to Washington State 24-28 and Arizona State 20-38. Big wins came against Stanford 40-21, USC 41-28, and Oregon 32-25. In the Pac-12, Utah was 6-3 and over the course of the regular season, the team went 9-3. They met Northwestern in the Holiday Bowl, losing 20-31.
Offensively, the Utes struggled to excel as they scored 28.1 PPG (75th). Utah was 53rd in rushing (180.0 YPG) and 78th in passing (215.8 YPG). In overall offensive yardage, they ranked 71st, averaging 395.8 YPG. On the other side of the ball, this team was tough. Opponents averaged 19.4 PPG (17th) and just 100.3 rushing yards per game (5th). Their pass defense ranked 53rd (215.3 YPG). Total defensive yardage came in at 315.6 PG (14th). This D was quite fine.
Utah Utes Preview 2019 – Offense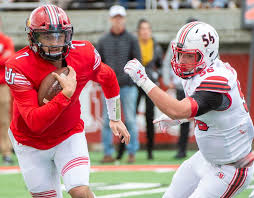 Senior QB Tyler Huntley (64.1 COMP%, 12 TDs, 6 INTs) and senior RB Zach Moss (1,096 YDs, 6.1 AVG, 11 TDs) return. In 2018, Huntley put up his numbers having missed the final five games of the season. Over those final five games, freshman QB Jason Shelley did well passing for 1,162 yards and five scores. In terms of rushing, Moss could be one of the top runners in the nation this year. The receiving unit returns it's top five performers. That includes Britain Covey (60 REC, 10.6 AVG, 1 TD), Jaylen Dixon (32 REC, 18.4 AVG, 2 TDs), and Samson Nacua (31 REC, 11.7 AVG, 5 TDs). Nacua, now a junior, led the team with five TD catches. This is a very deep and experienced unit. The O-line is down a few starts, but we they will be solid and dependable.
Defense and Special Teams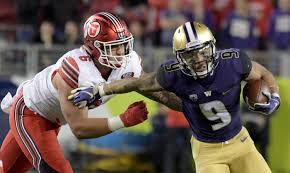 Our Utah Utes Preview 2019 notes that although the Utes lose their four leading tacklers, this side of the ball is still quite sound. The Utah D-line is one of the best in the nation. Senior LE Bradlee Anae (51 TKLS, 8 SCKs, 7.5 TFL) is the top returning tackler. He led the team in sacks last season. The LB unit, led by junior NB Javelin Guidry (42 TKLs, 3 TFL, 9 PBU), is top-notch. In addition, the talent in the secondary is very strong. Corner Jaylon Johnson (41 TKLs, 4 PBU, 4 INTs) comes back, as does FS Julian Blackmon (48 TKLs, 10 PBU, 1 INT).
Punter Mitch Wishnowsky (59 Punts, 45.2 AVG, 24 In20), who won the Ray Guy Award, and placekicker Matt Gay (45-45 XP, 26-31 FG), who won the Lou Groza Award, are both gone. Wishnowsky netted 41.1 YPP while Gay was good on 3-5 from 50-plus yards. Aussie Rules Football player Ben Lennon will punt, and he may also placekick. There have also been rumors concerning a top-notch PK transferring to the Utes. Britain Covey will be returning punts and kicks again. He averaged 8.8 YPP return and 20.6 YPK bring back.
Coaching and Recruitment
Kyle Whittingham (120-61 Utah and Overall) is back for his 15th season with the Utes. In that time, he's taken them to 13 bowls and has won 11 of them. Whittingham, who's been with the Utes a total of 24 full seasons, first spent a decade as offensive coordinator. Andy Ludwig, Utah's former OC from 2005-2008, returns to the Utes after four years as OC for Vanderbilt. Morgan Scalley starts his fourth year as defensive coordinator. Utah, which is ranked ninth in recruiting in the Pac-12, has the smallest class of new players, 18. Of those 18, 13 are three-star and three are four-star recruits.
Our Utah Utes Preview 2019 – Final Word
Our Utah Utes Preview 2019 notes that overall and compared to many of the other top teams in the Pac-12, this football team has a fairly kind schedule. They do open on the road against BYU and must play away games against USC and Washington. But the Utes do not play Oregon or Stanford while California and Oregon State, the fifth- and sixth-ranked teams in the North, are on their schedule. We project that these Utes will take the Pac-12 South.
Click here to go back to Pac-12 South
Click here to go back to NCAAF Hub