NCAA Previews
2018-2019 Kentucky Wildcats Basketball Analysis
A Mix of Experience and New Faces Make This Team Very Competitive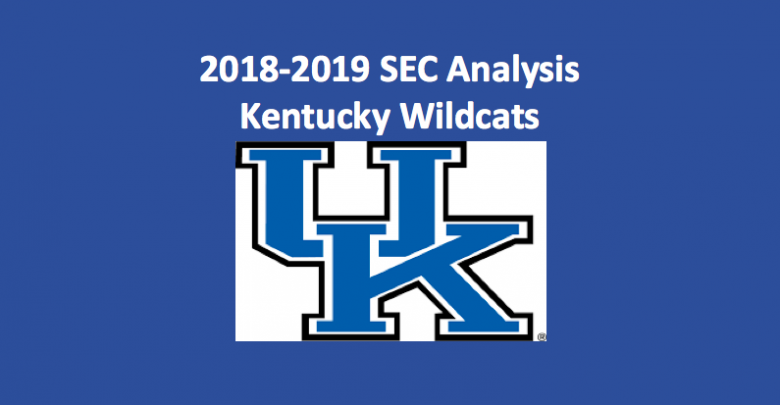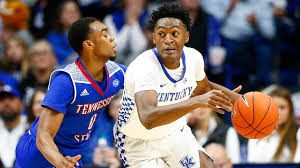 The Kentucky Wildcats (26-11 Overall, 10-8 SEC) always seem to be in the mix. As an example, in 2014, they were the NCAA Runner-Up, After that, in 2015, they made the Final Four. Plus, in 2017, the Wildcats made it to the Elite Eight. In the last tournament, Kansas eliminated the Cats in the Sweet 16, beating them 61-58. Our 2018-19 Kentucky Wildcats basketball preview sees this team, which is coached by the inimitable John Calipari, as being very competitive in the SEC and nationally. This team will be a mix of veterans and freshmen. As the season starts, here's how we see this team performing this season.
Frontcourt
Senior Reid Travis transfers from Stanford for his final senior. Travis, an All-Pac-12 choice, averaged 19.5 PPG and 8.7 RPG. He's expected to start next to sophomore P.J. Washington (10.8 PPG, 5.7 RPG, 51.9 FG%). Look for sophomore Nick Richards (51. PPG, 4.4 RPG, 61.6 FG%) and freshman E.J. Montgomery to get in their share of playing time. As a freshman last season, Richards started all 37 games. However, his production fell off in February and March. Montgomery was ninth-ranked nationally as a recruit and Kentucky's top recruit. The stretch-4 should see a lot of playing time.
Backcourt
As it stands, sophomore Quade Green (9.3 PPG, 2.7 APG, 45.1 FG%) and freshman Immanuel Quickley will both man the point. Also, freshman Ashton Hagans looks exceptionally promising. The trio have all been five-star recruits. Red-shirted freshman Jemarl Baker and freshman Tyler Herro are solid three-point shooters. Also five-star frosh recruit Keldon Johnson is on-hand. This backcourt is brimming with talent and skill. It's expected that this group will show marked improvement over last season's. We expect to see better ball handling, shooting, and playmaking. This offense will be more free-flowing when compared to last year's.
2018-19 Kentucky Wildcats Basketball Preview – Final Word
Although this team does not have any huge talents, however, they do possess a lot of depth, versatility, and skill. Our 2018-19 Kentucky Wildcats basketball preview projects them to be a major contender in the SEC. In fact, they have a very good shot at taking down the conference. As far as the NCAA Tournament is concerned, the Wildcats have an excellent chance of going very deep. They have a good shot at the Final Four, and the Finals are a real possibility. Might the Kentucky Wildcats be national champs in 2019? They have a real chance, there's no doubt about it.
SEC News and Updates