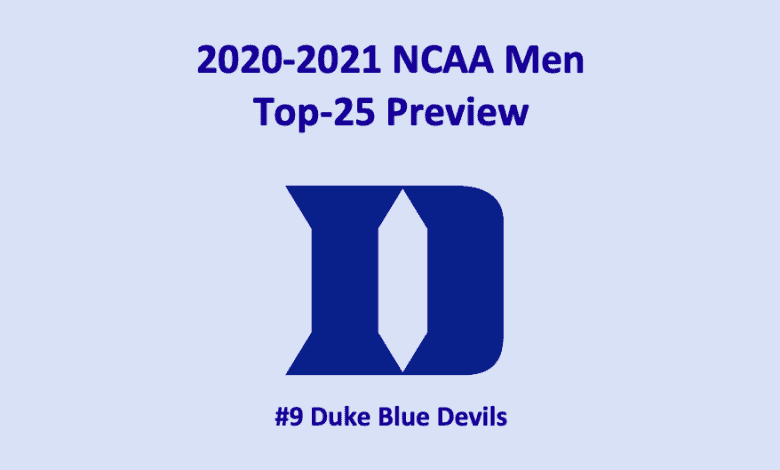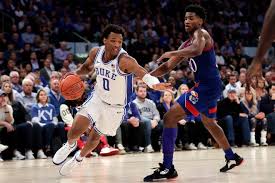 Our Duke basketball preview 2020 – 2021 finds that coach Mike Krzyzewski has once again put together a fine freshman college basketball class. But are they up to snuff in terms of former recruiting classes? That is a major question when it comes to the potential of the most current -edition of the Duke men's basketball team. Of course, once again Krzyzewski lost key team components to the NBA Draft. Thus, Vernon Carey, Tre Jones, and Cassius Stanley are gone. However, Matthew Hurt and Wendell Moore return after a season that saw the Blue Devils go 25-6 overall and 15-5 in the conference, which was good enough for a tie with the Virginia Cavaliers and Louisville Cardinals for second place in the ACC.
Stats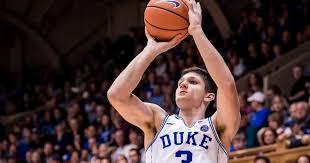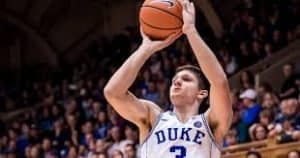 Duke had a lot of things going for them last season. At 82.5 PPG, they led the conference and were second in the nation in scoring offense. They also topped the ACC in field-goal percentage with a 47.0% mark. That ranked 26th nationally. In addition, the Blue Devils' 15.5 APG were good for second in the ACC and 29th in the nation, and their 35.2% three-point success rate earned them second in the league and 79th in the country. The team's rebound margin of 5.7 (29th Nationally, 3rd ACC) was solid, while their defense, which allowed 68.0 PPG (139th Nationally, 8th ACC) was certainly good enough. Perhaps this team's biggest issue statistically was its turnover rate, which came in at 13.2 PG. That number placed them 87th in the nation and 11th in the conference.
Duke Basketball Preview 2020 – 2021 – Players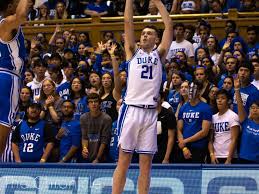 As noted, forwards Matthew Hurt and Wendell Moore come back. Joining them in the frontcourt will be five-star forwards Jalen Johnson and Jaemyn Brakefield, four-star center Mark Williams, and Columbia grad transfer Patrick Tape. This unit has depth and talent. Of course, like most high-end college basketball teams, there is a wealth of college basketball experience missing amongst the frosh. They will have to mature quickly in order to fill the void from Carey's departure.
Two five-star guards, Jeremy Roach and DJ Steward, also join the team. The backcourt duo's job is to lessen the sting of losing Tre Jones (16.2 PPG) and Cassius Stanley (12.6 PPG). Senior Jordan Goldwire, who started last season, will offer this unit stability. However, this group is thin.
Frontcourt
Duke goes with three forwards. Last season as a freshman, power forward Hurt averaged 9.7 PPG and 3.8 RPG. He's the team's leading returning scorer. In addition to fine inside play, Hurt led Duke in three-point completions. He made 39.3% of his shots from downtown and put in a total of 42 threes. Hurt is an effective stretch four who opens up more space for the other scorers, giving the team expansive offensive opportunities. Moore, who was also a freshman last year, notched 7.4 PPG and 4.2 RPG. Also returning is junior Joey Baker who contributed 5.0 PPG last year. Duke certainly has depth up front and choices. Coach Krzyzewski may call on Patrick Tape. With Columbia in 2018 – 2019, Tape was good for 11.3 PPG, 5.9 RPG, and 1.3 BPG. Of the freshmen, we expect to see top-20 recruit Jalen Johnson on the court. He has the size, skill, and basketball IQ to be a top-star. Johnson possesses ACC Player of the Year potential.
Backcourt
The good news concerning the return of Goldwire is that he has plenty of experience. He's an accurate shooter, good defender, and overall sound player. Last year, he averaged 4.7 PPG, 2.3 APG, and 1.5 SPG. However, our Duke basketball preview 2020 – 2021 does envision freshman DJ Stewart and Jeremy Roach getting a lot of playing time with, quite possibly, the duo starting at some point in the season. Roach is a true point guard. He's an excellent floor general and a fine shooter who can slash and score as well as transition quickly to defend. Steward has a nose and eye for the basket. Yes, he can score, but it's not just about shooting for him. By the way, Moore, who's an excellent wing and very versatile, could move from front to back, and thus add some veteran experience to this group.
Blue Devils – Make or Break for 2020-2021
This Duke basketball preview 2020 – 2021 acknowledges that once again coach Krzyzewski has put together a very talented and skilled team. The Duke Blue Devils come armed with a large number of scorers and some fine playmakers. Plus, although they did lose prime talent, they did see Hurt, a future NBA player, return. Yes, the frontcourt is more than sound. It's got depth and a whole lot of potential. However, the backcourt is scary. Not in terms of talent. There's enough of that. But the group is thin and very inexperienced. We know that coach K can mentor and teach. But in the highly competitive ACC, which could have altered schedules and see fewer games than usual played due to COVID-19, he's going to have to do it faster than he's ever had to do it before.
Duke Basketball Preview 2020 – 2021- Final Word
Our Duke basketball preview 2020 – 2021 sees this Blue Devils team being very competitive. Are they NCAA Championship competitive? Honestly, we see other teams ahead of them. Still, this Duke basketball team is expected to win a lot of games and be in the thick of it throughout the season. However, this version of the Blue Devils does not appear to have any major stars. One may surface, and if they do, that will be very helpful in propelling the Blue Devils to a top seed for the Big Dance. If no one on Duke does come forward to take on the star mantle, we certainly still expect to see coach K and his team be competitive. How well they do will depend a lot upon this year's freshman class. They hold the key to this basketball team's ultimate success.
Duke Blue Devils – 2020-2021 NCAA Projection
ACC Finish – Third
NCAA Tournament Result – Elite 8