NCAA Previews
#1 Clemson Tigers Preview 2019
Clemson Tops the Charts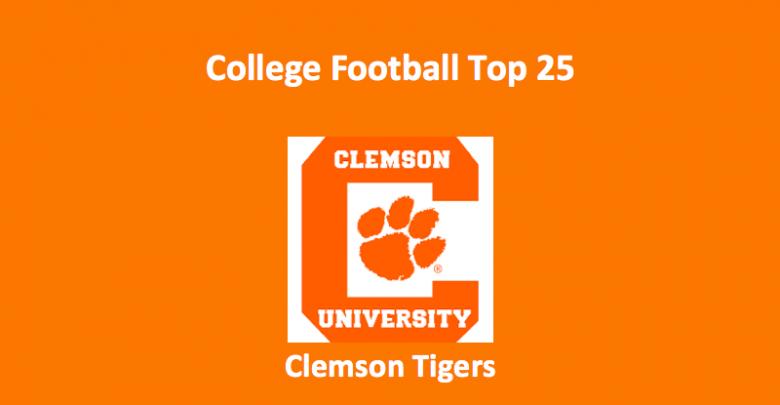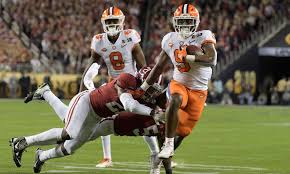 Our Clemson Tigers Preview 2019 notes that last year this football team beat everyone. In creating our Clemson Tigers preview for the upcoming season, we wonder if they can do the same this season? In the NCAA football season, the Tigers were perfect and were then perfect in the postseason. Clemson beat Pittsburgh for the ACC Championship 42-10. They then took down Notre Dame 30-3 in the CFP Semifinal and hammered a stunned Alabama Crimson Tide team 44-16 to win their second national title in the past four years.
The Tigers won 15 games last year with a great offense and a stellar defense. Clemson ranked fourth in points per game, scoring 44.3, and they ranked first in defensive points per game, allowing just 13.1. In terms of offensive yards, the team averaged 248.2 YPG in rushing (10th) and 279.0 in passing (23rd). Total offensive yards came in at 527.2 (3rd). But the Clemson defense was not outdone by the offense. The Tigers allowed just 96.3 YPG (4th) in running and 189.6 YPG in passing (24th). Total defensive yardage was limited to 285.9 PG (5th).
Clemson Tigers Preview 2019 – Offense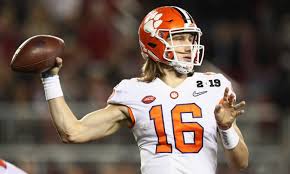 In 2018, then freshman QB Trevor Lawrence (65.2 COMP%, 30 TDs, 4 INTs) threw for 3,280 yards with amazing accuracy. He was unstoppable. He certainly has the opportunity to repeat his frosh performance as a sophomore, as seven of his nine pass catchers return, including the top three. That trio of receivers was comprised of Justyn Ross (46 REC, 21.7 AVG, 9 TDs), Tee Higgins (59 REC, 15.9 AVG, 12 TDs), and Amari Rodgers (55 REC, 10.5 AVG, 4 TDs). Together, they caught 25 of Lawrence's 30 touchdown passes. Plus, there is plenty of depth on this unit.
On the ground, the Tigers put one of the best rushing units in the country on the field. Junior Travis Etienne (1,658 YDs, 8.1 AVG, 24 TDs) returns after making the most of 204 carries last season. The second-team All-American is almost impossible to stop. Plus, there's depth in the ranks, as sophomore Lyn-J Dixon (547 YDs, 8.8 AVG, 5 TDs) is ready to go after a fine freshman season. The offensive line returns three starters from 2018 as well as four with seven-plus starts. They will be of great service to the rushing and passing games.
Defense and Special Teams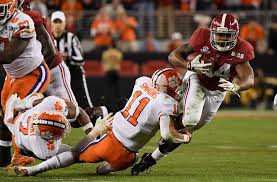 In our Clemson Tigers Preview 2019, we note that normally losing four of your eight top tacklers would be a great concern for most teams. But it's of little concern for the Tigers who possess one of the finest defenses in the nation. Only four starters from 2018 return. The entire D-line is new and includes sophomore DE Xavier Thomas (43 TKLs, 3.5 SCKs, 7 TFL). As a freshman, Thomas was a top performer, securing six QBHs and two PBU. He looks ready to become the Tigers' next unstoppable edge rusher. The linebacking unit welcomes back junior Isaiah Simmons (97 TKLs, 1.5 SCKs, 8 TFL). Simmons, who led the team in tackles, also recorded seven PBU, one pick, and two QBHs. In the secondary, which sees three starters come back, junior corner A.J. Terrell (53 TKLs, 7 PBU, 3 INTs) serves as the anchor of this group.
The special teams could use some upgrades, but, still, they get the basic job done. Junior punter Will Spiers (69 Punts, 39.7 YPP, 19 In20) could use more distance and be more accurate. Sophomore PK B.T. Potter takes over for the departed Greg Huegel. Rodgers (39 RT, 7.7 AVG, 1 TD) will return punts again and Derion Kendrick (13 RT, 23.0 AVG, 0 TDs) is on kicks.
Coaching and Recruitment
It is the 12th season at Clemson for Dabo Swinney (116-30 Clemson and Overall) as head coach. In that time, the Tigers are 9-5 in bowl games. He's been at the helm for four straight CFB Playoff appearances, and in that time, captured two titles. To his credit, Swinney has had eight straight double-digit win seasons and made three title game appearance. Co-offensive coordinators Jeff Scott and Tony Elliot do a top-notch job, as does future NCAAF head coach and current Clemson DC Brent Venables. The Tigers have the top incoming class in the ACC, which includes 29 players with one five-star and 12 four-star recruits. There are 15 three-star players.
Our Clemson Tigers Preview 2019 – Final Word
Certainly, our NCAA football Clemson Tigers Preview 2019 projects this team to be one of the top four in the nation. We'd be surprised if they were not, once again, in the CFPs. Two big games await them in September as they host Texas A&M on the seventh and are away ay Syracuse on the 14th. October 12, the Tigers host the Florida State Seminoles. This and the game versus the Orange could be their toughest contests. On the whole, this team has a fairly light schedule. Might they put up another perfect record?