NCAA Previews
ACC Atlantic Football Preview
Clemson is Number One for Now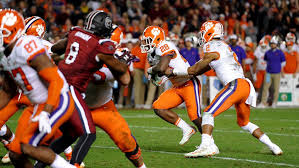 Our ACC Atlantic football preview odds for 2019 has Clemson as the betting favorite. Also, our ACC Atlantic football preview finds that everyone else in the division, and most likely the entire ACC, will be an also-ran. Of the seven teams in the ACC Atlantic, we project that by the end of the 2019 season six total will be bowl bound. Clemson should be in the College Football Playoff series. The other football teams who we pick for bowl berths include the Florida State Seminoles, Syracuse Orange, and N.C. State Wolfpack. We also expect the Boston College Eagles and Wake Forest Demon Deacons to be in the postseason mix. Left out of the second season will be the Louisville Cardinals.
Our 2019 ACC Atlantic Football Preview
In our ACC Atlantic football preview, the Clemson Tigers are the top team in every way. It's hard to find a weakness on this club. The Florida State Seminoles look to be much improved and will be highly competitive. We see them as being a strong contender for second-place in the ACC Atlantic. After that, the Syracuse Orange will have some issues on the O-line and the LB unit. This will hamper their success. But the Orange, who we expect will post a winning record, should finish third.
After that, it's a battle between the N.C. State Wolfpack and Boston College Eagles for fourth. Boston College hosts N.C. State on October 19. That game can have huge implications when it comes to which team ends up fourth and fifth. We're projecting the Wolfpack for fourth and the Eagles as coming in fifth. After that, an improved Wake Forest Demon Deacons club should take sixth place. That leaves last for the Louisville Cardinals, a team that we expect will be more competitive in 2019 than they were in 2018 and even more competitive in 2020.
1. ACC Atlantic Football – Clemson Tigers (15-0)
Offense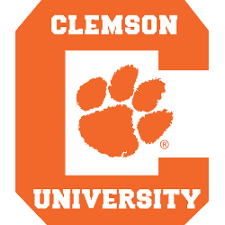 The Clemson Tigers, who had the fourth-ranked scoring offense, averaging 44.3 PPG, were ranked third in overall yards. On average, the Tigers manufactured 527.2 YPG. As a freshman in 2018, QB Trevor Lawrence completed 65.2% of his passes and covered 3,280 yards in the air. He tossed just four picks while throwing 30 TD passes. His top three receivers, who had a total of 25 TD catches and 160 receptions overall, return. That includes sophomore Justin Ross. In 2018, Ross made 46 catches for 1,000 yards and nine TDs. He averaged 21.7 YPC. Also returning is junior RB Travis Etienne. Last season, he rushed for 1,658 yards and 24 scores while averaging 8.1 YPA. This team is loaded and the O-line is experienced and skilled.
Defense and Special Teams
Along with scoring a lot, the Tigers ably stopped other teams from scoring. Their scoring defense was first in the nation last year (13.1 PPG). Their passing D was ranked 24th and their rushing defense fourth. In total yards, Clemson ranked fifth; they allowed 289.5 YPG. Although the Tigers lose four of their top eight performers on defense, including Clelin Ferrell, they still have plenty of talent. This will be the best D in the ACC and, once again, one of the finest in college football. Junior SLB Isaiah Simmons, who led the team with 97 tackles and eight TFL, returns. In the secondary, junior corner A.J. Terrell, who had three picks and seven PBU, will be a major foundation element. Sophomore DE Xavier Thomas looks ready to break out as Clemson's next brilliant edge rusher. As a freshman, he had 3.5 sacks, seven TFL, two PBU, and six QBHs.
The return unit on special teams includes Amari Rodgers on punts. Last season, he averaged 7.7 YPR and scored one TD. Also, Derion Kendrick returns; he averaged 23.0 YPR on kickoffs. Punter Will Spiers may be replaced. He returns after averaging just 39.9 YPP and putting 19-of-54 within the 20-yard line. PK Greg Huegel is gone. B.T. Potter will likely replace him.
See our comprehensive preview of NCAAF #1 Clemson in our College Football Top 25 Guide for 2019.
2. ACC Preview – Florida State Seminoles (5-7)
Offense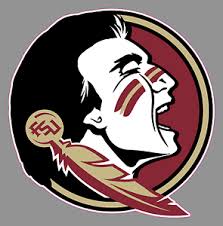 Our ACC Atlantic football preview sees the Florida State Seminoles as moving up in the division this season. Last year, the Seminoles averaged just 21.9 PPG (112th). They had 270.1 YPG in passing, ranking them 25th, but just 91.1 YPG on the ground, ranking them 126th. Sophomore James Blackman, who started a dozen games in 2017 and one last season, has career totals of 24 TDs, 12 INTs, and 2,740 yards. Four of FSU's top receivers return, including WR Tamorrion Terry. Last year, in his first season, Terry had 35 receptions with eight going for scores. He averaged 21.3 YPC. Along with solid receivers, FSU has junior RB Cam Akers. After accumulating more than 1,000 yards in his frosh season, Akers ran for just 706. He's expected to rebound this year. If the O-line stays healthy, they will be one of the best such units in the nation.
Defense and Special Teams
Eight starters return to a Seminole defense that allowed 31.5 PPG. FSU was ranked 119th against the pass, while they did better versus the rush, tying for 48th. The good news is that each of the three defensive units is more experienced, deeper, and improved. Junior free safety Stanford Samuels, who notched four picks and four PBU last season, anchors the secondary. Junior NT Marvin Wilson, who led the team with 3.5 sacks while also recording four QBHs and 42 tackles, is the springboard for the D-line. The linebacking unit includes various top players, such as Hamsah Nasirildeen, who led the team with 91 tackles, and WLB Dontavious Jackson. Jackson posted 75 tackles, six TFL, and three PBU.
D.J. Matthews is back to return punts. Along with breaking one for a score last season, Matthews averaged a hefty 13.5 YPR. Our ACC Atlantic football preview determines that Anthony Grant is solid on kickoff returns, posting a 22.5 YPR average. Senior punter Logan Tyler averaged 43.2 YPP last year, while senior placekicker Ricky Aguayo was 30-of-31 on extra points and 11-of-17 on field goals. He did hit both of his attempts at 50-plus yards.
3. ACC Atlantic Football – Syracuse Orange (10-3)
Offense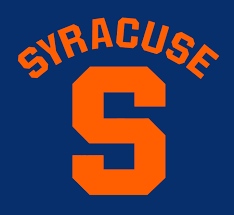 The Orange averaged 40.2 PPG (11th) last season. We don't expect this team to be quite as productive this year. A major issue concerns the offensive line, which has lost some key players in the middle. Also, sophomore QB Tommy DeVito replaces Eric Dungey. In 2018, DeVito tossed 87 passes, completing 50.6% for four TDs and three INTs. The receiving corps sees four-of-five of their top performers return. Included is senior Sean Riley. In 2018, Riley led the Orange with 64 receptions and 756 receiving yards. He scored three times while averaging 11.8 YPC. This is a solid group. The ground attack is led by the versatile Moe Neal. Neal, who's also a capable receiver, gained 869 yards, averaging 5.6 YPA and scoring five times.
Defense and Special Teams
If they are going to be competitive in 2019, Syracuse must step up on defense. Overall, the defensive backs and D-line look solid. It's at linebacker where this team is vulnerable. In front, defensive ends Alton Robinson and Kendall Coleman are ready to repeat last season's achievements when each recorded 10 sacks and Robinson added seven TFL and 11 QBHs. The secondary includes sophomore safety Andre Cisco who had 60 tackles, seven interceptions, and 11 PBU. Senior LBs Andrew Armstrong and Lakiem Williams have competition from the likes of Juan Wallace and Tyrell Richards.
The Syracuse special teams are top-notch. Sean Riley returns punts and kickoffs. On punts last season, Riley averaged 16.4 YPR. He scored one TD. He averaged 20.5 YPR. Senior punter Sterling Hofrichter averaged 42.9 YPP and placed 26-of-67 within the 20. Sophomore PK Andre Szmyt hit 30-of-34 field goals, including all three from 50-plus yards. He was a perfect 61-of-61 on extra points.
See our comprehensive preview of NCAAF #15 Syracuse Orange in our College Football Top 25 Guide for 2019.
4. ACC Atlantic Preview – N.C. State Wolfpack (9-4)
Offense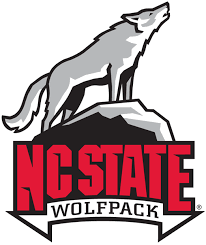 The N.C. Wolfpack will have some adjusting to do at quarterback and running back. Each position will be occupied by a sophomore who brings some college football experience to the field. QB Matt McKay completed seven-of-eight passes last season. He replaces Ryan Finely. In 2018, Finely completed 64.7% of his throws for 3,928 yards. He tossed 25 TDs and 11 INTs. Ricky Person becomes this team's starting rusher. Last season, he gained 471 yards on 112 carries. Person scored twice. The team's top two pass catchers are also gone. Junior wideout Emeka Emezie returns as the Wolfpack's top receiver. Last year, he made 53 catches and scored five times while averaging 11.6 YPC. Two starters are back on the O-line, and there's less experience than last season. Sacks could rise.
Defense and Special Teams
Last year, the N.C. defense allowed 24.9 PPG (45th) and 261.1 YPG (108th) in the air. For 2019, the Wolfpack D-line looks to be the best unit on this side of the ball. Two avid sackers occupy the line, James Smith-Williams, who scored six sacks and four QBHs, and Larrell Murchison, who posted four sacks, four TFL, and two PBU. Sophomore LB Isaiah Moore will look to build on last season's stats that include 69 tackles, five TFL, and six QBHs. The secondary, which includes corner Chris Ingram, who had one pick and nine PBU, has some decent talent and experience. They should show improvement this season.
Reliable kicker Christopher Dunn hit all 51 extra points last season as well as 23-of-26 field goals. He is solid. This ACC Atlantic football preview notes that Australian sophomore Mackenzie Morgan will most likely punt. Thayer Thomas, who averaged 9.3 YPR, is back to return punts. Maurice Trowell, who brought back kicks, is gone and needs to be replaced.
5. ACC Atlantic Football – Boston College Eagles (7-5)
Offense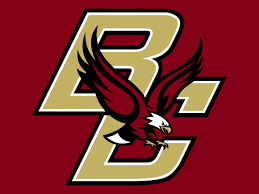 The B.C. Eagles have two very fine offensive weapons in two juniors, QB Anthony Brown and RB A.J. Dillion. Brown tossed 20 TD passes last year and nine interceptions while completing 55.4% of his passes for 2,121 yards. Dillion rushed for 1,108 yards scoring 10 times while averaging 4.9 YPA. The Eagles' front line is solid, which will certainly help rushing and passing efforts. The major question mark for this team is at receiver, as Boston College has lost three-of-four top pass catchers. Junior Kobay White, who had 33 catches for 526 yards and three TDs, will be busy. We also expect senior WR Ben Giles, who last season converted four of his dozen catches to TDs, to play more of a role.
Defense and Special Teams
Our ACC Atlantic football preview notes that in 2018 the Eagles held opponents to 25.7 PPG (55th). They may be challenged to do the same this season, as this team has lost eight starters. The LB unit does see two top players come back in juniors Isaiah McDuffie and Max Richardson. McDuffie, who's the team's top returning tackler (85), posted 3.5 sacks, two TFL, and two PBU. Richardson recorded 76 tackles, 6.5 TFL, 2.5 sacks, and two PBU. Senior NT Tanner Karafa, who nailed 47 tackles, four sacks, and 4.5 TFL last year, is the only returning starter to the D-line. In the secondary, sophomore Brandon Sebastian returns as the most accomplished deep back. Last season, he grabbed two picks and broke up eight passes.
According to our ACC Atlantic football preview, the Eagles will need to replace productive return man Michael Walker as well as placekicker Colon Lichtenberg. Junior punter Grant Carlson averaged 40.2 YPP and placed 25 within the 20-yard line. But he also had three punts blocked.
6. ACC Atlantic Preview – Wake Forest Demon Deacons (7-6)
Offense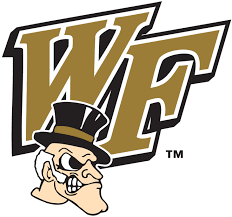 Our ACC Atlantic football preview, sees the Demon Deacons of Wake Forest as having the opportunity to give their pass attack a boost, as they have plenty of experience at QB and in the receiving corps. However, depth on the O-line could be a problem. Still, junior QB Jamie Newman has an accurate arm. At the same time, sophomore QB Sam Hartman, who won the starting spot last season, also has fine potential. Receivers Greg Dortch and Alex Bachman, who combined for 14 TDs, are gone. WR Sage Surratt, who's 6'4", proved to be able last season. He made 41 catches, scored four TDs, and averaged 14.2 YPC. Senior running back Cade Carney rushed for 1,005 yards last season, averaging 5.3 YPA and scoring eight times. Might the Demon Deacons score an average of 32-plus points per game again this season?
Defense and Special Teams
Five starters return to a defense that allowed opponents 33.3 PPG in 2018. The linebacking unit is the most solid group on this side of the ball. Last season, senior BUCK Justin Strnad was the team's top tackler with 105. He notched seven TFL, five PBU, and two QBHs. Senior corner Essang Bassey, who defended 15 passes and grabbed one pick, will anchor the defensive backs. Upfront, junior DE Carlos Basham brings speed and smarts. In 2018, Basham recorded 64 tackles, 4.5 sacks, 6.5 TFL, and five QBHs. This side of the ball certainly possesses some quality talent. But depth is a problem.
Our ACC Atlantic football preview finds that for Wake Forest, there are issues on special teams. Dortch, who was a premium and explosive runback artist on kicks and punts, has to be replaced. Sophomore PK Nick Siba put up sound numbers as a freshman last season, hitting all 50 of his extra points and scoring on 19-of-22 field goals. Junior punter Dom Maggio averaged 41.8 YPP and placed 24-of-77 within the 20-yard line.
7. ACC Football – Louisville Cardinals (2-10)
Offense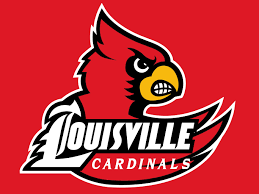 Last season, the Louisville Cardinals scored 19.8 PPG (T-121st). This season, there are major question marks concerning quarterback and the offensive line. Junior QB Jawon Pass did not win a game last season. He completed 54.0% of his throws, hitting pay dirt eight times while tossing a dozen picks. Malik Cunningham, in more limited action, completed 59.7% of his passes. He threw a total of 67 passes and hit for one TD while giving up one pick. Cunningham proved his versatility by rushing 79 times for 497 yards and five TDs. RB Hassan Hall scored three times on 70 carries while gaining 303 yards and averaging 4.3 YPA. There's some depth in the receiving group that includes junior Dez Fitzpatrick. Fitzpatrick, who averaged 13.6 YPC, scored three times while making 31 catches.
Defense and Special Teams
While the offense was averaging under 20 points per game in 2018, the defense was allowing 44.1 PPG (127th). Although 10-of-11 starters return and the Cardinals have a new, innovative coordinator in Bryan Brown, this unit will still struggle. However, we do anticipate growth and increased effectiveness. LBs C.J. Avery and Dorian Etheridge, the two top returning tacklers with 56 and 55 respectively, have plenty of experience. Avery had two picks and broke up two passes last season, while Etheridge posted 3.5 TFL and four PBU. Des Amonte Caban and Tabarius Peterson made 50 and 49 tackles respectively. Caban recorded two sacks and five TFL, while Peterson had two sacks and 4.5 TFL. Senior corner Cornelius Sturghill, who notched a pick and broke up three passes, leads the secondary.
On special teams, Rodjay Burns offers solid punt-return skills. In 2018, he brought one all the way back for a score and averaged 15.2 YPR. At the same time, kick returner Hassan Hall averaged 24.1 YPR and also scored once. Senior PK Blanton Creque was 27-of-30 on extra points and 10-of 12 on field goals. His longest was 46 yards. Senior punter Mason King returns after averaging 40.6 YPP and placing 19-of-69 within the 20-yard line.
2019 ACC Atlantic Football Preview
Bowl Projections
Independence Bowl, Dec. 26 – Boston College Eagles and South Carolina Gamecocks
Pinstripe Bowl, Dec. 27 – Syracuse Orange and Penn State Nittany Lions
Peach Bowl (CFP), Dec. 28 – #1 Clemson Tigers and #4 Georgia Bulldogs
Music City Bowl, Dec. 30 – Wake Forest Demon Deacons and Missouri Tigers
Belk Bowl, Dec. 31 – N.C. State Wolfpack and Texas A&M Aggies
Citrus Bowl, Jan. 1 – Ohio State Buckeyes and Florida State Gators
2019 ACC Atlantic Football Preview
Projected Best Bets
Aug. 31 – East Carolina @ N.C. State – Bet the Wolfpack by approximately 21.
Sep. 7 – Eastern Kentucky @ Louisville Cardinals – Bet the Cardinals.
Sep. 14 – Clemson @ Syracuse – Tigers by about -10.
Sep. 21 – Elon @ Wake Forest – We project an easy win for the Demon Deacons.
Sep. 28 – Holy Cross @ Syracuse – Take the Orange at around -20.
Oct. 5 – Boston College @ Louisville – B.C. by about 10 points.
Oct. 19 – Florida State @ Wake Forest – We like the Seminoles by 10 points.
Nov. 2 – Wofford @ Clemson – The Tigers maul the Terriers.
Nov. 9 – Florida State @ Boston College – We like the Seminoles in this one.
Nov 30 – Clemson @ South Carolina – Tigers at approximately -15.
Utilize this 2019 ACC Atlantic preview to give yourself an added edge this NCAA football season. For more information on the ACC, go to our ACC Coastal preview. You can access other conferences through our hub page.