NCAA Previews
2018 C-USA West College Football Preview
UAB Blazers Look to be Hot in 2018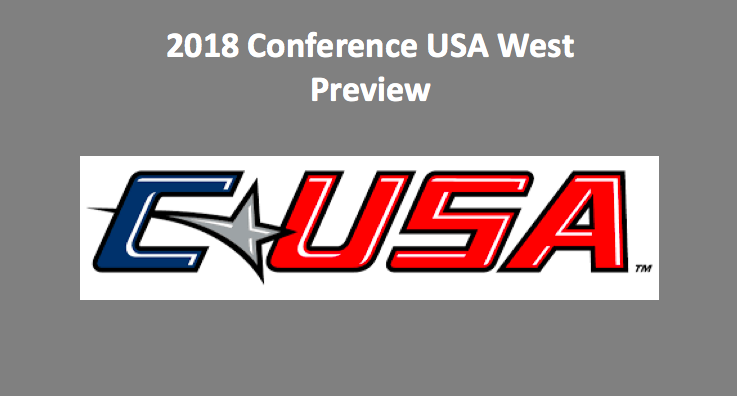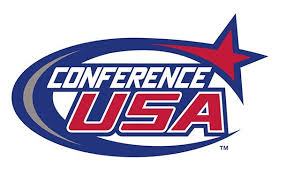 Last season, the first time UAB put players on the field since being shut down after the 2014 season, the Blazers finished second in C-USA West and played Ohio in the Bahamas Bowl. The Blazers lost that game 6-41. Our 2018 C-USA West college football betting preview, envisions UAB as taking down the division and meeting the Florida Atlantic Owls in the conference championship. The Owls will be favored in that contest. We expect them to be headed to the Gasparilla Bowl. But that road to the division crown won't be easy, as the Blazers will face competition from Southern Miss, North Texas, and Louisiana State. To get the full picture on C-USA, after reading our 2018 C-USA West college football betting preview, be sure to see our preview of C-USA East Division.
2018 C-USA West College Football Betting Preview
It's true that our 2018 C-USA West college football betting preview likes the University of Alabama- Birmingham Blazers. One thing that favors the Blazers greatly is their weak schedule. They have one of the easiest lists of upcoming games of any team in either C-USA division. However, there are three other teams in the West that cannot be ignored. The Louisiana Tech Bulldogs, who finished fourth last season, are a real contender in 2018. The North Texas Mean Green, who won the West in 2017, also have a fairly easy group of teams to play and are solid. Finally, the Southern Miss Golden Eagles should not be ignored. Here our full 2018 C-USA West college football betting preview.
1. UAB
Offense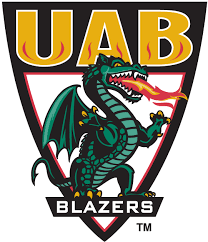 The Blazers underachieved on offense last season, but they are expected to excel this year for two reasons. First, they return just about every starter from last year's squad, and, second, coach Bill Clark dismissed offensive coordinator Les Koenning and rehired Bryant Vincent. Vincent was the architect of the 2014 offense that set school records. Senior QB A.J. Erdely (60.7 COMP%, 16 TDs, 4 INTs) is a solid passer who is capable of scoring on short rushing plays. He crossed the goal line 13 times last season. Sophomore RB Spencer Brown (1,329 YDs, 5.3 YPA, 10 TDs) was C-USA Freshman of the Year. He could be explosive. The receiving unit includes wideout Andre Wilson (54 REC, 12.5 YPC, 6 TDs), a sure-handed senior. Finally, our 2018 C-USA West college football betting preview finds that the O-line is experienced and deep and includes a solid group of tight ends.
Defense & Special Teams
The defense must replace numerous key players, including leading tackler Tevin Crews. Senior FS Broderick Thomas (95 TKLs, 3 TFL, 2 INTs) is the top player in the secondary. LB Fitzgerald Mofor (75 TKLs, 2.5 TFL, 1 INT) is the anchor for the linebacking unit. LB Stacy Keely (29 TKLs, 4 SCKs, 9 QBHs) is an expert at harassing quarterbacks. On the line, DT Garrett Marino (33 TKLs, 1 SCK, 7 TFL, 4 QBHs), is aggressive and dogged, while NT Anthony Rush comes to this season after making 39 tackles and posting nine tackles for a loss. The guy UAB looks to on special teams for run backs is Wilson. Punter Joel Dixon and PK Nick Vogel are both back after uneven sophomore seasons.
2. Louisiana Tech
Offense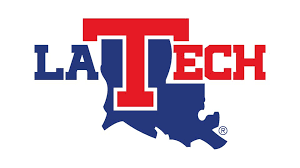 The Louisiana Tech Bulldogs come into this season with a sound passing attack, a good defense, and weak special teams. Our 2018 C-USA West college football betting preview acknowledges that the Bulldogs will be a dangerous team. Last year, the team put 30.5 PPG (3rd C-USA, 48th Nationally) on the scoreboard. Junior QB J'Mar Smith (56.0 COMP%, 16 TDs, 5 INTs) passed for close to 3,000 yards and rushed for six scores. His two top receivers are back, including senior Teddy Veal (74 REC, 12.8 YPC, 7 TDs). It's hoped that running back Jaqwis Darcy can become the team's next 1,000-yard rusher or that converted wideout Kam McKnight can do the job. The line is solid and deep.
Defense & Special Teams
Statistically, the defense was mediocre in 2017. They bring back a senior frontline and LB unit, that includes four-of-six starters. DE Jaylon Ferguson notched seven sacks and five quarterback hurries, while LB Dae'Von Washington (70 TKLs,4.5 TFL, 2 INTs) returns as the club's top tackler. In his frosh season, CB Amik Robertson grabbed five picks and broke up six passes, while making 5.5 TFL. Safety Darryl Lewis brought down four interceptions in 2017. Dancy is a superior runback man in special teams. PK Jonathan Barnes has departed after breaking just about every school record. Punter Brady Farlow may move into that spot as Australian kicker Davan Dyer takes on the punting chores. The kicking area is questionable.
3. North Texas
Offense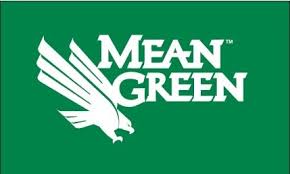 In 2017, the North Texas offense pumped out 35.5 PPG (2nd C-USA, 19th Nationally), as they scored most of their points with the second-ranked passing game in the conference. Junior QB Mason Fine, who was last year's C-USA Offensive Player of the Year, can deliver. He passed for over 4,000 yards last season, tossing 31 TDs and 15 INTs while hitting 63.4% of his passes. He sees the team's top three receivers return, including juniors Michael Lawrence (62 REC, 13.2 YPC, 4 TDs) and Jalen Guyton (49 REC, 15.8 YPC, 9 TDs). Sophomore Nic Smith (684 YDs, 5.0 YPA, 6 TDs) will try to become the team's next 1,000-yard rusher. The offensive line looks solid, and should keep potential pass rushers at bay.
Defense & Special Teams
Although the Mean Green's offense was effective, their defense was not in 2017, as they allowed 35.0 PPG. Our 2018 C-USA West college football betting preview has determined that this is one of the weaker defenses in the conference, as they need help in each area. Still, each unit should show improvement in 2018. No doubt, on this side of the ball, there are some talented and skilled players, such as OLB E.J. Ejiya (109 TKLs, 7 SCKs, 5 TFL). He led the team last year in tackles, tackles for a loss, and sacks. DE LaDarius Hamilton (40 TKLs, 4 TFL, 1 INT) notched five QBHs, while DE Roderick Young and MLB Brandon Garner had seven and eight QBHs respectively. They each also notched 4.5 TFL. Senior CB Kemon Hall made 72 tackles and broke up eight passes. The one thing this team lacks is turnover power.
Our 2018 C-USA West college football betting preview observes that the North Texas special teams are a strength with the always dangerous Jaelen Darden on run backs. Plus, Blake Patterson and Alvin Kenworthy are solid on bringing back punts. PK Trevor Moore, who was ultra-dependable, is gone. Cole Hedlund, a grad transfer from Arkansas, will replace him. He's an accurate kicker.
4. Southern Miss
Offense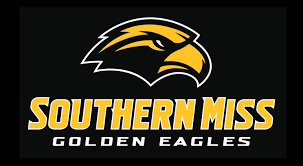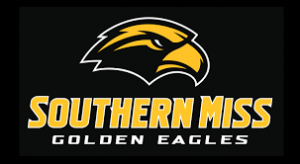 On offense, the Southern Miss Golden Eagles possess a strong quarterback in senior Kwadra Griggs (55.8 COMP%, 16 TDs, 2 INTs). Griggs loses his three top receivers and the offense will be without 1,400-plus yard-rusher Ito Smith. Smith also had the third-most receptions last year and scored a total of 15 TDs. Senior RB Tez Parks (272 YDs, 5.1 YPA, 1 TD) will take over for him, while Quez Watkins (23 TDs, 14.7 YPC, 2 TDs) is the team's top returning pass catcher. The O-line is a work-in-progress.
Defense & Special Teams
Last season, the Southern Miss defense was better than average as they ranked second in the conference in total yards allowed (331.9 YPG) and fourth in points (24.5 PPG). Only four starters return from last season, as three of its five top tacklers are gone. The good news is sophomore LB Racheem Boothe (79 TKLs, 3.5 SCKs, 5 TFL, 6 QBHs), who was second overall in tackles and first in quarterback hurries, is back after earning Freshman All-American honors. Two Senior defensive ends, LaDarius Harris (37 TKLs, 1 SCK, 4.5 TFL) and Darian Yancey (29 TKLs, 4 TFL, 1 PBU), come in with plenty of solid experience. The secondary has to be completely rebuilt and will have some major challenges in 2018.
Special teams will look to Watkins on returns. The dependable Zac Everett (67 Punts, 40.6 YPP, 19 w/in20) will punt. Last season, senior PK Parker Shaunfield hit four-of-four from 40-plus yards and was 17-of-20 overall.
5. UTSA
Offense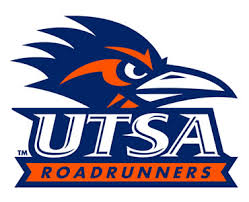 The University of Texas at San Antonio Roadrunners finished fifth last season, and our 2018 C-USA West college football betting preview expects the same result this season. The offense scored just 23.5 PPG (10th C-USA, 104 Nationally), as they posted an overall record of 6-5 and a conference mark of 3-5. Al Borges, a veteran offensive coordinator, has been enlisted to fix this side of the ball, which did not permeate the end zone in the final two games of the season. A major question for this team lies in the QB area, where there's plenty of competition. Wisconsin/SMU grad transfer D.A. Gillens, who can pass and run, may get the nod. But there are a few others in line too. Whoever gets the job, they will have to deal with an O-line that brings back just two starters and a receiving unit that's down three playmakers. Senior RB Jalen Rhodes (659 YDs, 4.9 YPA, 5 TDs) gets the start in that position.
Defense & Special Teams
In 2017, UTSA put the best defense in the conference on the field. They held teams to 17.0 PPG (1st C-USA, 8th Nationally) and 287.8 total yards per game (1st C-USA, 5th Nationally). But can the same be expected from them this year? There are two issues. The first is the loss of star DE Marcus Davenport, who is now in the NFL. The second, and perhaps more important loss, is D-coordinator Pete Golding. He was scooped up by the Alabama Crimson Tide.
There is good news as six starters return and three-of-five on the D-line are back. Eric Banks takes over Davenport's spot. He had a good 2017 with 25 tackles, 1.5 sacks, and seven TFL. Linebacker Josiah Tauaefa (29 TKLs, 2 TFL, 3 QBH), a junior, anchors that group, while seniors Carl Austin III and C.J. Levine are the glue in the secondary. The return units are sound and both kickers offer quality. Sophomore Jared Sackett (23-24 XP, 19-22 FG) was a Lou Groza semifinalist in his frosh season, while senior punter Yannis Routsas (41.6 YPP, 28 w/in20) was a Ray Guy semifinalist.
6. Rice
Offense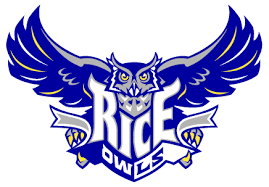 In 2017, the Rice Owls averaged just 16.3 PPG (12th C-USA, 125th Nationally). The team's record was 1-11. They may do a bit better this year, picking up an extra win, but our 2018 C-USA West college football betting preview has determined that the Owls will still struggle. Junior QB Jackson Tyner (47.4 COMP%, 2 TDs, 5 INTs) will have last season's top-receiver Aaron Cephus (25 REC, 24.9 YPC, 5 TDs) to throw to. Cephus does have big-play potential. Plus, the only other player to catch a touchdown pass, RB Austin Walker, returns. Walker (400 YDs, 5.8 YPA, 4 TDs), a senior, will share rushing duties with starter Emmanuel Esukpa (261 YDs, 4.6 YPA, 1 TD), a junior. The line is in rebuilding mode, which will prove to be a major challenge when it comes to opening up holes and protecting Tyner.
Defense & Special Teams
The defense gave up 35.8 PPG (13th C-USA, 113th Nationally). This season, the Owl D will certainly be challenged once again. The frontline is the strongest unit, as two-of-three starters come back. Junior Roe Wilkins (32 TKLs, 6.5 SCKs, 2 TFL) is the anchor of this group. Senior MLB Martin Nwakamma (40 TKLs, 1 TFL, 1 PBU) returns as the leader in tackles. In the secondary, senior CB Brandon Douglas-Dotson (31 TKLs, 3 TFL, 7 PBU, 1 INT) is the team's top performer. On special teams, Austin Trammell needs a bit more traction. Senior punter Jack Fox (44.2 YPP, 16 w/in20) is exemplary. PK Will Harrison was 21-of-21 on extra points and 2-of-4 on field goals.
7. UTEP
Offense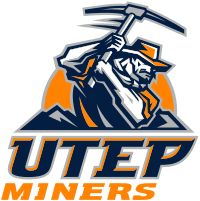 In our 2018 C-USA West college football betting preview, we pick the University of Texas at El Paso Miners, who were 0-12 last season, to finish last once again. The Miners have not been to a bowl since 2014, and they are not expected to break that streak in 2018. On offense, they averaged a mere 11.8 PPG (14th C-USA, 130th Nationally). Who will play the QB position is debatable, but junior Kai Locksley, a junior college transfer who can pass and run, may be the right candidate.
He'll be protected by an O-line that has two returning starters. However, they have added some experienced transfers and should play better than they did last season. There are three senior wideouts and a senior tight end. WR Kavika Johnson (14 REC, 11.6 YPC, 2 TDs) could be the prime outlet this year. Juniors Quardraiz Wadley (277 YDs, 4.8 YPA, 1 TD) and Joshua Fields (362 YDs, 4.1 YPA, 2 TDs) will share ball-carrying duties.
Defense & Special Teams
UTEP will have a new defensive scheme in place as they go with a 4-2-5 configuration. Last year, they allowed 36.8 PPG (14th C-USA, 119th Nationally). This 2018 C-USA West college football betting preview observes that the secondary should be this team's strength and the frontline is expected to show improvement. Senior corners Nik Needham (59 TJKLs, 8 PBU, 1 INT) and Kalon Beverly (44 TKLs, 2.5 TFL, 8 PBU) and senior safety Kahani Smith (46 TKLs, 3 PBU, 2 INTs) offer some fine coverage chops. Special teams are in need of improvement on punt returns, while Terry Juniel has done fine on bringing back kickoffs. Freshman Gavin Baechle will try to put some consistency in field goal attempts, while Australian Mitchell Crawford looks to replace stellar punter Alan Luna.
2018 C-USA West Preview
Bowl Projections
Heart of Dallas Bowl: Indiana vs North Texas
Gasparilla Bowl: Buffalo vs UAB
Bahamas Bowl: Western Michigan vs Louisiana Tech
2018 C-USA West College Football Betting Preview
Projected Best Bets
Sep 1: Jackson State @ Southern Miss – Golden Eagles at -25 or fewer.
Sep 8: Rice @ Hawai'i – Owls at +9 or better. Rainbow Warrior D is vulnerable enough for Rice to keep it relatively close.
Sep 8: Incarnate Word @ North Texas – Take the Mean Green. That's the word.
Sep 22: New Mexico State @ UTEP – Aggies, formerly SBC, are an Indie again. Bet Miners at +30 or better.
Sep 22: Texas State @UTSA – We like the Roadrunners by about 20 points.
Oct 20: UTEP @ Louisiana Tech – Hey, Bulldogs at about -17.
Oct 27: Louisiana Tech @ Florida Atlantic – Home team look good. Owls by -3.0.
Nov 3: UTEP @ Rice – Take the Owls.
Nov 10: Southern Miss @ UAB – We're going with home team. Blazers at -15.
Nov 24: UAB @ Middle Tennessee – Blazers at -6 or fewer.
Utilize this 2018 C-USA West college football betting preview to give yourself an added edge this NCAA football season. For more information on C-USA, go to out East Division preview. You can access other conferences through our hub page.