NCAA Previews
2018-2019 Kansas State Wildcats Basketball Analysis
Wildcats Bring Back Top Talent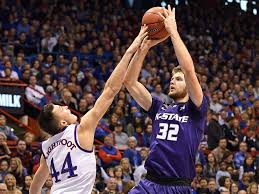 Last season was a hallmark one for the Kansas State Wildcats (25-12 Overall, 10-8 Big 12). Not only did they return for a second-straight year to the Big Dance, but they also made it to the Elite Eight where they lost to Loyola-Chicago 78-62. Our 2018-19 Kansas State Wildcats basketball preview notes that this club welcomes back a long list of talent. We expect coach Bruce Weber to once again get back to the NCAA Tournament. We also believe that this Kansas team will go deep into the competition. However, we don't believe they'll take the conference championship. Rival Kansas should do that.
Frontcourt
Senior forward Dean Wade (16.2 PPG, 6.2 RPG, 55.0 FG%) is an awesome force in the paint. Wade can also hit from downtown, as he connected on 44.8% of his threes last season. He is the anchor in front. Look for junior Makol Mawien (6.8 PPG, 3.4 RPG, 59.8 FG%) to be upfront with Wade. Known for been a hard worker, the Wildcats need Mawien to be more consistent. Junior college transfer Austin Trice is likely to be an important part of the frontcourt group. At Wabash Valley College, he averaged 12.6 PPG and 12.1 RPG.
Backcourt
At the point will be senior Barry Brown (15.9 PPG, 3.2 APG, 44.8 FG%). Brown, who had worked out with the Lakers and Nets, decided to stay for his senior year rather than going pro. That decision was huge for Kansas State, as Brown is the team's best defender and leader in the locker room. One area he needs to improve on is his three-point shot. Brown was good on just 31.8% pf his attempts from downtown. Guard Kamau Stokes (9.0 PPG, 3.4 APG, 36.8 FG%), who struggled last season with a nagging foot injury, is back and healthy. His numbers should improve. Junior Xavier Sneed (11.1 PPG, 5.1 RPG, 41.7 FG%) returns to the wing. Last season, he excelled at that position.
2018-19 Kansas State Wildcats Basketball Preview – Final Word
This is a team that needs to play up to its potential. Last season, the Wildcats were 0-7 against the top three teams in the Big 12. They have to find a way to take down other top contenders. We think with the depth and talent on this team that they will do better against the elite in the conference. Our 2018-19 Kansas State Wildcats basketball preview finds that this well-stocked team will do well this season.
Big 12 News and Updates