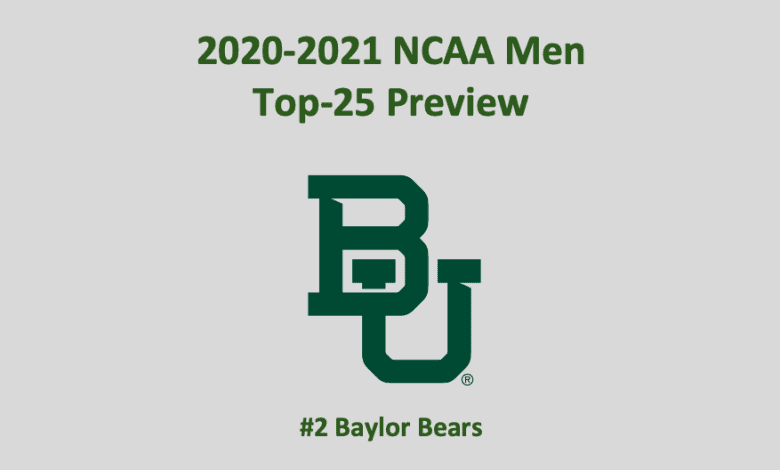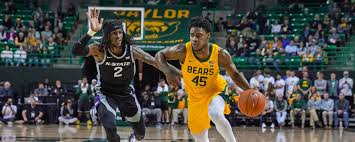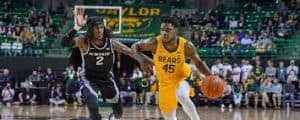 Our Baylor basketball preview 2020 – 2021 finds that the Bears return well-armed. Their top-three scores are back. In fact, six starters from last year return, which means that coach Scott Drew should have another contender. Last season, this team surprised everyone. After losing their second game of the season to Washington, Baylor reeled off 23 straight wins. Although they did lose three of their last five, this team was impressive. Their 2019 – 2020 record included an overall mark of 26-4 and a Big 12 win/loss combination of 15-3.
Stats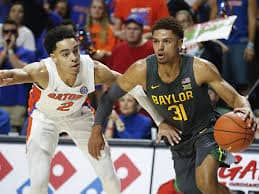 How did they do it? They put a solid, diverse offense on the court that befuddled opponents. The stable of dual-digit scorers disarmed defenses as they attacked numerous angles and spots. That meant opponents could not focus in on prolific point-scorer Jared Butler. In the Big 12, the Bears were third in three-pointers (7.7 PG), third in three-point percentage (35.1%), and fourth in scoring offense (71.1 PPG). In addition to a fine offense, the Baylor defense was unrelenting. Their scoring defense allowed 60.1 PPG (7th Nationally, 1st Big 12) and field-goal defense was 39.7% (26th Nationally, 3rd Big 12). Their guards, which included Big South transfer MaCio Teague, as well as Davion Mitchell and Devonte Bandoo, constantly harassed opponents. The results were win after win after win.
Baylor Basketball Preview 2020 – 2021 – Players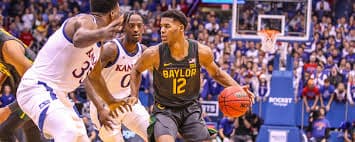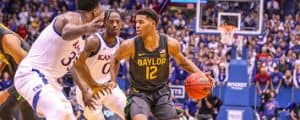 The Bears are exceptionally strong in the backcourt. Important additions to the guard spots include Adam Flager (Presbyterian) and LJ Cryer. As noted, the returning group is especially strong with Teague, Butler, and Mitchell bringing a whole lot of skill and experience to the court. However, the team will need to deal with the loss of major defender Bandoo (7.6 PPG).
In front, the Bears must adjust to the loss of Freddie Gillespie. That loss is huge for this team. He was a dominant force upfront. Jonathan Tcharmwa Tchatchoua, a sophomore forward transfer from UNLV who is a major plus defensively, and a pair of top-notch frosh, Dain Dainja (#56), a four-star recruit, and Zach Loveday (#122), a seven-foot, three-star recruit, should be able to ensure this team does not lose a step in the paint. Plus, the Bears see Mark Vital, Matthew Mayer, and Flo Thamba offer fine frontcourt skills. Tristan Clark is the wild card in the mix. When he's healthy, Clark is a huge offensive asset. But his knee has been an issue. Good health is a must.
Baylor Basketball Preview 2020 – 2021 – Frontcourt
We expect 6-6 Vital and 6-9 Clark to start. Vital, who averaged 6.1 PPG and 6.2 RPG, can clear out around the rim, and he's a solid scoring threat. As noted, if healthy, Clark can be a major force. Last season, he averaged 4.0 PPG and 2.4 RPG. Junior wing Matthew Mayer is an important part of this group. Last season, the 6-9 forward/guard averaged 4.8 PPG and 1.9 RPG. Look for some of the new front men to contribute. The addition of transfer Tchatchoua, who's 6-8, gives this team a new potent defensive force. As a freshman two seasons ago, transfer Flagler put in 15.9 PPG while taking down 3.4 RPG. He could be a contributor.
Baylor Basketball Preview 2020 – 2021 – Backcourt
Our Baylor basketball preview 2020 – 2021 observes that last season Jared hit 77 three-pointers. As a sophomore, he averaged a mighty 16.0 PPG while dishing off 3.1 APG and grabbing 3.2 RPG. Perhaps his most important stat is his 1.6 SPG. Teague is also a major offensive and defensive threat. In 2019 – 2020, he averaged 13.9 PPG and 4.6 RPG, as well a 1.0 SPG. Mitchell, who last season contributed 9.9 PPG, rounds out the starting backcourt trio. He made 1.5 SPG and 3.8 APG. LJ Cryer, a top-60 recruit, offers a huge amount of potential.
Bears – Make or Break for 2020-2021
Our Baylor basketball preview 2020 – 2021 observes that the success of the Bears will be predicated on some essential aspects of this team. Coach Drew will need to continue to be inventive and utilize his players to the fullest. This team was successful last season because they were able to keep opponents out of the middle, making them take low-percentage shots.
Making up for losses will be essential. Clark's health is another consideration. Also, Jared showed remarkable progress last season. If he can improve more this year, the Bears will be tough to beat. Finally, the Bears are no longer an unknown. Last season, they caught teams by surprise. They are no longer a surprise.
Baylor Basketball Preview 2020 – 2021- Final Word
Our Baylor basketball preview 2020 – 2021 observes that for years coach Drew had the reputation as being a fine recruiter but a boring Xs and Os guy. Well, last season, he handled his clipboard with aplomb and creativity, which allowed him to enjoy great results. With one of the most vigorous backcourts in college basketball and a whole lot of experience, we expect this Baylor team to be a major contender in the Big 12. Look for them to good deep in the tournament. Perhaps, even, deeper than we project.
Baylor Bears – 2020-2021 NCAA Projection
Big 12 Finish – First
NCAA Tournament Result – National Championship Game