NCAA Previews
2018-19 Miami Hurricanes Basketball Analysis
Hurricanes – NIT or NCAA?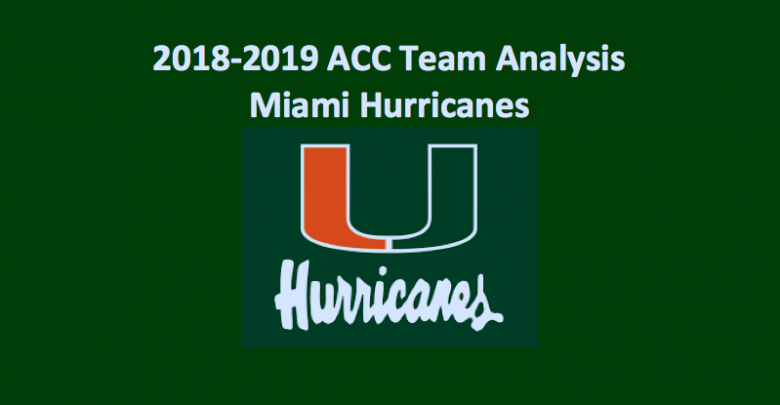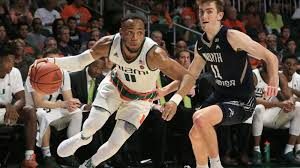 Last year, the Miami Hurricanes (22-10 Overall, 11-7 ACC) made it back to the NCAA Tournament for the third time running. However, for the second straight year, they were one and done. These last two disappointing NCAA appearances were in direct contrast to the team's 2016 performance when they made it to the Sweet 16. Our 2018-19 Miami Hurricanes basketball preview projects that it is highly unlikely that this year's Hurricanes will be at the Big Dance. The primary reason for this predicted outcome is the decision of freshman sensation Lonnie Walker to go to the NBA. He was the team's primary offensive dynamo last season. Secondary factors related to Miami's possible decline have to do with the decision of sophomore Bruce Brown to also enter the draft and the graduation of senior Ja'Quan Newton.
Frontcourt
Much of the success of the Hurricanes hinges on the development of junior Dewan Huell (11.4 PPG, 6.7 RPG, 57.6 FG%). Huell, who is six-foot, 11 inches and 236 pounds, is a big man with big potential. The former five-star recruit has spent his first two seasons developing various aspects of his game. Two seniors, center Ebuka Izundu (5.0 PPG, 3.8 RPG, 69.2 FG%) and combo player Anthony Lawrence II (8.8 PPG, 6.5 RPG, 46.7 FG%), are able and skilled.
Backcourt
Last season, his first in college hoop, point guard Chris Lykes (9.6 PPG, 2.3 APG, 40.2) earned the admiration of everyone. As a freshman, he displayed exceptional passing skills and proved to be a never-say-die player. Grad transfer Zach Johnson, who was good for 16.1 PPG and 3.0 APG in his final season with Florida Gulf Coast, looks to be an important addition. Junior guard Dejan Vasiljevic (9.0 PPG, 2.5 RPG, 45.0 FG%) is a major three-point threat. He hit 41.1% of his shots from downtown last season.
2018-19 Miami Hurricanes Basketball Preview – Final Word
As of late, head coach Jim Larranaga has guided this team to some fine seasons. Last year at the Big Dance, the Canes were the first victims of dark horse Loyola-Chicago. They lost to them in round one 64-62. Our 2018-19 Miami Hurricanes basketball preview sees this team as having to adjust to some major losses. How well they can do so will dictate where they end up. We expect it to be the NIT.
ACC News and Updates