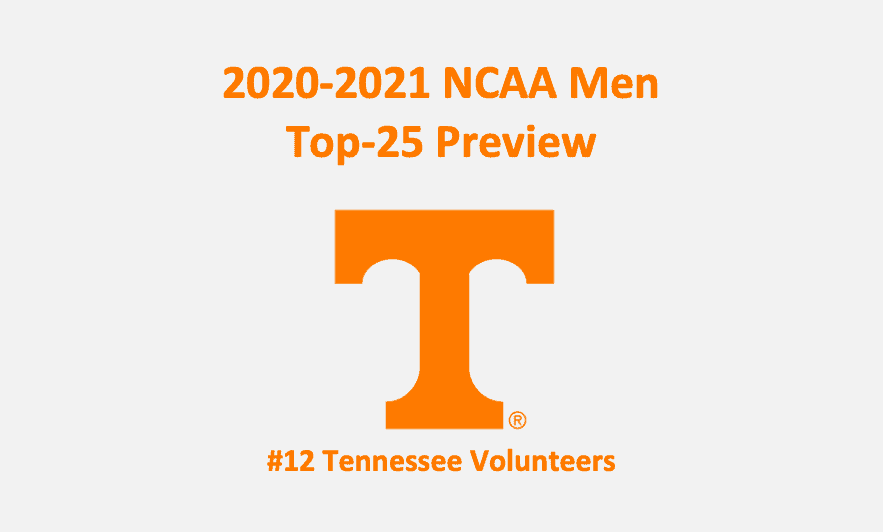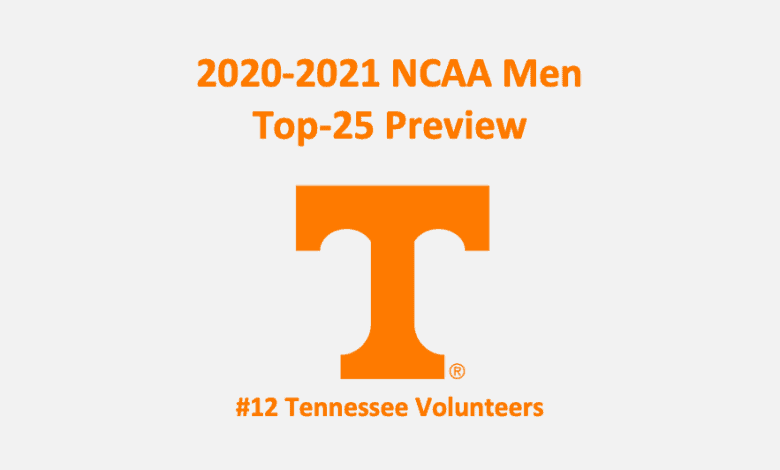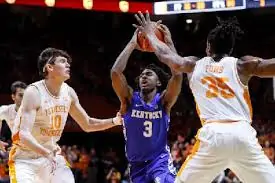 Our Tennessee basketball preview 2020 – 2021 observes that last season was not a good for this team. The Volunteers broke even at 9-9 in the conference and were 17-14 overall. They finished eighth in the SEC, six games away from the first-place Kentucky Wildcats. It was quite a letdown considering that in the 2018-19 season the Vols were 31-6 overall and 15-3 in the SEC. The team finished one game out of first, which was captured by the LSU Tigers. Tennessee ended the season ranked number six and had been number one for a time. This season, we expect to see the Volunteers return to their 2018-19 form. Coach Rick Barnes has done a solid job recruiting and many of the returning sophomores look ready to reach new levels.
Stats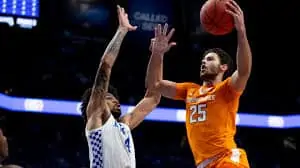 In the statistics department, the Vols did have a few highlights. Their scoring defense, which allowed 64.2 PPG, was ranked first in the SEC and 39th in the nation. They also topped the conference in assists, averaging 14.5 PG (67th Nationally). Finally, Tennessee's field-goal defense and free-throw percentage came in third and fifth in the conference and 45th and 51st in the nation. We expect to see this team perform better when it comes to offensive field-goal percentage (43.2% – 204th Nationally, 11th SEC), points scored (67.1 – 289th Nationally, 13th SEC), and turnovers (13.6 PG – 221st Nationally, 9th SEC).
Tennessee Basketball Preview 2020 – 2021 – Players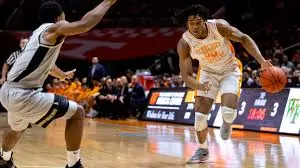 The Volunteers lose three key players from last season. All played in the backcourt. Gone are Jordan Bowden (13.7 PPG), Lamonte Turner (12.3 PPG), and Jalen Johnson (3.5 PPG). However, there's still experience at the guard spot, as sophomores Santiago Vescovi and Josiah-Jordan James return. Due to departures and injuries, both players saw a lot of action last season. Two talented freshmen, Keon Johnson, a five-star, top-20 recruit, and Jaden Springer, a MacDonald's All-American and 15th-ranked player, join the backcourt. Rounding out what is a very full group of guards are Oregon transfer Victor Bailey Jr. and sophomore Davonte Gaines.
The frontcourt also looks to be much improved and quite solid. Returning are senior forwards Yves Pons and John Fulkerson. Joining the group is Sacred Heart graduate-transfer E.J. Anosike. We expect those three to see the most minutes. However, there are three sophomores, Uros Plavsic, Olivier Nkamhoua, and Drew Pember, who can come in and contribute. As noted already, Barnes will coach a club that has a whole lot more experience than last year's Vols.
Frontcourt
Forward/guard Yves Pons, who averaged 10,8 PPG and 5.4 RPG last season, is a versatile player, as is John Fulkerson. Pons, the SEC's reigning Defensive Player of the Year, had a breakout 2019 – 2020 season. He can pop out and hit from outside, mix it up inside, and play unrelenting and effective defense. Fulkerson, who also had a breakout year, brings some fine tools to the court. Offensively, he's effective at the top of the key, in the elbow, or in the post. Ranked fourth in the SEC in free-throws last season and earning a spot on the All-SEC Second Team, the 6-9 forward averaged 13.7 PPG, 5.9 RPG, and 1.1 SPG. Together, Pons and Fulkerson comprise one of the best one-two frontcourt combos in the conference. The 6-7 Anosike, who averaged 15.7 PPG, 11.7 RPG, and 1.0 SPG with Sacred Heart last season, is a sound addition to this unit. Plavsic, who's a seven-foot center, needs to work on his shot-blocking chops, while Nkamhoua offers decent rebounding skills. Corey Walker Jr., an athletic, four-star, top-100 freshman, has the size and power to see action immediately. He could have an impact early.
Backcourt
The backcourt, which has a tough time getting the ball inside and allowed too many turnovers, should be a lot more proficient this season. We expect Vescovi to be the guy controlling the ball. Last year, the native of Uruguay became eligible to play in January. With that, he started the final 19 games of the season. Although he had major issues with turnovers, Vescovi displayed talent and skill. He averaged 10.7 PPG, 3.7 APG, and 3.3 RPG. Plus, he used his quick hands to average 1.2 SPG. We expect he'll be more adept at handling the ball and will give it up less often this season. Vescovi has a big plus-side in that he's aggressive, determined, and a pure shooter. He needs to hone his defensive skills.
Although James came highly touted, last season, he was asked to take on a lot of responsibility quickly and struggled. Despite the fact that he can play point, the athletic guard is much better on the wing. In his first season, he put in 42.6% of his shots from downtown. However, he only converted 37.3% of his two-point attempts. Improved shot selection should help his efficiency. Along with 7.4 PPG last season, James averaged 5.3 RPG and 2.9 APG. With some improvement, he's the type of player who will destroy defenses. Freshmen Springer and Johnson both have a lot to offer. In terms of strength, Springer is ready to play in the SEC. His athleticism helps to make him a solid two-way player. Our Tennessee basketball preview 2020 – 2021 finds that like Springer, Johnson is a unique athlete. Long, skinny, and quick, he's expected to be a top-notch defensive player.
Volunteers- Make or Break for 2020-2021
Our Tennessee basketball preview 2020 – 2021 notes that the success of the Vols hinges on the veteran forwards making more progress, as well as the backcourt's ability to exploit the talents of its new players. The team needs to take better shots than they did last season and cut back on turnovers. We think that the Vol defense will be even better than it was last year. The good news is there's plenty of fine talent on hand, and we believe coach Barnes will be able to get everyone on the same page working together quickly.
Tennessee Basketball Preview 2020 – 2021- Final Word
There's no doubt about it that 2019 – 2020 was a tough season for the Vols. First, they lost four key players as Grant Williams, Admiral Schofield, Jordan Bone, and Kyle Alexander departed. Then, in game-11, star guard Lamonte Turner was lost to injury for the rest of the season. However, our Tennessee basketball preview 2020 – 2021 finds that there is hope for this team. Coach Barnes has a lot to work with in terms of a refreshed talent pool. Plus, those freshmen who learned some hard lessons last season are back having gained a lot from experience.
Tennessee Volunteers – 2020-2021 NCAA Projection
SEC Finish – Second
NCAA Tournament Result – Sweet 16