NCAA Previews
2018-2019 Marquette Golden Eagles Basketball Analysis
The Golden Eagles Look to Take Flight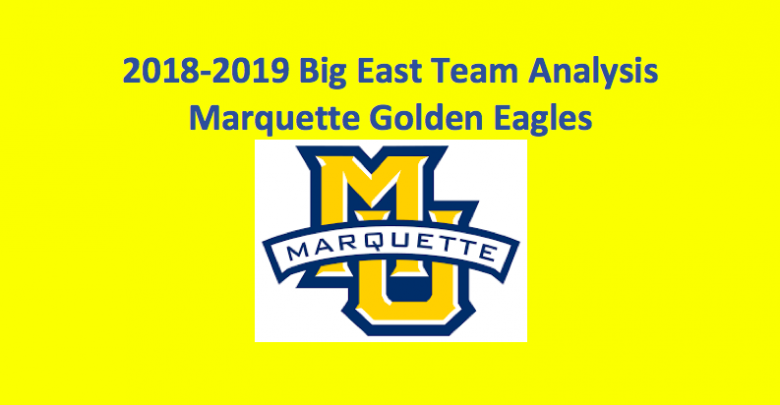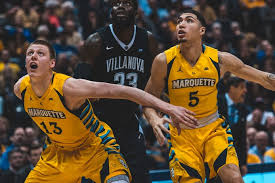 The Marquette Golden Eagles (21-14 Overall, 9-9 Big East) were NIT-bound last season, and the year before, the team went to the Big Dance. This year, we expect this basketball club to make it back to the NCAA Tournament. That is, as long as they can improve their game on the defensive side of the ball. Last year, Marquette's scoring D was last in the Big East and 312th in the nation as they allowed 78.5 PPG. The good news is fifth-year coach Steve Wojciechowski appears to have made good progress towards developing depth and drafting talent. Our 2018-19 Marquette Golden Eagles basketball preview envisions this club making it back to the Big Dance.
Frontcourt
The Marquette front is stacked, as all but one of the guys in the paint from last season returns. Plus the Golden Eagles have some fine freshmen. The primary trio in front is composed of senior center Matt Heldt (3.9 PPG, 4.7 RPG, 64.7 FG%), sophomore Theo John (3.9 PPG, 2.3 RPG, 57.3 FG%), and junior Ed Morrow (9.4 PPG, 7.5 RPG, 1.1 BPG). Sam Hauser (14.1 PPG, 5.7 RPG, 2.9 APG), a junior who can play forward or guard, offers versatility. He hit 49.9% from the floor and 48.7% from downtown. Also on-hand is F/G Sacar Anim (7.6 PPG, 2.9 RPG, 48.1 FG%), a resolute defender.
Backcourt
Although Andrew Rowsey, who averaged 20.5 PPG last season, is gone, the Golden Eagle backcourt is still in pretty good shape. One reason is the return of guard Markus Howard (20.4 PPG, 2.8 APG, 46.4 FG%). Howard, a top scorer in the nation, connected on 40.4% of his field goals last season. However, his defensive chops are not good. It may help to have Fordham graduate transfer Joseph Chartouny (11.9 PPG, 5.0 RPG, 5.2 APG) at the other guard spot. Along with being a fine passer and shooter, he can defend. Last season with the Rams, Chartouny averaged 2.9 SPG.
2018-19 Marquette Golden Eagles Basketball Preview – Final Word
There is optimism in Milwaukee, as this version of the Golden Eagles appears to be ready to compete. Coach Wojciechowski has done a good job of building this team from scratch. Along with talent and depth, this group has experience. In creating this 2018-19 Marquette Golden Eagles basketball preview, we found that there's a good chance that they will be able to compete with some of the best teams in the Big East. If that is really the case, then expect to see the Golden Eagles in the NCAA Tournament once again.
Big East News and Updates