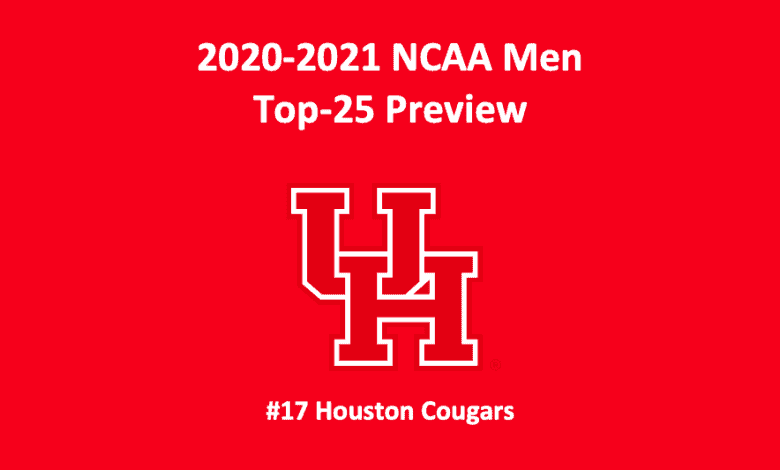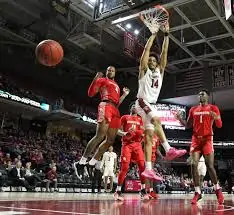 Our Houston basketball preview 2020 – 2021 observes that the Cougars have certainly been on a run lately. They've won the American Athletic Conference regular-season title and have been to March Madness for two-straight years. Last year, where they tied for the top spot in the conference with the Cincinnati Bearcats and Tulsa Golden Hurricane, they surely would have gone to the Big Dance for a third time in a row. Their conference record was 15-3, while their overall record came to 23-8, which topped both Tulsa and Cincinnati's marks. In their last tournament appearance, the Cougars made it to the Sweet 16. The good news for coach Kelvin Sampson, who a year ago signed a restructured six-year deal with Houston worth $18 million, is that five of his top seven scorers are back. What does this team want? Surely, they're shooting for another AAC crown, and the chance to go deeper in the tournament.
Stats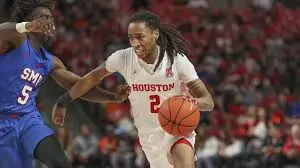 Last year, the Cougars were tenacious on defense, holding opponents to just 62.1 PPG (11th Nationally, 1st AAC) and allowing a field-goal success rate of just 38.3% (7th Nationally, 2nd AAC). A major factor in their success was their rebound margin which came to 9.5. That was not only first in the AAC, but it was also number one in the nation. When it came to scoring, you wouldn't say that the Cougars were a juggernaut. After all, they averaged 72.3 PPG (131st Nationally, 4th AAC) and were good on 42.2% of their field goals (255th Nationally, 6th AAC). They topped the conference in three-point conversions, succeeding 33.7% of the time. That rate of completion ranked 159th in the nation. Turnovers per game came in at 11.9 (70th Nationally, 2nd AAC), while assists were at 12.9 (194th Nationally, 8th AAC).
Houston Basketball Preview 2020 – 2021 – Players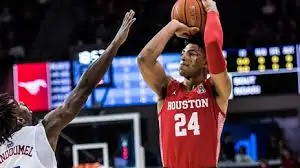 Of all of the top-25 teams, Houston may have the most-veteran squad. The starting lineup includes three seniors, a junior, and a sophomore. Plus, there are four other players ready to come in who have experience. In front, there's forward Justin Gorham and forward/center Brison Grisham. Both are redshirt seniors. Others who could contribute include redshirt freshman J'Wan Roberts and Arkansas transfer Reggie Chaney. Chaney, who still needs to secure a NCAA waiver in order to play, could have a big impact on both ends of the court.
Starters in the backcourt include 6-5, point guard DeJon Jarreau, a redshirt senior, and 6-5, wing Quentin Grimes, a junior. Sophomore Marcus Sasser will likely play the other wing with Caleb Mills coming off the bench for extended minutes. Both Sasser and Mills earned AAC All-Freshman Team honors. Also, Mills was named to the All-Conference Second Team despite only starting seven games. Expect to see Idaho transfer Cameron Tyson and freshmen Tramon Mark and Jamal Sheadin in the backcourt mix. This is an exceptionally deep unit.
Frontcourt
Although last season Gorham and Gresham both had spots in the regular rotation, they each averaged less than 15 MPG. Neither offers great scoring chops. Gorham averaged 2.9 PPG and Gresham 3.0 PPG. They can't be relied upon to put the ball in the basket. However, the Cougars do need these two to hold the paint and control the rim. If Arkansas transfer Chaney is allowed to play, he could add some much-needed depth to this unit.
Backcourt
The backcourt is the scoring component for this team. Jarreau, who averaged 3.7 APG, 9.0 PPG, and 4.3 RPG, is an excellent playmaker. He's also quick off the rebound, ably creating second chances. Last year, Jarreau hit 37.4% of his field goals. However, his three-point shots were only good 17.4% of the time. Grimes success rate on field goals was 44.3%, while he completed 32.6% of his threes. He was second in point production, averaging 12.1 PPG. Grimes also dished off 2.6 APG and grabbed 3.7 RPG.
Interesting to note that it was Mills, who rarely started, that led this team in points per game with 13.2. Mills, a streaky shooter, likes to gun. He's best beyond the arc, connecting on 37.5% of his threes. It is perplexing that he hit just 37.1% of his twos. Better shot selection would be helpful. Sasser, who averaged 8.1 PPG, may get the nod at the other wing. However, his conversion rate for both twos and threes is a few points lower than Mills. Our Houston basketball preview 2020 – 2021 finds that both Mills and Sasser are solid ball handlers who can mix it up on offense and play sound D.
Cougars – Make or Break for 2020-2021
Coach Sampson has a veteran team that certainly proved itself last year. If they can build on what they did in 2019 – 2020, our Houston basketball preview 2020 – 2021 finds that they should have a fairly easy road to the conference crown. However, there are certainly some very fine teams in the AAC they will have to battle, including the Memphis Tigers, SMU Mustangs, Wichita State Shockers, and Cincinnati Bearcats. Of those four, the most worrisome for the Cougars are the Tigers.
For Houston, the keys are defense, ball movement and handling, and rebounding. However, it would be good if this version of the team could score more points. More disciplined shot selection by some players would be helpful. If Chaney gets his waiver, that could certainly make a big difference in the frontcourt.
Houston Basketball Preview 2020 – 2021- Final Word
Our Houston basketball preview 2020 – 2021 likes what it sees in this team. They have a lot of promise. However, there are major questions in the frontcourt, which could really derail this team. Will they find more scoring in the paint? Still, we expect that the Cougars will dominate the AAC. The major question is how will they perform in nonconference matchups, especially in the big tournament? They've been to the Sweet 16. If they can mix it up with some of the teams from the majors, the next steps are the Elite Eight and even the Final Four. But one step at a time. This season, Houston has to at least meet expectations, which would mean winning the AAC and getting another invite to the Big Dance. If all of that happens, then let the madness begin!
Houston Cougars – 2020-2021 NCAA Projection
AAC Finish – First
NCAA Tournament Result – One and Done