NCAA Previews
#5 Ohio State Buckeyes Preview 2019
Buckeyes Fight for Top Spot in Big Ten East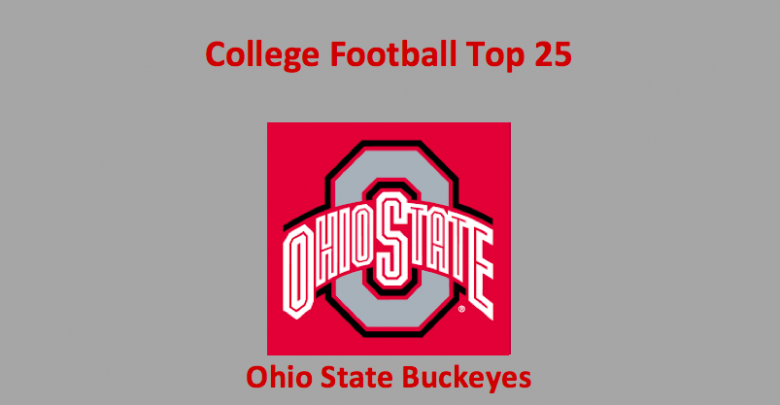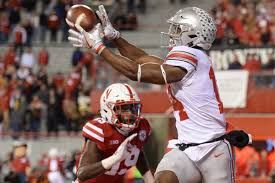 This Ohio State Buckeyes Preview 2019 notes that OSU beat Michigan 62-39 last season. Our Ohio State Buckeyes preview observes that the victory occurred in the final game of the 2018 season. With that win, the Buckeyes took the Big Ten East title by one game and that resulted in the Wolverines taking second. OSU, which was 8-1 in the Big Ten and 13-1 overall, beat Northwestern 45-14 in the Big Ten championship game. They then met and beat Washington 28-23 in the Rose Bowl.
In 2018, the Buckeyes certainly had a dynamic pass attack. Ranked second in the nation, it was good for 364.3 YPG. Ohio State averaged 42.4 PPG (8th). Their rushing game averaged 171.3 YPG (63rd), while OSU's average total yardage per game equaled 535.6 (2nd). The defense was not quite as effective. Then again with such a prolific offense, the defense didn't need to be stellar. OSU's scoring D tied for 51st (25.5 PPG), while they were 56th in rushing yards allowed per game (158.2) and 86th in passing yards per game (245.2). Total yards given up per contest came to 403.4 (72nd).
Ohio State Buckeyes Preview 2019 – Offense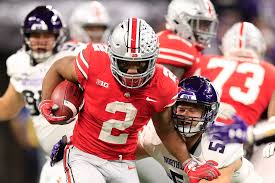 Ohio State welcomes two transfers at quarterback. Georgia sophomore transfer Justin Field will start, while Kentucky transfer Gunnar Hoak backs up. As a true freshman at Georgia, Fields played 12 games completing 69.2% of his 39 pass attempts. Despite losing three of their best receivers to the NFL, the Buckeyes welcome back six experienced pass catchers. Five of those receivers each possess a minimum of 20 catches. Senior K.J. Hill (70 REC, 12.6 AVG, 6 TDs) is a proven commodity. His 70 catches and 885 receiving yards last season were second-most on the team. Senior wideout Binjimen Victor (21 REC, 16.9 AVG, 4 TDs) is tops in average yards per catch of any returning player.
Although the rush attack loses Mike Weber and his 954 yards and 5.5 YPA to the NFL, it retains junior TB J.K. Dobbins (1,053 YDs, 4.6 AVG, 10 TDS). Dobbins had 230 carries last season. The O-line, which replaces all but two starters, is questionable. RG Jonah Jackson, grad transfer from Rutgers, will be a major help, as will junior returning starter Thayer Munford at LT. Four do return from last season with some starting experience.
Defense and Special Teams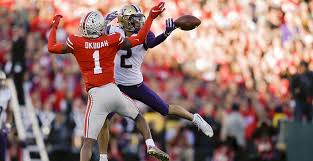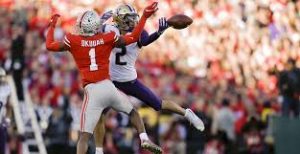 The OSU defense returns nine starters including six-of-seven top tacklers. Our Ohio State Buckeyes Preview 2019 notes that six of the top eight come back to the line, which last season allowed six TD runs of 70 or more yards. They should perform better this season with junior DE Chase Young (34 TKLs, 10.5 SCKs, 5 TFL) anchoring the group. Young posted five PBU and nine QBHs last season. The LB unit looks sound. Returning starters Malik Harrison (81TKLs, 2.5 SCKs, 6 TFL), Tuf Borland (67 TKLs, 3 SCKs, 6 TFL), and Pete Werner (58 TKLs, 3.0 SCKs, 4.5 TFL) are a formidable trio. Together, they broke up a dozen passes and notched five QBHs. More good news, as three of four OSU deep backs return. The two starting corners and safeties accounted for 20 PBU last season. Corner Shaun Wade, who is not included in the above stat and returns, posted seven PBU and three INTs in 2018.
Ohio State's special teams are some of the best in the Big Ten. Punter Dru Chrisman (61 Punts, 43.8 YPP, 29 In20) netted 41.8 YPP. In his sophomore season last year, PK Blake Haubell (37-37 XP, 10-13 FG) was solid. goals. Hill (14 PR, 5.4 AVG, 0 TDs) was reliable on punt returns but could stretch out his bring backs a bit more. Demario McCall (10 KR, 19.5 AVG, 0 TDs) was sound on kickoff returns.
Coaching and Recruitment
Ryan Day has the unenviable job of replacing future Hall of Fame head coach Urban Meyer. As HC last season, Day was 3-0 as he led the team when Meyer was suspended for three games. At OSU, Day's been Co-OC for two years, and, prior to that, he was an NFL QB coach for a few years. Kevin Wilson returns for his third season as OC. New defensive coordinator Greg Mattison comes to the Buckeyes after eight years with Michigan as a D-line coach and DC. Also on board is Co-DC Jeff Hafley. Hafley spent the last five seasons as a NFL defensive back coach with the San Francisco 49ers and Cleveland Browns. OSU brings in 17 recruits with three five-star players leading the way. There are also nine four-star and five three-star, making this the third-strongest new class in the Big Ten.
Our Ohio State Buckeyes Preview 2019 – Final Word
The Buckeyes have attracted some talented transfers and bring back some very fine vets. Our Ohio State Buckeyes Preview 2019 finds that the offensive line is the biggest concern for this team, while the defense certainly looks to be upgraded in all areas from what it was last season. Ohio State has a tough schedule that includes a road game with an improved Nebraska team as well as home contests against Michigan State, Wisconsin, and Penn State. Those three teams are all in the top 25, as is Michigan who they meet in an away game on the final day of the season. OSU has its work cut out for it.
Click here to go back to Big Ten East
Click here to go back to NCAAF Hub