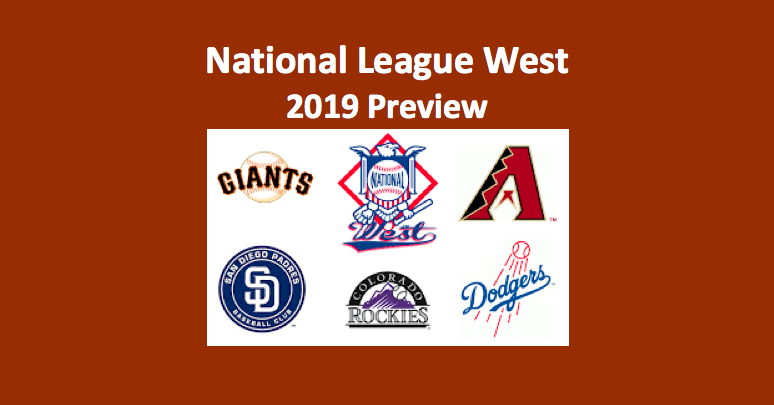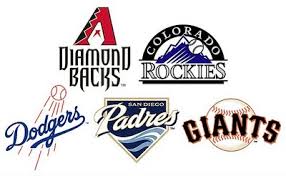 Our 2019 NL West Preview finds that the Los Angeles Dodgers look like the team to beat in this division. In fact, the Dodgers certainly have the stuff to win the NLCS again. But can they take down that one championship that has alluded them for decades, the World Series? Of course, before we can find that out it's one step at a time. The fact is the Dodgers should make the playoffs, but that does not mean that they will. There are certainly two teams capable of taking on LA, the Colorado Rockies and the Arizona Diamondbacks. Clubs that we expect will be out of contention by the time the fall approaches are the San Diego Padres and the San Francisco Giants.
How have we come to the above conclusions? Find out by reading more below and then be sure to check out our entire 2019 NL West Preview. To access a club's complete preview, follow the appropriate link below. Each of our previews offers information about the team's last five seasons, insights and analysis of pitching, hitting, defense, and management/coaching, and details about specific players. We provide 2019 previews of all MLB teams in the National League and American League.
The Diamondbacks lost three keys players from last season, as A.J. Pollock and Patrick Corbin left as free agents and Paul Goldschmidt was traded. Goldschmidt was their franchise guy. There's still talent on this team, including ace Zack Greinke. But the Diamondback ranks have definitely thinned. That means to be competitive in the NL West, Arizona is going to need to have some of their young talent step up. Still, even if they do so, we don't think there's enough there for them to overcome the Rockies and the Dodgers.
Colorado looks to be the only serious, full-season competitor to the Dodgers. Their young and talented pitching staff will need to show more progress for the Rockies to stay in the hunt for the division crown. That will be a major balancing act for manager Bud Black and his staff. This is Nolan Arenado's final season before he becomes a free agent. The Gold Glover third baseman and hit-master should have another huge year, and that will certainly improve this club's chances of making it to the playoffs.
Masterful GM Farhan Zaidi has gone to the Giants to work his magic and rebuild that team and various other front office guys and coaches who were with the Dodgers have gone on to better and bigger jobs at other organizations. Plus, at the end of the season, LA dumped some salary dollars by sending star Yasiel Puig and others to the Reds. But masterful manager Dave Roberts still has the best pitching staff in the majors. However, this team may still have a problem, an inability to generate hits and runs. That could be solved if slugger Corey Seager, who missed last season due to injury, returns healed, healthy, and strong.
We do think that the Padres will take a few steps forward in 2019. Our 2019 NL West preview sees them winning approximately 10 more games than they did last season. That should keep them out of the divisional cellar even though it won't result in a winning record. The Padres do have some young talent and a farm system brimming with prospects. Plus, they've added the highly productive Manny Machado. The pitching staff also shows promise, but we expect them to have difficulty finding consistency. If this team nails 76 wins, they'll have made major progress.
As noted above, former Dodger GM Zaidis is now on deck with the team by the bay. The Giants have aged quickly and seem lightyears away from 2010-2014 when they won three World Series under manager Bruce Bochy. Bochy is still there as are stars Madison Bumgarner and Buster Posey. But they are not the same as they were in their salad days. Look for a major rebuilding effort, which should take a few years. In the meantime, we expect these Giants will look diminutive as they finish under .500.
2019 NL West Preview
Projected Order of Finish
Los Angeles Dodgers
Colorado Rockies (Wild Card)
Arizona Diamondbacks
San Diego Padres
San Francisco Giants
LINKS