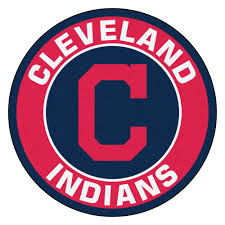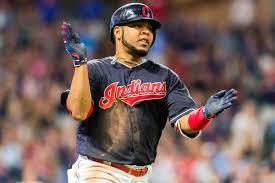 In the 2017 season, the Cleveland Indians (102-60) went on a 22-game winning streak and for the second straight season, the Tribe took the AL Central. Their 102 wins, which were the most by any AL team last season, marked an eight-game improvement over their 2016 record. In creating our Cleveland Indians 2018 preview, we found that once again this team is poised to win their division. The primary question concerning Cleveland is how far can they go in the playoffs?
Pitching
The team ERA of 3.30 was the best in the majors, as was their 19 shutouts and 1614 strikeouts. Indian pitchers walked just 406 batters and allowed a mere 163 round trippers. Those stats were the lowest in the majors. They were third in opponent batting average (.236). You can expect more of same from the Cleveland pitching staff.
Starters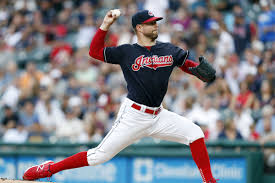 Cleveland ace and 2017 Cy Young winner Cory Kluber (18-4 W/L, 2.25 ERA, 11.7 K/9) is one tough competitor. By the way since 2016 in 25 starts against AL Central teams, Kluber is 17-3 with a 2.37 ERA. He simply dominates the division. Carlos Carrasco (18-6 W/L, 3.29 ERA, 10.2 K/9), the team's number two starter, had a hallmark season where firt the first time since coming to the majors in 2009 he pitched more than 200 innings. Trevor Bauer (17-9 W/L, 4.19 ERA, 10.0 K/9), the third man in, will be hoping to finally post an ERA under 4.00. The final two starters, Mike Clevinger (12-6 W/L, 3.11 ERA, 10.1 K/9) and Danny Salazar (5-6 W/L, 4.28 ERA, 12.7 K/9), are both solid strikeout pitchers.
Relievers
Despite losing reliever Bryan Shaw to the Rockies, the Indian bullpen is still rock solid. Cody Allen (2.94 ERA, 30 SVs, 12.3 K/9) is one of the best closers in the game. Lefty Andrew Miller (4-3 W/L, 1.44 ERA, 13.6 K/9) is one of the best stoppers in the majors. In addition, Nick Goody (1-2 W/L, 2.80 ERA, 11.9 K/9) proved to be especially stingy with runs when he was called up from the minors last season.
Everyday Players
Overall, the Indians are a very fine offensive and defensive club. They ranked fifth in the league in batting average (.263), second in OB% (.339), and third in slugging percentage (.449). But the number of players left on base, which totaled 1158 (29th), was alarming. Cleveland is one of the better fielding teams, ranking third in fielding percentage (.987) and fifth in double plays (167).
Hitting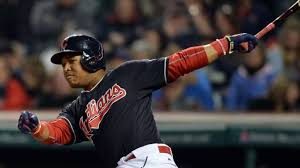 Shortstop Francisco Lindor (.273 BA, 89 RBI, 33 HRs) revealed a newfound power, as he seemed to smack homers at will. He's an excellent baserunner. Second baseman Jason Kipnis (.232 BA, 35 RBI, 12 HRs) certainly hopes to rebound from what was a subpar 2017 season. He looks to bat second, while slugger Jose Ramirez (.318 BA, 83 RBI, 29 HRs) bats third and DH Edwin Encarnacion (.258 BA, 107 RBI, 38 HRs) steps up once again in the power position.
Michael Brantley (.299 BA, 52 RBI, 9 HRs), who plays left, will try to stay away from the injury bug in 2018. First baseman and eight-year vet Yonder Alonso (.266 BA, 67 RBI, 28 HRs) did a fine job of jacking the ball over the fence, but right fielder Lonnie Chisenhall (.288 BA, 53 RBI, 12 HRs) struggled with injuries. Catcher Roberto Perez (.207 BA, 38 RBI, 8 HRs) and center fielder Bradley Zimmer (.241 BA, 39 RBI, 8 HRs) round out the bottom of the order.
Defense
At short, Lindor has shown Gold Glove potential and Ramirez, who can ably play either third or second, is a fine fielder with an accurate arm and fine range. Behind the plate, Perez is serviceable. In left, Brantley has often been considered the best fielder on the Indians. But he played a short season and injuries greatly hampered his play. In center in 2017, his rookie season, Zimmer showed speed and a powerful arm before a broken hand took him out of the lineup. Chisenhall is not your optimum fielder.
Management and Front Office
There's no doubt about it, manager Terry Francona has proven to be a quality manager in his present stint with Cleveland and his former time with Boston. He's great with players, makes solid decisions when dealing with game situations, and is even-tempered and resilient. GM Mike Chernoff has proven to be an able deal-maker and President of Baseball Operations Chris Antonetti has allowed Francona to run the ship his way.
Cleveland Indians 2018 Preview: Final Word
In concluding our Cleveland Indians 2018 preview, we consider this team to be the prime contender for the division title. Along with being a fine team, they are in a division where the four other teams are all attempting to rebuild. A major question concerns the Indians ability to sustain a playoff run that not only gets them to the series, but where they finally take down the title.
Projected Finish: 1st AL Central, Record: 97-65