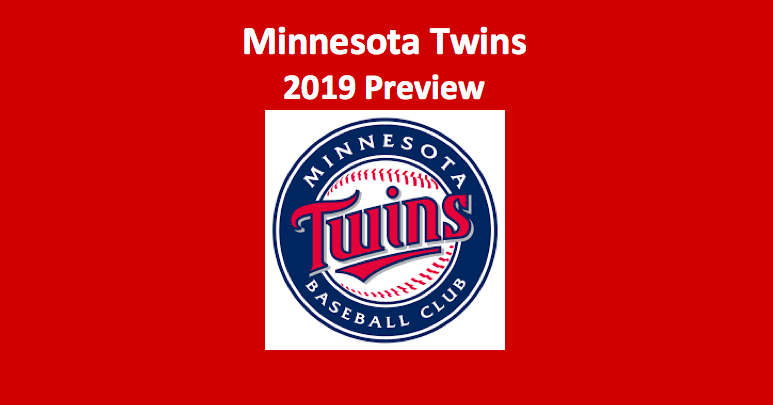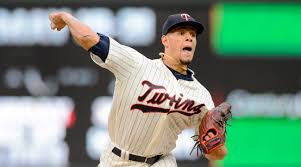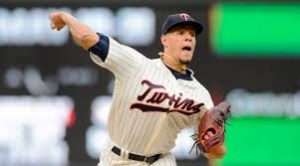 Our 2019 Minnesota Twins preview notes that in 2017, when this team notched 85 wins and captured an AL wild card berth, they played over their heads. Last season, the Minnesota Twins (78-84) seemed to settle back in, as they finished out of the postseason. In seven of their last eight seasons, this team has finished out of the money. We think that trend will continue. However, this season promises to be quite different in one way. For the first time in 15 seasons, the Minnesota Twins will be without Joe Mauer. Although Mauer was certainly a solid performer and a major star in his first nine seasons, since 2013 his performance had been diminished after he suffered a career-altering concussion. That injury moved him from catcher to first base and saw his stats fall off.
Pitching
The Minnesota Twins need more from their pitching staff. The group was 19th in MLB baseball in wins with 78 and 22nd in ERA with a 4.50 mark. Opposing teams batted .256 against them, which placed the Twins 24th in that category. The bullpen was tied for 22nd in saves, posting 37. Relief was especially questionable, as the pen allowed 89 homers, which was 15 more than the league average. Also, opponents hit .260 against them, which was 13-percentage points higher than the average.
Starters
The rotation seems to be set for the Twins. Our Minnesota Twins preview projects right hander Jose Berrios (12-11 W/L, 3.84 ERA, 1.14 WHIP) to be the team's number one starter. Last season, Berrios posted four double-digit strikeout games. The 2018 All-Star offers a midrange fastball with a lot of movement and a slow curve that's tough to pick up. Kyle Gibson (10-13 W/L, 3.62 ERA, 1.30 WHIP) gets the nod as the second man in. He became exceptionally effective last season, as Gibson improved the velocity and control of his fastball. Righty Michael Pineda, who topped the AL in Ks/9, averaging 10.6 in 2016 with the Yankees, has not pitched since July 2017. He will try to come back from Tommy John surgery.
Jake Ordorizzi (7-10 W/L, 4.49 ERA, 1.34 WHIP) may not be the same hurler he was for the Rays in 2015 and 2016, but he's still overall effective and certainly durable. He'll give the Twins 30 starts and 165 innings this season. The fifth starter and the only lefty in the rotation is Adalberto Mejia (2-0 W/L, 2.01 ERA, 1.16 WHIP). In 2018, in two separate game, he held Cleveland to one hit over five innings.
Relievers
There are some sound performers in the Minnesota bullpen. Lefty Taylor Rodgers (1-2 W/L, 2.63 ERA, 0.95 WHIP) will start the 2019 with a scoreless streak of 24.2 innings. That's the longest streak presently in MLB. Also solid is closer Trevor May (4-1 W/L, 3.20 ERA, 3 SVs). Last season, May came back from Tommy John surgery and was dominant, posting a WHIP of 1.09 and K/9 of 12.8. However, reliever Addison Reed (1-6 W/L, 4.50 ERA, 1.43 WHIP) has lost something off his fastball and slider. Although he was fairly effective against right handed hitters last season, lefties absolutely destroyed him.
Everyday Players
In many ways, our Minnesota Twins preview found that this team was average on offense. In most statistical categories they finished between 13th and 16th. The Twins were 15th in batting average (.250) and on-base percentage (.318) and 13th in runs (738) and RBI (704). Minnesota's slugging percentage (.405) and OPS (.723) were both ranked 18th. Two areas where they lagged behind badly were homeruns with 166 (23rd) and steals with 47 (tied 27th).
Hitting
The batting order will offer Jorge Polanco (.288 BA, 42 RBI, 6 HRs), who absolutely dominated right handers last season, in the lead-off spot. In the second position will be former Tampa Bay first baseman C.J. Cron (.253 BA, 74 RBI, 30 HRs). He should ably fill the spot vacated by Mauer. Look for Eddie Rosario (.288 BA, 77 RBI, 24 HRs) to be third in the order, as he attempts to return from a terrible second half in 2018. His OPS dropped from .890 to .622. Nelson Cruz (.256 BA, 97 RBI, 37 HRs) will DH. He's got power to spare.
Max Kepler (.225 BA, 58 RBI, 20 HRs) needs to repair his batting average, which went from .243 in 2017 to .224 in 2018. Another hitter who struggled in 2018, Jonathan Schoop (.233 BA, 61 RBI, 21 HRs), comes to Minnesota from Baltimore. In 2017, he posted 105 RBI and 32 homers. The final three spots in the order are certainly problematic. Miguel Sano (.199 BA, 41 RBI, 13 HRs) can't seem to hit a lick, while Byron Buxton (.156 BA, 4 RBI, 0 HRs) and Jason Castro (.143 BA, 3 RBI, 1 HRs) will attempt to come back from injuries.
Defense
Improvement is needed on defense. The Twins were ranked 19th in fielding percentage (.984) and tied for 20th in double plays (127). Their infield is problematic, but they do possess a superior outfield. Polanco can play either of the middle infield positions. We expect the less-than-rangy Polanco to get a shot at short. But second is a solid option for him. Look for Schoop to be this team's primary second baseman. He's got sound fielding skills and is a fine DP man. Cron takes over at first base. He's a better hitter than a fielder, but should suffice. Sano, who's had weight issues, is also problematic in the field. Castro is the starting backstop, but he's going to have competition. The veteran, who turns 32 this season, only played 19 games last year due to a knee injury. Willians Astudillo could get the nod.
In right field, Kepler can track down balls at will, while center fielder Byron Buxton has the speed, glove, and arm to be a major star. That is, if he can stay healthy. That one quality has eluded him thus far. In left, Rosario offers top-notch defensive chops. He was +6 in DRS last season.
Management and Front Office
GM Thad Levine brought in Rocco Baldelli to manage the team. Levine likes analytics, and that's reflected in his hiring of Baldelli as well as the various coaches who have been brought in. Baldelli was a popular coach with Tampa Bay from 2015-2018. This is his first-time as a big-league manager. Our Minnesota Twins preview notes that the Baldelli could be a difference-maker for this team.
2019 Minnesota Twins Preview: Final Word
Here's the way we see it in this Minnesota Twins preview. This team needs to progress this season and quickly. It may be fine if they don't make the postseason, but they are expected to contend. Not doing so will be a major disappointment. The infield is scary and hitting is questionable. There's a lot of potential to be found in the pitching staff. Our 2019 Minnesota Twins preview envisions this baseball team putting up a winning record, but missing the postseason by about five to seven games.
Projected Finish: 2nd AL Central, Record: 84-78
LINKS