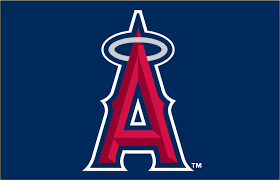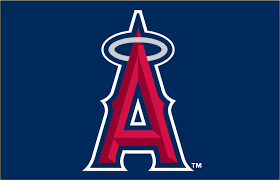 The Los Angeles Angels (74-88) may be the could of, should of, would of team. They could have been a contender last season, but injuries took them out of the mix. They should of developed a deeper bench, which might have helped them get through some tough times. And they would of done all of that and more if they were willing to be less thrifty. But thrifty they have become under GM Eppler who is looking to develop the team from the ground, and minors, up. Last season, the Angeles were fourth in the AL. Two seasons ago they posted a 98-64 record finishing first in the AL West. Our 2017 Los Angeles Angels preview considers if this team, that has some stellar player, can contend this season.
Starting Pitching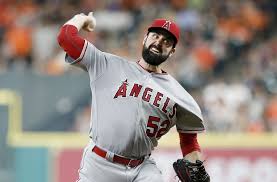 The Angels' pitching staff was ranked 21st in ERA (4.28) and Wins (74), 27th in OBA (.269), and 28th in saves. (29). In 2016, Los Angeles struggled in a season that saw their starting rotation hampered by numerous injuries. For 2016, they have a lot of possible starters on hand. The question is doe they have the quality guys that they need?
The five guys include Garrett Richards (R, 1-3 W/L, 2.34 ERA) as their number one guy and Tyler Skaggs (L, 3-4 W/L, 4.17 ERA) in the second spot. Matt Shoemaker (R, 9-13 W/L, 3.88 ERA), Ricky Nolasco (R, 4-6 W/L, 3.21 ERA), and Jesse Chavez (R, 1-2 W/L, 4.57 ERA) follow them. Richards is their best, but he's had to deal with some serious problems. Instead of undergoing Tommy John surgery, Richards underwent stem cell therapy, which is still fairly experimental. Hopefully his arm will hold up.
Bullpen
Huston Street (R, 3-2 W/L, 6.45 ERA, 9 SV) is a known entity and a veteran premium closer. But last season was his worst ever as he struggled through injuries. In August, the 33-year-old save artist underwent knee surgery. The Angels hope he's ready to go, but they may need to rely on Cam Bedrosian (R, 2-0 W/L, 1.12 ERA) instead. Andrew Bailey (R, 0-0 W/L, 2.38 ERA, 6 SV), who a few years ago was an All-Star closer, is also ready to go. Whatever happens these three guys will be in the mix for late-inning work. About six other guys, none too brilliant or effective, will round out the Angel pen.
Hitting and Fielding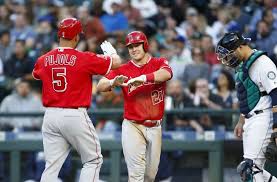 Danny Espinoza (.209 BA, 24 HR, 72 RBI) comes over from the Nationals in a trade to play second, while Andrelton Simmons (.281 BA, 4 HR, 44 RBI) returns, after improving remarkable on defense and to a degree on offense, to play short. In 2015, Yunel Escobar (.304 BA, 5 HR, 39 RBI) came to LA in a winter deal with the Nationals, and he did well at third in his first season with his new club. He's back for 2017. C.J. Cron (.278 BA, 16 HR, 69 RBI) had a decent rookie season last year as he replace Albert Pujols (.268 BA, 31 HR, 119 RBI) at first, allowing the veteran first baseman and premium slugger for focus mainly on hitting. Look for that formula to become permanent in 2017. Pujols is not the player he once was due to age and injuries. This could be his final hurrah. The catching ranks are questionable as Martin Maldonado (.202 BA, 8 HR, 21 RBI), 30, comes from the Brewers in a trade. Maldonado has never caught more than 66 games in a season. The young and inconsistent Carlos Perez (.209 BA, 5 HR, 31 RBI) will back him up.
In the outfield, Cameron Maybin (.315 BA, 4 HR, 43 RBI), who played with Detroit last season, is a major improvement in left. He's a welcome addition in an outfield that has been desperate for a quality leftfielder for the past two seasons. Centerfielder Mike Trout (.315 BA, 29 HR, 100 RBI), a top MLB player, and right fielder Kole Calhoun (.271 BA, 18 HR, 75 RBI), another great player, are the heart and soul of this team's offense.
Coaching and Management
In his first year as GM Billy Eppler made some baby steps towards improving the club. But he has a long way to go before these Angels will be playoff ready. Veteran manager Mike Scioscia seems better able to do his job now that he no longer had to battle GM Jerry Dipoto. Dipoto went to the mariners and Eppler became the Angels' GM. Eppler, with Scioscia, is trying to get this team to a new level.
2017 Los Angeles Angels Preview Final Word
This team is a long way from being able to compete in the AL West. With one of the weakest starting rotations in the league, some major questions marks in the bullpen, and holes in the lineup, Los Angeles will have its work cut out for it. Eppler is moving forward on improving this team, but it's going to take some time. Scioscia should be able to win a few more games than expected. Still, this is no playoff team.
2017 Los Angeles Angels Preview Projected Finish: 4th AL West