Like other teams in the AL Central, the Detroit Tigers (86-75) are in the midst of cutting millions from their payroll and that means trading expensive players or letting them find another team in free agency. The push to reduce costs occurred as last season came to a close.
It was the second year Detroit had missed the playoffs finishing first the previous three seasons. Our 2017 Detroit Tigers preview considers if the Tigers have enough left in their tank to have a shot at the postseason. We know one thing, with Cleveland in their division, it won't be easy.
Starting Pitching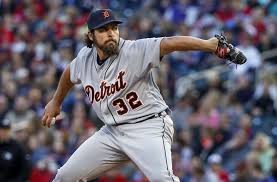 There's good news when it comes to the rotation. If these guys can stay healthy and perform as expected, then the Tigers look to have one of the better pitching staffs in the AL Central. Justin Verlander (R, 16-9 W/L, 3.04 ERA), who was Cy Young runner-up last season, was back on track in 2016 after dealing with injuries in 2015. He started 34 games, pitched 272.2 innings and struck 254. He averaged eight innings per game. Jordon Zimmermann (R, 9-7 W/L, 4.07 ERA) is a quality pitcher, but has shown wear and tear. Michael Fulmer (R, 11-7 W/L, 3.06 ERA), who was Rookie of the Year, looks very promising. Daniel Norris (L, 4-2 W/L, 3.38 ERA) is a young and promising lefty who made strides last season. Anibal Sanchez (R, 7-13 W/L, 5.87 ERA) is an aging vet with health questions.
Bullpen
Closer Francois Rodriguez (R, 3-4 W/L, 3.24 ERA, 44 SV) saw his $6 million option exercised for 2017. That's certainly good news for the Tigers, as Rodriguez is a quality closer. The late innings are bolstered by the duo of Bruce Rondon (R, 5-2 W/L, 2.97 ERA), Shane Greene (R, 5-4 W/L, 5.82 ERA) as Alex Wilson (R, 4-0 W/L, 2.96 ERA) offers middle relief.
Hitting and Fielding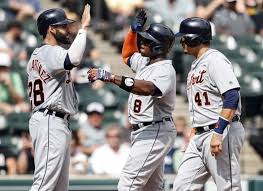 Despite ongoing trade rumors, shortstop Jose Iglesias (.255 BA, 4 HR, 32 RBI) and second baseman Ian Kinsler (.288 BA, 28 HR, 83 RBI) are still with the Tigers. That's good news for the team, as the aging Kinsler had one of his best offensive seasons in five years and won a Gold Glove. Iglesias, who was an All-Star in 2015, continued to perform well. Last season, 24-year-old third baseman Nick Castellanos (.285 BA, 18 HR, 58 RBI) had a breakout year. At first base, Miguel Cabrera (.316 BA, 38 HR, 108 RBI) can still wield a bat with authority. Although he did not have a strong season on offense, catcher James McCann (.220 BA, 12 HR, 48 RBI) is an able backstop with a fine toss to second. Victor Martinez (.289 BA, 27 HR, 86 RBI) returns for a sixth season as DH.
In left field, Justin Upton (.246 BA, 31 HR, 87 RBI) provides decent fielding. But his offensive output in 2016 was well below what was expected. He has to perform to expectations in 2017. J.D. Martinez (.307 BA, 22 HR, 68 RBI), right field, is a commodity the Tigers have tried to unsuccessfully trade. Promising prospect JaCoby Jones may get a shot in center. He's come up through the ranks quickly.
Coaching and Management
The Tigers exercised his option and brought Brad Asmus back for his fourth season as manager. That surprised some, as Detroit was pretty much a disaster last season. However, if the Tigers get off to a bad start, he may be gone. GM Al Avlia is guiding the team through a youth movement, which may see some of the players mentioned above traded in 2017.
2017 Detroit Tigers Preview Final Word
Our 2017 Detroit Tigers preview sees this team as possessing quite a bit of potential, but will they reach that potential? Will Avlia be jettisoning players midseason? We don't think that the Tigers will take first in the Central, but they have a shot at second and possibly the wild card.
2017 Detroit Tigers Preview Projected Finish: 2nd AL Central