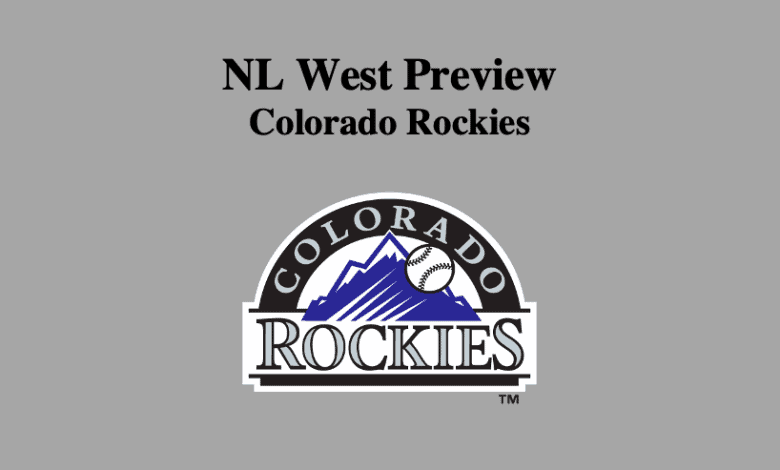 Our NL Colorado Rockies preview 2021 observes that this team needs more offense and has to see its young, talented rotation hit its stride. Last season, they missed finishing last in the NL West by one game. The Rockies, who finished 17 games out of first place, recorded 26 wins and 34 losses. Their record, adjusted to a 162-game season, was 70 and 92. Unfortunately, we don't anticipate this team doing much better in 2021. In fact, this season, they have a good chance of ending up in last place.
NL Colorado Rockies Preview 2021 – Pitching
The Rockies pitching staff recorded the worst ERA in the league, 5.59. They were also 15th in opponent batting average (.280) and strikeouts (293) while their 1.49 WHIP ranked 14th. The 83 homeruns they allowed were the 13th-most in the NL. However, on a few positive notes, the rotation was first in quality starts (28) and tied for second in saves (16). Their 205 walks allowed ranked ninth.
Colorado Rotation
German Marquez is a true first-man in starter. In three of his first four seasons with the Rockies, he went 37-23, posting double-digit wins each year. Last season, over 13 starts, Marquez was 4-6 with an ERA of 3.75 and a WHIP of 1,26. Last season, over 81.2 IP, he allowed just six homers. His main pitches are a 96mph, stinging four-seam fastball and an 86mph, darting curve. Lefty Kyle Freeland is the second man in the rotation. In 2019, he had a disastrous season. Last year, he posted some decent numbers and made a solid comeback by varying his pitch selection and developing a more rhythmic delivery.
Antonio Senzatela is the third man on the mound. In 2021, he proved to be dependable, as the 26-year-old righty recorded five wins and three losses with an ERA of 3.44. Jon Gray and Austin Gomber round out the rotation. Gray had his season cut short by right-shoulder inflammation. His numbers took a bad turn last season, as he went 2-4 with a 6.69 ERA. In the three seasons prior, Gray won 43 games. He's healthy and so too should be his fastball. This season, expect to see a better performance from Gray. Gomber, who formerly spent three seasons with the St. Louis Cardinals, has suffered with various health issues. With the Cards, he was both a reliever and starter.
Relief
Our Colorado Rockies preview 2021 has Mychal Givens and Yency Almonte coming in to relieve. Partway through the 2020 season, Givens came to the Rockies from Baltimore. He's good for 60 to 70 appearances and can provide double-digit holds. Almonte starts his fourth MLB season. All of them have been with Colorado. He's noted for his efficacy. Last year over 24 appearances, he was 3-0 with four holds, one save, and two blown saves. Almonte recorded a 2.93 ERA and a 1.12 WHIP.
Closer Daniel Bard primarily uses his hot, 97mph four-seam fastball and animated 88mph slider. He also mixes in a 90mph change and 97mph sinker. Bard was 4-2 with a 3.65 ERA while he went 6-6 on saves and recorded two holds. Bard, who had last pitched in the majors in 2013. Was exceptionally effective.
Colorado Rockies Preview 2021 – Everyday Players
In terms of offense, this team was middle of the road at best. In 2021, the Rockies hit .257 (5th) with a .405 slugging percentage (8th) and a .716 OPS (8th). On the lower end of the scale, Colorado's .311 OBP ranked 14th. The Rockies scored 354 runs (8th), hit 63 homeruns (11th), and struck out 543 times (4th most). The showed speed on the basepaths as their 42 steals were the third-most in the NL. They walked just 161 times (15th).
Colorado – Infield
Shortstop Trevor Story is a solid fielder, hitter, and runner. Last season, he recorded three hitting streaks of nine games or more. Story hit .289 and recorded an OPS of .874 while leading the NL in stolen bases with 15. Also, he tied for fourth in hits with 68. The man across from him, Brendan Rodgers, is presently nursing a hamstring pull. Rodgers, who's had various issues with injuries, starts his third MLB season. Although he hit well in the minors, in his first two seasons in the majors, he's appeared in only 32 games. There is untapped potential here.
In 2020, third baseman Ryan McMahon had an off-season. Over 52 games, he hit .215 with nine homers and 26 RBI. McMahon has the potential to hit around .260 with 80 RBI, 30 homeruns, and 30 doubles. First baseman C.J. Cron, a seven-year veteran, comes to the Rockies from the Detroit Tigers. Last season, he appeared in just 13 games putting up dismal stats. If he can come back, expect Cron to show power, drive in his share of RBI, and hit 260 or higher. Catcher Elias Diaz offers power at the plate and fine defensive skills.
Outfield
Speedy Garrett Hampson plays a solid center field, while left fielder Raimel Tapia proved to be a premium leadoff hitter. Tapia recorded a .321 BA and .370 OBP. In right, Charlie Blackmon provides good D, while demonstrating well-honed plate skills. His 42 RBI last season were a team best. He recorded a .303 BA. Our Colorado Rockies preview 2021 observes that Blackmon is capable of driving in 90 or more runs and hitting 30 or more homeruns.
NL Colorado Rockies Preview 2021 – Final Word
Our Colorado Rockies preview 2021 observes that this is the only team in the NL West that has never won the division. Manager Bud Black starts his fifth season at the helm. It's likely to be a frustrating one as various deals that the Rockies have made with free agents over the last three years have not panned out. GM Jeff Bridich starts his seventh year with the team. He's got a lot of leeway to make deals. However, you have to wonder how much longer he'll keep his job if some of those deals don't start to pan out.
Summary – Colorado Rockies Preview
Record: 68-94 (Fifth-place NL West)