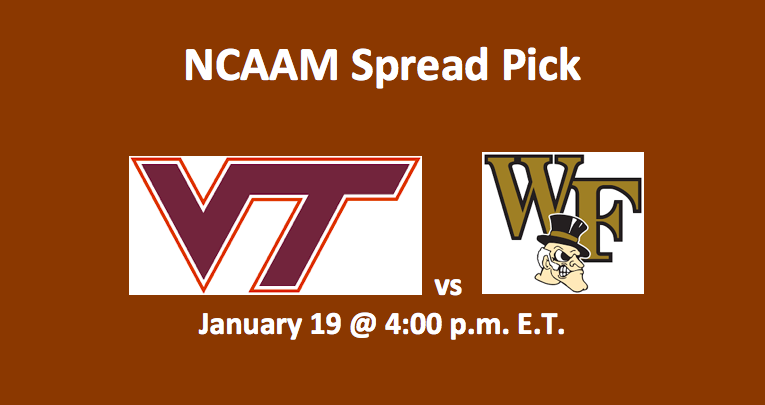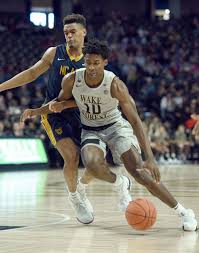 We have an ACC preview as the #9 Virginia Tech Hokies (14-2 Overall, 3-1 ACC) host the Wake Forest Demon Deacons (8-8 Overall, 1-3 ACC). Our Virginia Tech vs Wake Forest pick has the Hokies as an 18-point favorite. The Demon Deacons are 14th, next to last, in the ACC.
Although Wake Forest is 4-6 over their last 10 games and 3-1 in their past four, their last game and win was 71-67 against #17 NC State. That victory proved that they are capable of pulling an upset. But, over the course of their last 10 games, WF also lost to #3 Tennessee 83-64. Also, #1 Duke beat them 87-65. The Hokies are coming off a humiliating 81-59 loss to #4 Virginia on January 15. Prior to that loss, VT had run off nine wins in a row. Today's game, which is schedule for 4:00 pm ET, takes place at the Cassel Coliseum in Blacksburg, VA.
Dominant Stats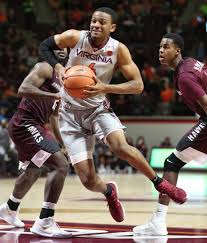 We have to wonder where to start with our Virginia Tech vs Wake Forest pick when we consider stats and the dominance of the Hokies. However, two areas where VT does not dominate the Demon Deacons are rebounds and blocks per game. WF tops the Hokies in rebounds, bringing down on average 37.8 per game to VT's 33.2. In the area of blocked shots, these teams are just about even. Wake Forest holds the edge, 2.8-to-2.5 per game. Then there are the other stats.
In our Virginia Tech vs Wake Forest pick, the home team is tops in PPG (77.9-to-73.3) and best in PA (58.8-to-74.4). They are dominant in field goal percentage (49.7%-to-42.3%) too. The Hokies are also much better in moving the ball around, as they're generating 16.8 APG to the Demon Deacons' 10.9 APG. When it comes the three, it's bombs away for the Hokies who are connecting on 41.8% of their shots from beyond the arc. Their opponents are at 32.3%. Plus, this season VT has made 163 threes, while WF has connected on 100. The home team is hitting 4.25 more three-point attempts than today's opponents.
There is a major edge in this Hokies versus Demon Deacons free pick for VT in stats.
Edge: Virginia Tech
Free Throws and Home Court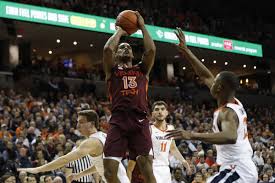 Although our Virginia Tech vs Wake Forest pick finds that these teams are fairly even when it comes to free throw percentage, we also discovered that the Demon Deacons go to the foul line a lot more than today's home club. WF has visited the charity stripe 411 times this season to VT's 256. They've hit 297 to the Hokie mark of 190. That gives the Deacons 6.7 more FT made per game.
In their upset of NC State, WF went to the free throw line 28 times and put in 23, while their opponents visited just nine times, hitting seven. That was at home. Also, in their loss to Duke, another home game, Wake Forest visited the foul line 28 times, while Duke went up just 16 times. The Demon Deacons sunk 17 FTs, while their opponents hit just 8-of-16. In their loss to Tennessee, which was away, WF and the Vols were fairly even in trips to the line, Also, they just about scored equal numbers of frees. Virginia Tech is at home, which should get them some calls today. We don't think foul shooting will be a major factor today, but we will give the away team a but of an advantage.
Edge: Wake Forest
Key Players
WF freshman forward Jaylen Hoard (14.1 PPG, 8.1 RPG) needs to have a big game, as he did vs NC State
WF guard Brandon Childress (16.1 PPG, 4.3 APG), a fine out-and-inside player, has the be playmaker
VT guard Nickeil Alexander-Walker (17.9 PPG, 4.9 RPG) can hit from anywhere and must do so
VT senior guard Justin Robinson must use his experience and playmaking chops to captain the offense and defense
WF guard Chaundee Brown (11.7 PPG, 4.6 RPG) battles VT guard Ahmed Hill (12.8 PPG, 3.4 RPG) – Hill, much better percentage shooter, should win.
Edge: Virginia Tech
Virginia Tech vs Wake Forest Pick
As noted, in our Virginia Tech vs Wake Forest pick, the Hokies are at -18.0. They are home, they just lost to Virginia, and they are hungry for a big win. We do like the Hokies at home versus the Demon Deacons. We're betting VT ay -18.0. Also, be sure to read our SEC men's basketball preview and free pick as Tennessee hosts Alabama.
Summary Virginia Tech Hokies vs Wake Forest Demon Deacons Pick: Hokies at -18.0