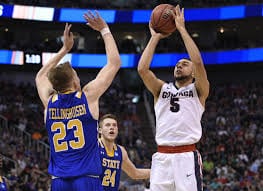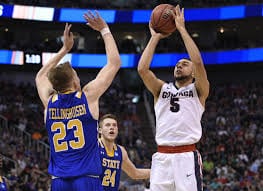 The first Elite Eight contest features the giant killers, Xavier, against 2017's would-be giants, Gonzaga. The #11 Xavier Musketeers are at the #1 Gonzaga Bulldogs for a 6:09 p.m. game that will determine who represents the West Region in the NCAA's Final Four. The game will be played at the SAP Center at San Jose in San Jose, California. Our Xavier plays Gonzaga 2017 Elite Eight free pick has the Bulldogs favored by 7.5 or 8.0 and the over/under at 145.
The Musketeers have had a darn good run in the 2017 NCAA Tournament. Seven teams from the Big East made it to the Big Dance and only Xavier has survived this long, and they did it the hard way. The 11th seed had to beat higher seeds each time. First, they defeated #6 Maryland 76-65. In the second round, they had to play #3 Florida State. They easily beat the Seminoles 91-66. The other day Xavier played #2 Arizona. The Musketeers got by the Wildcats 73-71.
The Gonzaga Bulldogs are doing what they have to do to advance. They offer a total team effort. That's what's worked so far and that is what they will keep doing. The Zags, who lost one game all year, are in their 19th NCAA Tournament. They got here by winning just about every game, the regular season West Coast Conference title and the WCC Tournament. In the first round of March Madness, they played and easily beat #16 South Dakota State easily 66-46. #8 Northwestern gave them a battle in round two. The Bulldogs persevered beating the Wildcats 79-73. In the Sweet 16 round, they beat West Virginia in the final minute with a three-point shot. The final score was 61-58.
Xavier Musketeers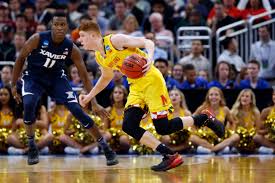 The Musketeers have adjusted to losing Edmond Sumner mid-season and his 15 points and five assists per game. But it has not been easy. When Sumner got knocked out for the season, Xavier went on a big losing streak.
"Losing Ed was tough because he was a key part to our team," noted guard Trevon Bluiett, the team's top scorer with 18.7 PPG. Bluiett hot for25 points and notched an assist on the winning basket as Xavier beat Arizona 73-71 on Thursday. In that game, J.P. Macura scored 14 points, grabbed seven rebounds and made five assists.
Along with Bluiett and Macura, look for contributions from RaShid Gaston, Quentin Goodin and others will be important. Gaston is averaging 7.4 PPG and 5.9 RPG. Goodin, who's averaging 5.0 PPG, is a solid assist guy.
Gonzaga Bulldogs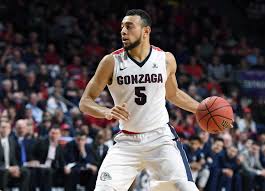 In their game against the Mountaineers, the bulldogs held their opponents success rate in shooting to 26.7%. Gonzaga has a great defense, and that fact will be key in this game. Przemek Karnowski, the team's 7-foot, 300-pound center, will be a difficult matchup for Xavier. Karnowski had 13 points against the Mountaineers, as did 6-9 forward Johnathan Williams. Karnowski is good on 60% of his shots and is averaging 12.4 PPG and 5.6 RPG. Williams is athletic and a smart player, averaging 6.6 RPG, scoring 10.0 PPG, and connecting on 59% of his shots.
Point guard Nigel Williams-Goss tops the Bulldogs in scoring, averaging 16.7 PPG. He only hit for 10 against West Virginia and he committed numerous turnovers. He'll need to play a lot cleaner in this game. In the frontcourt, Zach Collins is good on 65% of his shots, averaging 10.3 PPG while grabbing 5.7 RPG.
Xavier Plays Gonzaga 2017 Elite Eight Free Pick
Either Xavier or Gonzaga will make history tonight by getting to the Final Four. The Musketeers are the lowest seed left in the tournament. The Bulldogs have an advantage with their inside presence. Plus, their defense is tough. They are one of the best in the nation, allowing just 61 PPG. Xavier is giving up 71 PPG. Still, if the Musketeers play like they have nothing to lose, they could win. But that's a big "if."
Our Xavier plays Gonzaga 2017 Elite Eight free pick has the Musketeers being eliminated. They'll play Gonzaga tough and will be good at +8.0. Take the under at 145.
Xavier Plays Gonzaga 2017 Elite Eight Free Pick: Xavier at +8.0 and under 145