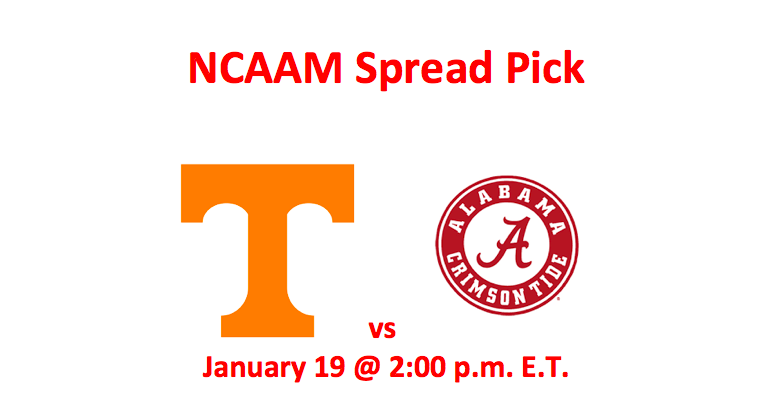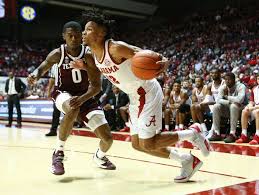 There's a lot of college basketball on tap today. Our NCAAM Tennessee vs Alabama pick is our first of various previews for today, Saturday, January 18. The unranked Alabama Crimson Tide (11-5 Overall, 2-2 SEC) travel today to play the #3 Tennessee Volunteers (15-1 Overall, 4-0 SEC) at Thompson-Boling Arena in Knoxville, TN. Our men's college basketball Tennessee vs Alabama pick has the Vols favored by either -13.5 or -14.0.
From December 5 through January 8, Alabama went on a five-game winning streak that included a 77-75 victory over #5 Kentucky. Since then, they have gone 1-2 with losses to LSU and Texas A&M. The Tide's win came in their last game when they beat Missouri 70-60 on January 16. Tennessee's one loss this season was on November 23 when #2 Kansas took them down 87-81. Since then, Tennessee has won 11 straight games, including a 76-73 victory over #1 Gonzaga. The Volunteers last played on January 15 when they beat Arkansas 106-87.
Statistical Dominance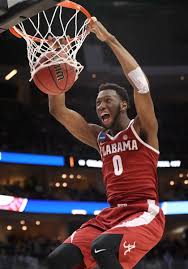 Stats always say something about a matchup. Sometimes teams are so close to one another statistically that the numbers aren't very helpful. Or, at least, you can use them as one predictor for a potentially close game. The statistical comparison between Alabama and Tennessee does not fall into this category. The Vols dominate the Tide in just about every area.
In our NCAA Tennessee vs Alabama pick, the Volunteers are better in PPG (87.1-to-76.5), PA (66.5-to-72.5), and FG% (51.5%-to-45.2%). Perhaps the biggest discrepancy is in assists per game. Tennessee is making 20.3 APG, while Alabama is dishing off 12.8 APG. For 'Bama to have a chance in this game, they are going to have to slow down the pace of the game and hamper Tennessee's ability to move the ball around. That's a tall order. The Volunteers' assist-machine offers them a major advantage.
Edge: Tennessee
Ball Control and Defense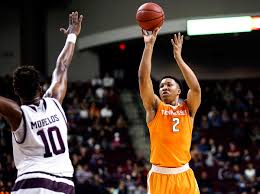 Tennessee is better in BPG by one and SPG by about two. Those numbers don't seem that important except when you also realize the Vols are committing about two-fewer turnovers than the Tide, and those random stats start to reveal a picture of a Tennessee team that has better ball control and defense. Alabama is a bit better on offensive rebounds, generating about 1.5 more per game than the Volunteers.
Upfront, the battle between Tennessee junior forward Grant Williams and Alabama senior forward Donta Hall will be instrumental in determining the outcome of this game. At 6'7", Williams is two inches shorter than Hall, but he's better in PPG (18.8-to-11.1), 3PT% (40.7%-to-00.0%), and STPG (1.1-to-0.4). Hall tops Williams in FG% (61.5%-to-57.1%), BPG (2.1-to-1.6) and RPG (8.8-to-7.8). Ironically, the wild card in this may be pesky Tennessee guard Adimiral Schofield. Schofield, an excellent outside and inside shooter, is second amongst all players in this game in rebounds with 6.3 per game. We're giving the Vols a slight overall edge here.
Edge: Tennessee
Five Keys – Players
Our Tennessee versus Alabama pick sees these five players or matchups being key in the outcome of this game.
Vol guard Jordan Bone with 6.3 APG and 13.4 PPG
Freshman 'Bama guard Kira Lewis Jr. who leads the team in PPG with 14.4
Tide guard John Petty and Lewis from downtown (36%)
Tennessee guards Turner and Bowden – double-digit scores, 40%-plus from floor
Vol forward Kyle Alexander – top offensive rebounder, second overall in rebbies and double-digit scorer
Edge: Tennessee
Our Tennessee vs Alabama Pick
The big question for our NCAAM Tennessee vs Alabama pick is can the Vols dominate the Crimson Tide today? Thus far their average margin of victory over SEC teams has been 25 PPG. Alabama in PF/PA versus SEC teams is plus-two overall. That's plus 0.25 points per game. Considering everything, we're taking Tennessee at -13.5. Looking for a great ACC man's basketball free pick? We've got it right here as Wake Forest visits Virginia Tech.
Summary Alabama Crimson Tide at #3 Tennessee Volunteers Pick: Tennessee at -13.5