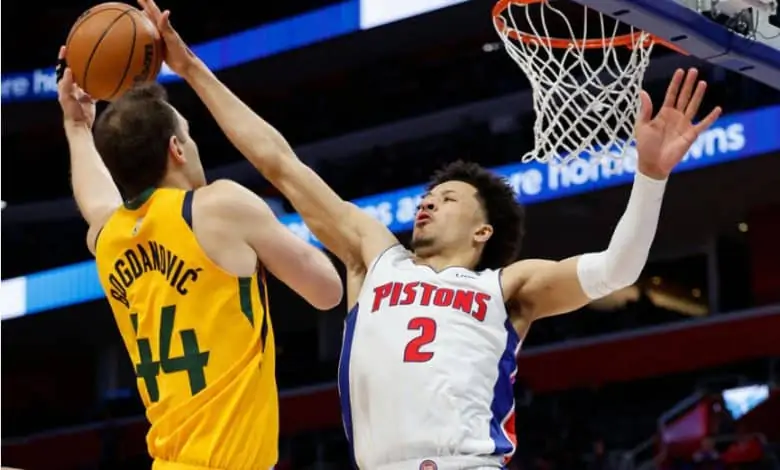 Very few people would argue that Utah is the better overall team coming into the January 21st Pistons at Jazz betting matchup, but giving -14 even at home seems like way too many points right now. Utah has lost six of their last seven games heading into Friday night's matchup, and look to still be without Donovan Mitchell who is in concussion protocols.
Detroit is a long way out from contending for a postseason berth, but they have gone 5-5 over their last 10 which includes a 126-116 victory over these Jazz on January 10th as +10.5 home underdogs. Utah even got 31 points from Mitchell in that matchup so that contribution will be sorely missed in the rematch.
Detroit in a Great Spot
The Pistons are just 4-19 on the road this season, but they were able to finish off a 133-131 win in Sacramento on Wednesday night powered by 30 points from Saddiq Bey. Obviously that's a rough defensive outing with the Kings hitting 52% of their shots from the floor, but it was a resilient win for the Pistons who rallied back from a double digit deficit with under 3 minutes.
Now the focus shifts into getting the win – or at least keep things close – over slumping Utah in the January 21st Pistons at Jazz betting matchup. The +14 points seems like a lot but at the same time Detroit did just lose 102-86 at Golden State on Tuesday. #1 pick Cade Cunningham is slumping a bit on this road trip, scoring just 22 points total in the two games.
Cunningham had 29 in the previous meeting with the Jazz, and won't have to face Mitchell's defense in the rematch. Utah might also be a bit thin on the interior with Hassan Whiteside being in protocols and Rudy Gobert questionable with an ankle injury. That coincides nicely with Kelly Olynyk returning for Detroit with 22 points and 9 rebounds on Wednesday.
Utah Could be Shorthanded Here
The Jazz giving -14 points is simply astounding with Mitchell and Whiteside definitely out and Gobert questionable. This is not the right time for Utah to be without some key players as they are in the midst of their biggest slump of the season with losses in six of the last seven. The most recent defeat was a 116-111 home loss to the Rockets as -14 point favorites.
So who steps up for Utah against Detroit? Bojan Bogdanovic carried the load on Wednesday hitting 11-27 shots to finish with 29 points. Gobert also added 23 points with 9 rebounds so if he sits that will be a huge loss for the Jazz. Mike Conley and/or Jordan Clarkson need to step up a bit vs. a Pistons team that just gave up 35 points to Sacramento's Terence Davis and another 27 to De'Aaron Fox in the back court.
Free January 21st Pistons at Jazz Betting Pick
Just a slight 51% of the betting public likes the Pistons in this contest even getting that absurd amount of points. It's possibly the Jazz are able to run away with this as Detroit plays their third road game in the last four nights, but there's nothing about Utah that exudes confidence right now especially without Mitchell and to a lesser extent Whiteside.
Pistons 111 – Jazz -114
Free Pick: Pistons +14