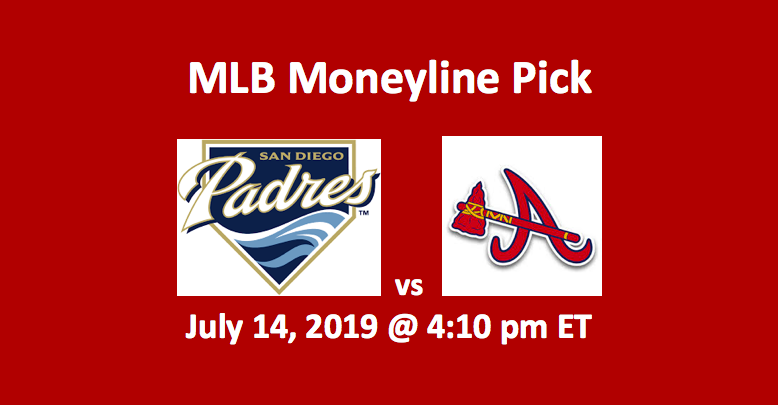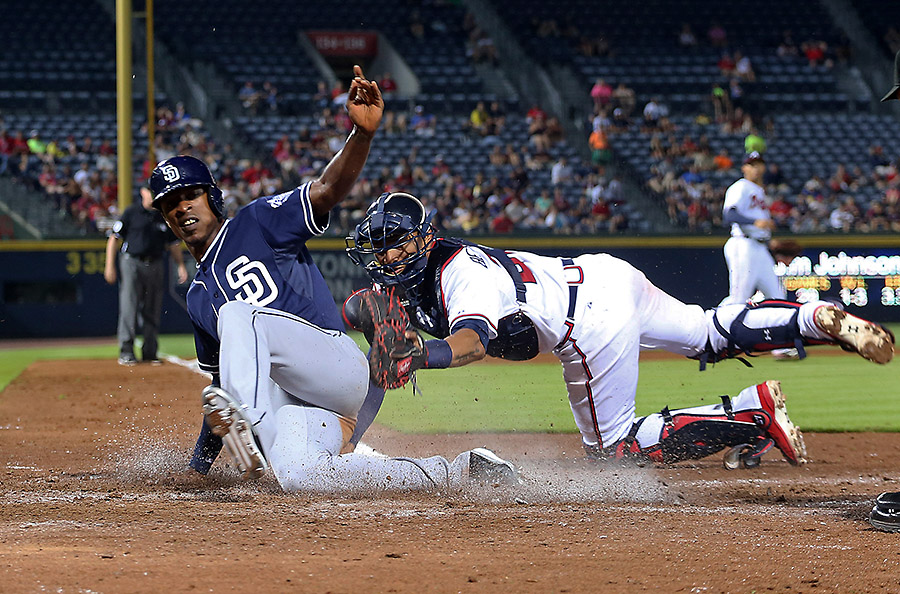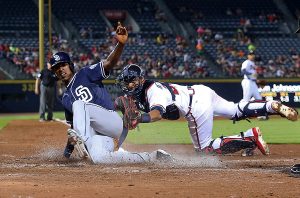 This San Diego Padres vs Atlanta Braves pick offers the Braves at -128. Our San Diego Padres vs Atlanta Braves pick has the Padres as the underdog at +120. The final game of this three-game series will be played Sunday, July 14, 2019 at 4:10 pm ET. Thus far, the Braves have taken both games in this series 5-3 and 7-5. Atlanta leads the season series four games to two. This is the final regular-season meeting between these two team as the Braves go for the sweep.
The Atlanta Braves (56-37 Overall, 28-18 Away), who are on top of the NL East and six games ahead of second-place Washington, have won seven of their last 10. The San Diego Padres (45-47 Overall, 23-26 Home) are fourth in the NL West. They sit 15 games behind the division-leading LA Dodgers. Over their last 10 games, the Padres have won just three.
San Diego Padres vs Atlanta Braves Pick – Pitching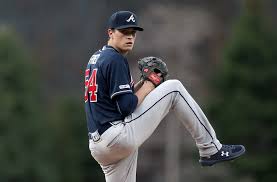 The Braves start 21-year-old rookie Mike Soroka (9-1 W/L, 2.42 ERA, 1.05 WHIP). Soroka, who's having an extraordinary rookie season, has not lost since April 18 when he gave up one run on four hits in five innings aganst Arizona. Since then, over 14 starts, he is 9-0-5 and the Braves are 12-2.
Soroka uses four primary pitches, two of which drop low. His 93mph sinker and 93mph four-seam fastball, are tough pitches for batters to do much with. Their natural sinking actions result in a lot of ground balls. Soroka's 84mph slider comes with a lot of depth, more than usual, and like the other two pitches, generates a lot of ground balls. His last start, which was on July 4, was a rocky one as he allowed four runs on nine hits over 4.2 innings against the Phillies. The Braves won that game 12-6. In late April of this season, Soroka faced the Padres. He pitched six innings in a 3-1 win where he allowed one run on four hits over six innings.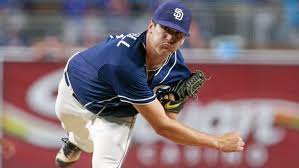 In our San Diego Padres vs Atlanta Braves pick, the Padres counter today with righty Cal Qauntrill (2-2 W/L, 4.83 ERA, 1.37 WHIP) who is making a spot start as Eric Lauer is away on bereavement leave due to the death of his father. Qauntrill started six games at the beginning of the season and then moved to the bullpen. He went back into the rotation on July 3 when he pitched 4.1 innings against the Giants. In what was a 7-5 loss, he gave up three runs on five hits, including two homers. This season, he's faced Atlanta once as a starter. That was on May 1 when he gave up two runs on six hits over 5.2 innings in a 5-1 loss.
Qauntrill uses four primary pitches and a 79mph curve, which he dusts off every once in a while. His main pitches are his 95mph four-seam fastball and his sinker, which is also around 95mph. He likes to mix in an 85mph change and an 87mph slider. His fastball offers slightly higher than average speed and results in a lot of grounders. Qauntrill's sinker actually does not have a lot of sinking action and offers up more than the usual number of fly balls. His change comes in with a lot of backspin and tricky cut action, making it tough to hit. Qauntrill's slider is also difficult for batters to catch up to.
Padres and Braves – Stats and Offense
Starting with basic stats in our San Diego Padres vs Atlanta Braves pick, the Braves, who have scored 503 runs, which is more runs than any other ball club in the NL, and have allowed 440, which puts them right in the middle of the league in that category, have a RS/RA differential of +63. The Padres are 11th in the NL in runs scored with 410. They have allowed 449 runs, placing them ninth in the league. The result is a differential of -39. The Braves lead in just about all offensive categories. Atlanta's OBP is .337 while San Diego's is 306. The Braves are batting .263 with opponents hitting .252, while the Padres team batting average sits at .241 and opponent BA comes in at .253.
For the Braves, Freddie Freeman leads in just about every major offensive category. However, in the month of July, the .302 batter is hitting just .197. On the other hand, Ozzie Albies, who's batting .292, and Nick Markakis, who's at .289, have both been on a tear this month, hitting .400 or better. Six players on Atlanta have 50 or more RBI and three have 20 or more homers.
For the Padres, Fernando Tatis Jr. who missed a slew of games in the middle of the season and has played in 57, is batting .329 with 33 RBI and 14 homeruns. Eric Hosmer, who leads the team in RBI with 63 and hits with 101, officially tops the team batting average at .289. Manny Machado, who's hitting .273 and has 61 RBI and 23 homers, has been hot of late. He's exploding ball off his bat.
Our San Diego Padres vs Atlanta Braves Pick
Despite the Padres' run differential, there's plenty of offense on San Diego that can match Atlanta's output. But pitching is a major factor and Soroka is having a great season. We think that he will be the difference in this game. Our San Diego Padres vs Atlanta Braves pick with the moneyline is the visiting Braves at an inviting -128.
Summary Money Prediction – San Diego Padres vs Atlanta Braves
Atlanta Braves Moneyline at -128