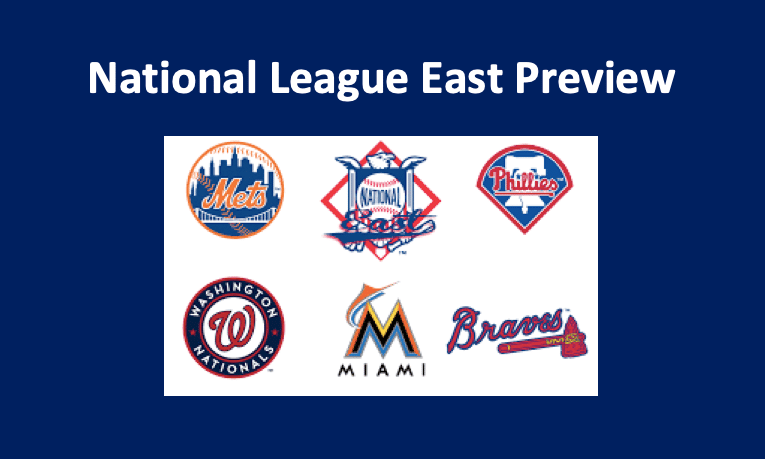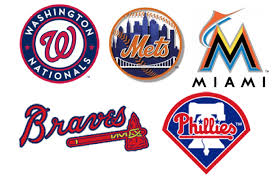 Welcome to our NL East Preview 2020 page! Our NL East Preview 2020 is your connection to individual, in-depth team previews. Our analysis of each club includes an evaluation of the team's starting rotation, bullpen, and offense. We also consider any moves a team has made as well as their recent history and where they stand in relationship to other club's in the division. For 2020, we like the Atlanta Braves, which if filled with young talent. After that, it the up and coming New York Mets with the Washington Nationals right behind them in third. Although we've picked the Philadelphia Phillies to finish fourth, that does not mean we consider them a bad ball club. There's just a lot of competition in this division. Last in the NL East is the Miami Marlins.
NL East Preview 2020 – Teams
In the next section, we've listed each club alphabetically. We provide you with three strengths and three weakness that we think will define each team's 2020 season. For more information, follow each link to the appropriate team page. Our individual team pages are designed to give you a complete picture of each club. If you want to be totally ready for the upcoming season, you need to read every page of our NL East Preview 2020.
Strengths and Weaknesses
Strengths
Rotation includes Soroka, Hamels & Foltynewicz
RF Acuna has 40/40 potential
Closer Will Smith saved 34 for SF last season
Weaknesses
SP Kuechel gone
Mets improved and Nats Series champs
Minor league system questionable
Strengths
3B Villar hit 24 homers and stole 40 bases
SS Rojas fine defender
LF Dickerson .906 OPS and.304 BA
Weaknesses
Went through 26 pitchers last season
No money
Do Sherman and Jeter know what they're doing?
Strengths
SP deGrom wins second Cy Young in a row
RF Conforto is a complete player
Catcher Ramos and 1B Alonso both solid hitters
Weaknesses
Ramos needs to upgrade defense
Need a dependable closer
2B Cano declining quickly
Strengths
SPs Nola and Wheeler fine one-two starters
1B Hoskins and RF Harper offer top-notch offense
Catcher Realmuto premium defender
Weaknesses
Rotation gets thin from third man down
SP Arrieta has underperformed
Bullpen must do better in 2020
Strengths
Fine rotation led by Scherzer
LF Soto gets it done
Nats have depth
Weaknesses
Closer Sean Doolittle uneven
Plenty of competition from Braves and Mets
World Series Champs – tough to repeat
Our NL East Preview 2020 Projections
This division has some very fine teams. We do expect the competition to be intense. The only team of the five we think will not be in the mix is the Marlins. They are thin in each and every area. Our NL East Preview 2020 sees this division as being a battle between the Braves, Mets, and Nationals with the Phillies being pesky enough to make it interesting.
Atlanta Braves
New York Mets (Wildcard)
Washington Nationals
Philadelphia Phillies
Miami Marlins