Line movement for totals isn't unheard of, but the Duke / Kansas over-under jumping from the 146 that it opened at up to 155.5 does raise some eyebrows. Both teams are chalk full of NBA caliber talent which would seemingly point to a high scoring affair for the 2018 Elite 8 free pick. Then again, with how successful Duke's 2-3 zone defense has been lately, maybe 70+ points from both teams is a lot to ask for? Either way, this is the showdown that a majority of people had in their Midwest Region brackets and it's a game that is poised to be one for the ages.
Why Pick the 'Over?'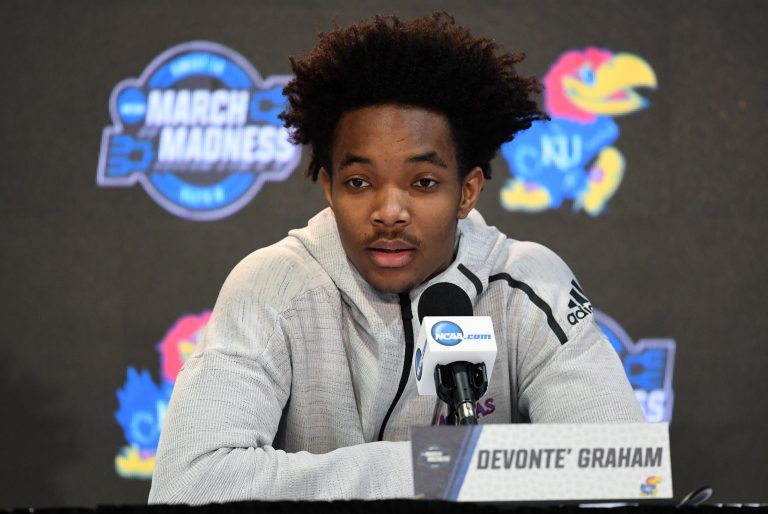 Crowd momentum always has an effect on scoring and the Jayhawks campus is just under three hours away from Omaha where today's game is being played. If KU opens this game up behind their 'home' crowd and covers the -3 point spread, the 2018 Elite 8 free pick has a good chance of going 'under.' Then again, how can you bet against a Blue Devils offense that is averaging 84.4 ppg on the year? Make no mistake, Kansas is no slouch either as they average 81.4 on the season. The two teams have combined to score 80+ points in four of their six tourney games this year.
It's also easy to back the 'over' when there's both the ACC Player of the Year (Marvin Bagley III) as well as the Big 12 POY (Devonte Graham) on the court. What's interesting about this afternoon's contest is that the scoring will come via two different routes for each team. Duke has the size advantage with 6'11" Bagley and 6'10" Wendell Carter so a majority of their buckets will come on the inside. KU on the other hand runs a four guard offense and will look to pick up the pace a bit which would also favor a high scoring game.
155.5 Is a Lot of Points Though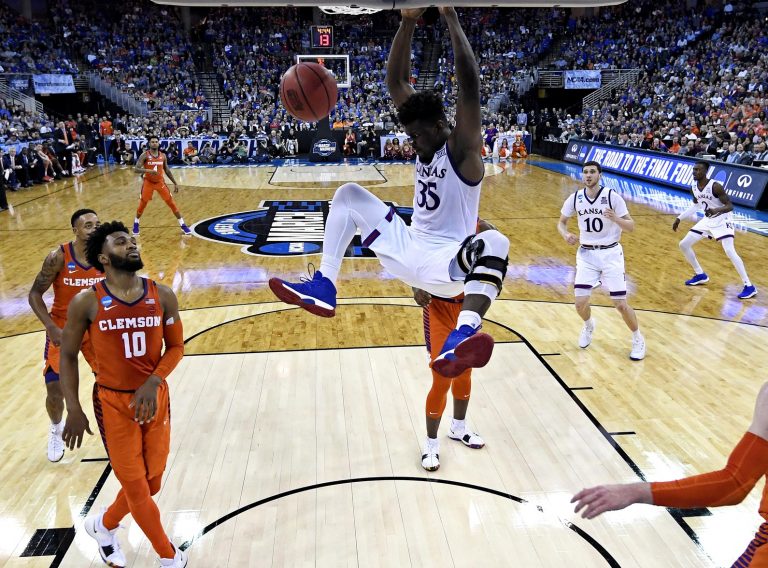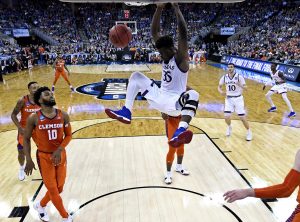 Sure Duke has some big men on the inside, but Kansas can counter with 7'0″ Udoka Azubuike so it's not going to be a game of easy layups all day for the Blue Devils. Azubuike can be prone to foul trouble though so maybe Duke focuses on eating up the clock while trying to bang the ball inside – which would favor the under. At the same time, the Blue Devils are obviously at a disadvantage if Bagley and/or Carter are on the bench with fouls so expect KU's Bill Self to devise a game plan that attacks the duo. Long possessions, burning up the clock trying to find a hole in Duke's zone defense would lean towards an under play in the 2018 Elite 8 free pick.
Speaking of that 2-3 defense, it does a great job of taking away Kansas' top strength. The Jayhawks hit 10 three-point shots per game and is 11th in the country at hitting shots behind the arc. Duke has held all three of their opponents to under 70 points in the tournament and they've shot a combined 16-56 (29%) from three point range.
2018 Elite 8 Free Pick Betting
This is a huge game between two legendary programs so expect the players to be a little tight – especially in the first half. For the total to go 'over' pretty much everything has to go right for both offenses. The Duke 2-3 zone defense is going to prevent that from happening as is the pressure from Kansas four-guard strategy. Pretty much every variable is favoring the 'under' in this contest, which is the play to make.
Free Pick: Duke Blue Devils / Kansas Jayhawks *Under 155.5