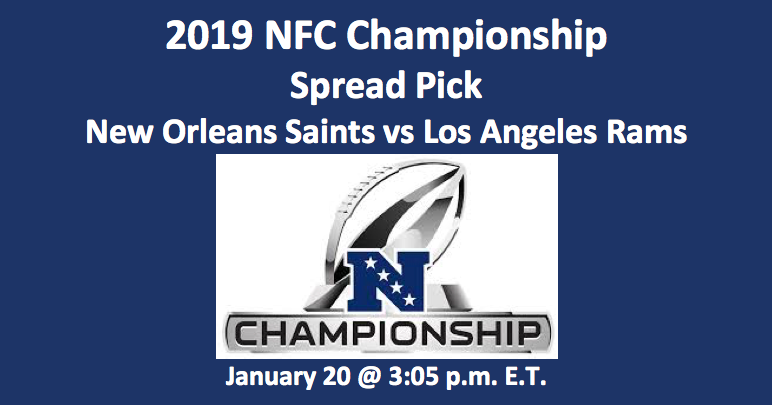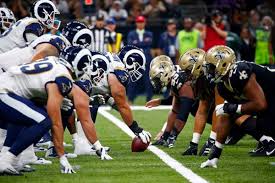 The first of two NFL conference championship games kicks off today, Sunday, January 20 at 3:05 pm ET. The game features the Los Angeles Rams (13-3 Regular Season, 6-2 Away) at the New Orleans Saints (13-3 Regular Season, 6-2 Home) and will be played in the Mercedes-Benz Superdome, in New Orleans, LA. Our Saints versus Rams pick for the NFC Championship has the Saints getting the home field deduction of -3.0. This is a game featuring two dynamite quarterbacks, LA's Jared Goff, the new guy on the block, and New Orleans' Drew Brees, the veteran. The Rams had the second-rank offense in the NFL, while the Saints were eighth. On defense, New Orleans was 14th and Los Angeles 18th. Here's how we see this game. Here our NFC Championship over/under projection. Also, we've got our AFC Championship spread pick right here.
Offensive Weapons
Well, here's a stat for you and for our Saints versus Rams pick. The LA is second in the NFL in PPG with 32.9 and New Orleans is second with 31.5. The Rams have the third-ranked rush attack while the Saints offer the sixth-ranked. In passing yards, once again Los Angeles is third while New Orleans is 12th.
Rams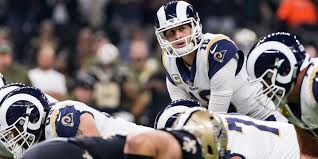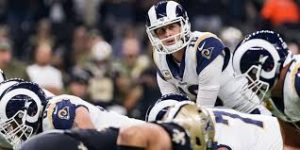 Goff threw for over 4,600 yards this season hitting pay dirt 32 times, while tossing a dozen picks. In the game versus the Saints, he was 28-of-40 for 391 yards. Goff threw three TD passes and one pick. The Rams feature two WRs who have 80 catches and over 1,200 yards each, Robert Woods and Brandin Cooks. Woods has caught six touchdown passes and Cooks five. RB Todd Gurley II is a massive offensive weapon with over 1,200 rushing yards and 58 receptions for 580 more yards. Gurley has rushed for 17 TDs and caught four scoring passes.
Saints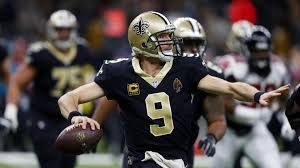 Can New Orleans in any way match that LA output? The answer is, yes, pretty much they can and they have. In the game against the Rams, Brees was 25-of-36 for 346 yards. He connected on four scoring passes and did not toss an INT. During the NFL season, the New Orleans quarterback was just eight yards short of 4,000 passing yards. He tossed just five interceptions and was sacked just 17 times. Like his LA counterpart, Brees connected on 32 touchdown passes. His go-to wideout is Michael Thomas with 126 catches and over 1,400 receiving yards. Thomas has nine TD receptions while WR Tre'Quan Smith has five. Like Gurley for the Rams, Saints RB Alvin Kamara is a dual threat. Kamara rushed for 883 yards this season, scoring 14 times. He also caught 81 passes for 709 yards and four TDs.
We're calling this even.
Edge: Even
Defensive Stoppers?
Defense could be the difference-maker today. Both teams are relatively close, but we'd have to say that the Saints have a bit of an advantage. When it comes to pressuring QBs and stopping the run, New Orleans can bring it. They posted 49 sacks and 98 TFL. The Rams were close with 41 sacks and 84 TFL. In terms of forced fumbles, the Saints had 19 while recovering 12 and the Rams managed to force 14 and also recover 12. LA led in defensive TDs (4-to-1), blocked kicks (2-to-1), and interceptions (18-to-12). The teams were just about even in PD with New Orleans defending 66 and LA 65.
One important fact. The home team comes to this NFC championship with 49 sacks, and they are facing a QB who was brought down behind the line of scrimmage 33 times this season. They will be looking to put pressure on Goff. However, when they met in the regular season, the Saints could not get to Goff. If they can in this game, that will be a major achievement.
In the end, we like the Ram defense a bit better due to their ability to turn turnovers into points.
Edge: Los Angeles
Saints vs Rams Pick – Five Keys
Brees vs Goff – Whoever performs better their team wins
Kamara vs Gurley – Whichever team utilizes their RBs most effectively has a major advantage
Saints' pass rush needs to get to Goff
Rams' offense needs to wear down New Orleans D
Might home field be the key?
Edge: Even
Los Angeles at New Orleans Pick
Our Saints versus Rams pick notes that New Orleans has done well against LA when at home, winning four-of-six and also going four-and-six against the spread. When these two teams met this past November in New Orleans the Saints prevailed in a shootout 45-35. Still, we think that the Ram offense will keep the Saints' D off-balance. We like the away team today. Our pick for Los Angles at New Orleans is the Rams at +3.0.
Summary Saints versus Rams Pick- Los Angeles at +3.0